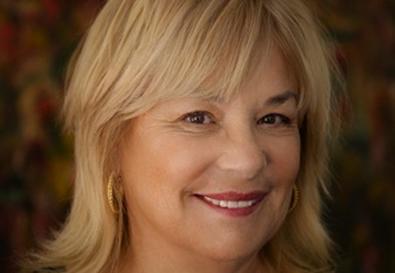 Jennifer Salt has the distinction of breaking into and succeeding in the competitive world of the entertainment industry twice. Her first go-round was as an actor, appearing in such classic films as "Midnight Cowboy" and starring as spoiled Eunice Tate on "Soap." But Salt says she eventually "lost the love" for acting and turned to writing, where she found even greater success. After seven seasons as a writer and producer on Ryan Murphy's "Nip/Tuck," Salt now finds her first produced screenplay hitting theaters Aug. 13. Co-written with Murphy, "Eat Pray Love" is an adaptation of Elizabeth Gilbert's best-selling memoir about leaving her comfortable marriage and journeying to three countries—Italy, India, and Bali—to find herself. Salt, her own life marked with opportunities and coincidences, seemed destined to write the film.
She was born in 1944 to actor Mary Davenport and screenwriter Waldo Salt, who survived the Hollywood blacklist and won two Academy Awards, for his scripts for "Coming Home" and "Midnight Cowboy." All her life, people had told Jennifer Salt she would make a good writer, but she resisted. "I never wrote," she says of her early years. "I also never really thought about being an actor. But when it was time to go to high school, we couldn't afford private school, so I tried out for all the special schools in New York." With a monologue her mother coached her on, Salt auditioned for a performing arts school and got in. After that, she attended Sarah Lawrence College, where she became friends with actor Jill Clayburgh and director Brian De Palma, who was a graduate student.
Though Salt got "great parts" at Sarah Lawrence, upon graduation, she says, "I lost my nerve about going out there and auditioning and supporting myself as an actor." She took a day job instead. "It was a very, very unhappy time," she admits. "Fortunately, Jill Clayburgh was a member of the company at the Charles Playhouse in Boston, and she brought me to meet the head of the playhouse, Michael Murray, who kindly cast me in a very small role in a production of 'MacBird!' "
A political satire starring Stacy Keach, "MacBird!" moved to Off-Broadway. Regional theater followed, though Salt says those roles were nothing of note. Then her father wrote the screenplay for "Midnight Cowboy," and Salt met director John Schlesinger. "My dad had thought of this little part for me, almost an extra part," she recalls. "But when I met with John, he cast me in a bit of a larger role." The role of "Crazy Annie" was largely physical, as the character appears in flashbacks making love with Joe (Jon Voight). So Michael Childers, who was Schlesinger's lover and assistant, shot footage of Salt running through the park and talking in a Texas accent, which served as her screen test.
Salt soon found herself living the Hollywood life, dating Voight, hanging out with Martin Scorsese, and at one point living with Margot Kidder. Other roles followed, including "Murder à la Mod" and "Sisters," both directed by De Palma. One of her favorite roles was in the Oliver Hailey play "Father's Day," set to open on Broadway in 1971 with Marian Seldes and Brenda Vaccaro. "We did two weeks of previews in which we were the toast of the town," Salt recalls. "It seemed like everybody loved this production and everybody loved the play. After opening night, we all went to a party at Sardi's, and a friend came over and whispered in my ear, 'Jen, we're not going to make it.' He knew someone who knew the runner who had taken the review from the critic of The New York Times—because in those days we didn't have fax machines and email." Salt went home, unsure of what this meant. "I woke up the next morning to a call from the producer, Larry Kasha, saying, 'Don't come in tonight.' "
Salt calls the experience "a heartbreak" but continued as an actor, landing the role on "Soap," where she spent five years. But when the show ended in 1981, Salt was a single mother, approaching 40, in a business that valued the hot new thing. "I was doing nice guest shots on TV, but it just wasn't happening in a creative and fulfilling way," she says. "The roles I was up for—mostly mom roles—were dreary. And my enthusiasm for working on them and for auditions was very low." She had an epiphany. "Over the course of your life, you realize more and more who you are and how you want to spend your time," she reflects. "And it became clearer and clearer that I was very unhappy as an actress and didn't feel comfortable in my own skin. When I was younger I thought it was because I wasn't successful enough. But as I got older I realized it had more to do with the fact that I just didn't love it."
Salt's father died 1987. Shortly thereafter, she enrolled in her first writing class. "I think in some ways his presence and his talent were so enormous that there had been no room for me to find my own voice," she notes. "Not that he had ever crowded me out deliberately; it was just the nature of it. He was so brilliant and awe-inspiring to everyone around me that I just wouldn't have known how to find my way." Over two years, Salt wrote her first screenplay, "Ain't Over Til It's Over," about a woman turning 40 who recently lost her father and finds her life is up for grabs. It landed Salt an agent, meetings, and her first two paid screenwriting jobs.
Salt was soon supporting herself as a writer, even though none of her screenplays were produced. She also became active in a writers group. "It's been my saving grace, my way of surviving the loneliness of being a writer in isolation," she notes. One day, a member of the group brought in Murphy, who immediately clicked with Salt. When Murphy created "Nip/Tuck," he invited her to come on board the writing staff.
One day in 2006, Murphy mentioned to Salt that he was reading "Eat Pray Love"—the book was not yet the worldwide phenomenon it would become—and said the character reminded of him of Salt. "He meant her voice," she explains. "Her self-deprecating humor. And he also knew that I had a past as a quote-unquote seeker." Salt and Gilbert had more in common than Murphy knew: The guru who taught Gilbert was a protégé of the guru Salt studied under in the 1970s.
Murphy signed on to direct "Eat Pray Love" and asked Salt to co-write the script with him. It wasn't an easy translation from page to screen; sections of Gilbert struggling to meditate weren't necessarily filmic. And Salt admits there was concern about making Gilbert (Julia Roberts) likable, particularly when she leaves her husband (Billy Crudup). Says Salt, "How do you make that someone you want to know and want to watch? How do you create a marriage that isn't one-sided where he's just a big jerk?" Salt says the scene was written over and over again. "And as good as we got it, Billy Crudup made it even better," Salt notes. "He truly found that character."
Salt is currently adapting another book, "While I'm Falling," about a mother-daughter relationship. She is also working on a pilot for HBO based on Rachel DeWoskin's expatriate memoir "Foreign Babes in Beijing. " Perhaps the only regret of Salt's writing career is that her father didn't have the opportunity to witness her success. "I feel like he knew I was waiting to discover myself as a writer," she says. "He always told people I had a gift."