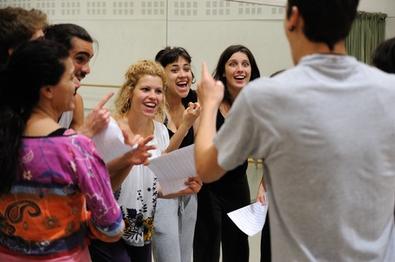 You could be the most talented actor in the room, but if you're bad at auditioning you might never land the role. Here are some programs to help you nail your future reads.
Hal Masonberg's Commercial Acting Workshops
This California coach offers audition training classes in subjects including on-camera commercials, advanced commercial auditions, and film and TV auditions.
Judy Kain offers an advanced callback class in which students learn about callback traps and how to avoid them, and participate in simulated auditions over the course of just four weeks in North Hollywood.
Karen Kohlhaas offers her monologue training workshop in sessions with just eight actors each, ensuring an intimate learning environment. The NYC class teaches you how to enter and leave an audition room, and everything in between.
NYC's CAP21 offers audition training, but more specifically offers a weeklong college audition prep program in which students practice vocal audition technique and monologues, and can take private voice lessons if they choose.
Margie Haber offers various levels of on-camera training at her Los Angeles studio. She also teaches her "Live the Life" audition technique session all over the country. With more and more auditions moving on-camera, Haber can teach you how to nail your audition every time.
Inspired by this post? Check out our audition listings!