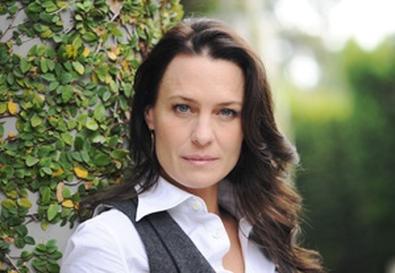 When Robin Wright broke onto the scene in 1987 as the luminous, romantic Buttercup in "The Princess Bride," some in the industry thought she was going to be a huge star. Seven years later, she earned cred with Golden Globe and SAG Award nominations for her role as Jenny Curran in "Forrest Gump." Scripts flooded in. Superstardom awaited her. But Wright balked, made motherhood a priority, and chose her roles carefully.
"I still don't want [superstardom], because what comes with it sucks," Wright says flatly. "[People in the industry] want to take you into superstardom or celebrityism and all that, which I understand because it's commerce and it's a business. That's not why I'm in the business, though. It's irrelevant. I kind of went down the independent road for longer than they would've liked, I guess. Whatever, I'm happy with my career."
She is not, however, happy with all of her performances. "Not ever completely happy, no way," reveals Wright. "There's always something that you wish you had done or you missed, or you wish you could re-shoot that scene. I've always been like that. I think most actors are that way. Maybe that's what propels you out of bed the next morning to go make another movie, you know? It's not over. You haven't reached the mecca."
The actor mentions only three films when asked which performances she's most proud of: "She's So Lovely," "White Oleander," and her latest film, "The Private Lives of Pippa Lee." Wright is tremendous as the complex title character, Pippa, who has a seemingly perfect life until her volatile past catches up with her, forcing to find her true self. The actor has had so much practice playing with those same themes—including "She's So Lovely," "Nine Lives," and "Beowulf"—that she says she's done playing sullen, betrayed, depressed wives and feels she has finally grown up and can stop feeling inhibited in her work.
"I feel like 'Pippa' is sort of a launching pad, in a way, to just go for it," Wright says. "I don't know if I'll be offered any fearless parts, but I hope to, definitely." In the past, she has suggested other actors to play a part she was offered, but, with a newfound confidence, Wright is finally ready to start fresh. Even Pippa shares the sentiment: "To be perfectly honest, I've had enough of being an enigma. I want to be known," she says in the drama, which opens Nov. 27 in limited release.
She's So Lovely
Wright "is a joy to work with as an actor," says writer-director Rebecca Miller ("The Ballad of Jack and Rose"). "She commits completely, and she is very brave and she is very detail-oriented and very interior as an actor. She has a very developed interior life that she allows you to see, and that was handy for Pippa since Pippa is somebody that has a lot boiling underneath." Miller notes that Wright even "changed her personal rhythms" so she could internalize the character. "It created a rhythm that ain't me, because I'm a judgmental bitch in life," admits Wright, laughing. "I'm always picking things apart and going, 'Why is this like that?' And I really didn't want Pippa to have that in her. That was difficult to do."
It helped that, due to financing issues, Wright had a year to discuss the character with Miller—although the shorthand that came from that discussion had a lot more to do with poetry than directives. "Rebecca truly is a poet, and the way she gives direction, she has such a command of the language, so she's not saying, 'Play red.' Okay, well, there are many different versions of red. What hue do you want?" recalls Wright. "The way she delivers the descriptive words, it is literally like a poem that you have to figure out the way you do when you're reading Dylan Thomas or E.E. Cummings. It becomes a visual translation instead of just cerebral semantics, words and 'How do I execute that word?' It becomes a visual thing, and all of a sudden you're executing her vision. I could absorb it and execute it."
Wright shares the juicy role with Blake Lively, but the two actors never discussed their character with each other. However, on set Wright studied her co-star in the role of the younger, lost, party-girl version of Pippa.
"Rebecca wanted to leave [Lively] alone in her beautiful innocence," says Wright. "She's not jaded and all of the things that we adults are; she's such a doe. Rebecca said, 'Let's leave her alone. You pick something that you could emulate so that we believe that you are the same person.' Because I am not Blake, 6-foot, double D, you know, never going to be, never was, so physically we didn't look alike," says Wright. And that surprised eyebrow thing she does gave me a rhythm. The lifting of the brow and the way Blake took things in was so innocent and new and fresh, and just by doing that physicality helped me feel that feeling."
Wright also incorporated some of Miller's "kooky" mannerisms, despite the director's protests. "It's not that Rebecca is Pippa," says the actor. "It was something in her that resonated what I needed. I needed to use something, and I would, and she will kick me and still does: 'I am not Pippa!' And I would say, 'But who you embody in your certain characteristics and your mannerisms helped me to become Pippa.'" Wright, who is about 10 years younger than Pippa, says the biggest challenge was a peculiar love scene in a van, playing opposite Keanu Reeves.
"It's always really hard to do love scenes," says Wright. "They're just fucked. Being that intimate and that exposed in that intimacy, and this one was particularly hard because, I mean, he's got his hands down my pants. It's not like we're making love. That was really, really hard. It's like masturbating for the camera. I can't do it ever again, I don't think."
Making Her Way
For the past few films, Wright has used private acting coach J. Ranelli, who also directs theater. But when she was first starting her acting career, she took classes with Joanne Baron and D.W. Brown and even considered her four years on the soap opera "Santa Barbara" as paid training. "They let me out to do 'Princess Bride,' and then I had to tack on more time to my contract. I kind of got fucked there. I wasn't able to do film after 'Princess Bride' for quite a while," says Wright, who earned three Daytime Emmy nominations for her role as Kelly Capwell on the soap.
As a child, Wright wanted to be a dancer, but after being discovered at a local roller rink at age 14, she became a print model working in Paris and Milan. She landed commercial agent Eileen Farrell, who pushed Wright into acting—a career she never before considered. "She really groomed me, I have to say," says Wright. "She was trained in New York, and she was an acting coach. Her husband was a voice coach, and they used to be on stage in vaudeville. I mean, old-school. He gave me voice lessons, singing and diction, since I probably had a little bit of a Texas accent left over. And she really pushed me into it. She was like, 'Just read the scene, and let's just see how you feel. Let's see what you're like.' And then she made me go on an audition."
Auditioning wasn't a new concept for her; in modeling she had undergone the same kind of scrutiny. Wright starts talking with a French accent: "'No, she's not pretty enough. Her legs are not long enough. I don't like her tits.' It was that kind of stuff all the time, but you were being picked apart anatomically. It wasn't like, 'She's not the right quality for this character. She doesn't have enough oomph for this.' I suck at readings. I always was terrible, nervous, tense, couldn't do anything, couldn't move, just scared, and just outright bad. I was better if they put me on camera and just sort of let me do the scene and had somebody read off-camera. But doing a scene in front of the casting director and the producer or director, forget it. It's one of the most humiliating experiences when you're vying for a part and the other person is known and cast already. And you're being observed and reported on. Oh my God, it's the worst."
Wright clearly remembers getting called back four or five times for every John Hughes movie, then losing every time to Molly Ringwald. "I was devastated, but I didn't really know what that meant," Wright says. "I just thought, 'Oh, I didn't get it,' and now I understand how that manifests, which is if you lose a part to somebody else when you're 10 years into the business, then what it does affect is your financial quote."
Wright says she never fully understood what rehearsing was until working with director Anthony Minghella on "Breaking and Entering," his final film to be released theatrically. Minghella had a community of researchers and made everything very accessible to Wright and co-stars Jude Law and Juliette Binoche.
"[Minghella] would bring in the mother of an autistic child that was his old friend that the story was based on," says Wright. "I got to sit with her and Anthony and just dissect and pick her brain. Sitting there and talking with Jude and Anthony about the backstory: What was really going on in this conflict of marriage outside of the fact that Jude and I had this autistic child? So we built a whole world that wasn't seen in the movie but created the tension. That would be a part of the day."
"And then he would have some Bosnian natives come in and talk with Serbians, and they're fighting across the table, speaking about their political differences, so we got that aspect of the film," she continues. "It was basically like watching all these different vignettes of the research that we all needed. And it was just like all these intensives that we got to listen, absorb, explore, ask, inspect for a couple of weeks. It was a really different experience because it wasn't just merely getting up and saying, 'Okay, let's do the scene again. You guys get over there. Let's re-block it.' We didn't do that kind of rehearsal. We basically all just held hands and did our research in the same room."
Aside from playing two roles in "A Christmas Carol" with Jim Carrey, Wright is currently filming Robert Redford's "The Conspirator" with James McAvoy. As Mary Surratt, Wright will play the first woman ever executed by the U.S. government because of her involvement with the Lincoln assassination. In the spring, she'll be in the latest as-yet-untitled half-live-action, half-animated film from Ari Folman ("Waltz With Bashir"). "[Folman] needs to be seen," says Wright. "This guy's got an incredible mind and a beautiful spirit. [He's a] great man and has original ideas that you just don't see in this format. It's pretty trippy."
Rosy Future
Among Wright's dream projects would be a Woody Allen–type comedy with Robert Downey Jr. and directing a documentary not unlike "Seven Up!" in which she would follow the lives of three foster children. "That's going to take a little time because we have to get consent from the foster homes and orphanages, just all the bureaucracies that you have to go through filming, because you basically just want to expose what's really going on behind the scenes," Wright says. "I just want to sort of get my feet wet by doing that. It's not necessarily my passion. I'm interested in directing a [narrative] movie at some point. I don't have a script. I don't have a producer. I don't have any of that, but it's definitely on the horizon somewhere."
Wright looks physically pained at the idea of giving advice to actors, but she thinks the industry is much easier when you know exactly who you are. She says she did not know who she was. "You do learn as you go, and yes, it's a therapy in one sense—acting and delving into different worlds and people—but it's tricky. It's so subjective. Personally, I just wish I had more confidence and clarity, but then again, I was a baby. So what do you do? You get hurt and your insecurities get exposed and wounds are deeper from those bad auditions. So I guess you don't really have a choice, but if you do have that capability to really know who you are, be clear and strong and convicted in what you know for yourself, what you want your path to be, what direction you want to go in, hone in on it, because," Wright warns, "that business is like a piranha. Rowr, it'll getcha!"