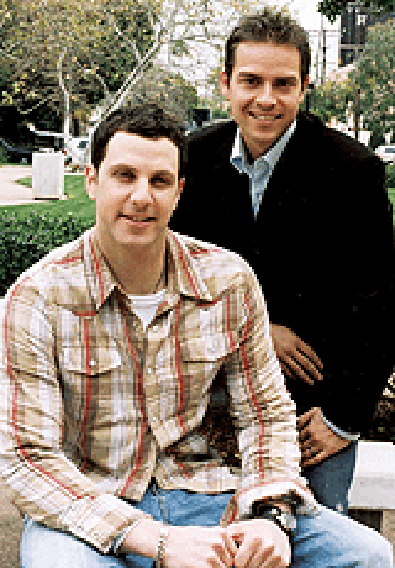 Brent Goldberg and David T. Wagner first met while attending El Camino Real High School in the San Fernando Valley, although they didn't immediately hit it off. "He harbors this illusion that I picked on him," Goldberg recalls, laughing. "That I was with my ragtag group of Jewish friends, and we all were throwing ketchup at him or something."
Wagner quickly interrupts, telling the story of how Goldberg bullied him at the local McDonald's. "There was an altercation inside where you were throwing ketchup packets at me," Wagner says firmly. "And then we went into the parking lot, and you spilled my Coke."
Goldberg sighs resignedly. "That couldn't be further from the truth," he tells his writing partner. "It was sugar packets, and it was a Diet Coke."
The two writers may not always see eye to eye. But, according to the pair, that's what makes the partnership work. Audiences will have the chance to judge for themselves when their new film, The Girl Next Door, hits theatres April 9. Goldberg and Wagner wrote the original screenplay (Stuart Blumberg, who worked on later drafts, is also credited) on spec after 12 studios and production companies turned it down. The plot centers on an awkward high school senior (Emile Hirsch) who falls in love with his new neighbor (Elisha Cuthbert), only to discover she was formerly a porn star. Although the film features the expected scenes of raunchy humor, there is a surprisingly tender tale of romance at the heart of it. As Goldberg describes it, the film is "Risky Business meets American Pie with a little Pretty Woman in it."
The Girl Next Door is just one of the high-profile projects the two have to their credit. In addition to scripting the comedy Van Wilder, the two were credited on the recent Eddie Griffin comedy My Baby's Daddy. Not bad for a pair of writers who only recently entered their 30s: Wagner is 31, Goldberg 30.
Private Parts
Although they weren't friendly in high school, Goldberg and Wagner later reconnected through a mutual friend and realized they shared many common interests. They had both flirted with performing careers: Goldberg had done standup comedy, and Wagner had acted and done voiceover work as a child; indeed at age 12 he was a junior Star Search champion. "We both grew up on John Hughes and Cameron Crowe movies," says Goldberg. "So there were originally four of us who tried to write a script together, and David and I realized we were doing all the work." They struck out on their own but were unsure how to proceed in such a competitive industry. "A lawyer friend of the family set us up with meetings with all the big agencies," Goldberg recalls. "We went in, and nobody knew who we were. And we would see these scripts piled from floor to ceiling, and we'd ask what they were, and the agent would say, 'My weekend read. I read the first five pages, and if I don't like it, I throw it away'. We realized that could be us."
Wagner agrees: "You either write a ton of scripts that nobody wants to read, or you send query letters and you don't get any phone calls back. So we said, 'Screw it. No one's going to help us out. Let's do something on our own.'"
That "something" turned out to be the short film Saving Ryan's Privates, an eight-minute parody of the 1998 Oscar-winning film Saving Private Ryan released the same year. Made while they were writing in the postgraduate program at UCLA, the short was a crass but hilarious lampoon of Steven Spielberg's epic. "We pooled our bar mitzvah money to make it," says Goldberg of the $8,500 budget. "And it did exactly what we were looking for it to do. It became this sort of underground thing; then Atom Films saw it and wanted to buy it. And they keep renewing it; it's one of the top-rated short films in their history."
The pair was featured in numerous publications, including Entertainment Weekly and The Wall Street Journal. "Being in The Wall Street Journal was great," Goldberg says. "That was the day my dad finally knew I wasn't an idiot." They credit the publicity generated by the film with landing them an agent and their first big writing assignment, Van Wilder.
Wilder Times
Following the success of Ryan's Privates, Goldberg and Wagner found themselves being called into studios and production companies for general meetings to pitch screenplay ideas. "We took 25 meetings, and we documented them by keeping the water bottles," says Goldberg, laughing. "We called them 'water meetings'--because you'd go in and they'd get you a bottle to drink, and you would start talking. I always judged how bad the meeting was by how much water was left. If the water's gone, good meeting, a lot of talking. Most of them had very little water gone. But we met with Tapestry Films, and the whole bottle was empty."
Producer Andrew Panay had pitched Van Wilder as "a movie about a guy who doesn't want to graduate college." Notes Goldberg, "We could relate to that. We went to our agent and said we wanted to write that. So we struck a blistering deal--they actually paid us both, total, $7,500. I think after taxes we got a quarter each. But it was the best thing in the world. Basically we were writing it on faith. About a year and a half after that, it got greenlit. And it was because we said we're going to do it, we're going to put our heart in it; it certainly wasn't about money."
Wagner agrees: "We were so excited just to have an opportunity. Because this business is so hard to break into, to get an opportunity. Whether you're an actor, a writer, a singer, or anything else in the entertainment medium, you've got to get a chance. And this was our chance, and we took advantage of it."
Van Wilder starred Tara Reid and Ryan Reynolds and was made for a budget of approximately $6 million; it grossed $7 million in its opening weekend alone. Being on the set of Van Wilder was a crash course, one the writers call Film School 101. "They weren't paying us; we were pretty much loitering," Goldberg recalls. "But it was a great learning experience on what to do--and what not to do."
Indeed, according to Wagner, the money is merely a nice side perk to being able to write for a living. "I would write even if we didn't get paid for it," he says. "It's a very therapeutic thing to do, and my mind is always coming up with ideas."
Goldberg has a similar incentive. "I love the process as well, but the fact that it might become something on the screen highly motivates me," he observes. "I love seeing what's on the paper come to life--that's what keeps me going. For me, it's not enough to finish a great script and let it sit on your shelf and collect dust; it's really important for the both of us to see our vision come to life."
Wagner describes himself as the more "blindly optimistic" of the two, whereas Goldberg is the realist, which for them turns out to be an ideal combination. "Having a writing partner is like being married," Wagner says. "I think I talk to Brent more than I talk to my wife. It's a relationship; we have our creative differences. Everyone sees things a different way. But I feel that we work because he's able to recognize what I don't recognize is great, and vice versa. We definitely complement each other."
The two are also grateful to have someone with whom to share their failures and successes. "You're really working in a vacuum when you write, and it's really nice to have somebody that sort of shares your perspective," says Goldberg. "We're fighting, we're arguing, we're disagreeing, but ultimately good things come out of the disagreements. Or, we wrestle."
If there is any doubt about who would win such a match, Wagner dispels it quickly. "He could probably kick my ass like he did back in high school," he quips.
Coming Attractions
Up next for the two is The Underclassman, an action comedy starring Nick Cannon; they are currently working on a romantic comedy for Disney, intended to star Steve Martin. Of course, what they really want to do is direct--and they're aware of how cliched that may sound. "I used to hate writers who said, 'I want to direct, I want to produce,'" says Goldberg. "What's wrong with writing? But the fact of the matter is, you can only do so much. You write a script, and they piss on it, and you can't say anything because you're 'just the writer.' We want to be a part of the process."
Asked whether they have any advice for struggling writers, Goldberg offers the following: "Be ready. Because when that opportunity comes and they ask you if you have anything, have something ready: a movie, a short film, a play you've written. If we look at the good fortune that's happened to us, nothing was ever planned. It was like something came from something; at a meeting that we didn't think was going to amount to anything, they would have an amazing idea that we would spark to."
Wagner concurs: "Empower yourself, and do whatever it takes to make people listen and read your material. Just do it. Don't stop for anything. And a writer writes. Just keep writing, whether in a journal or a script. Just do what you have to do."
After a moment, Goldberg looks at his co-writer and smiles. "That's sweet," he says. "You just brought a tear to my eye." BSW