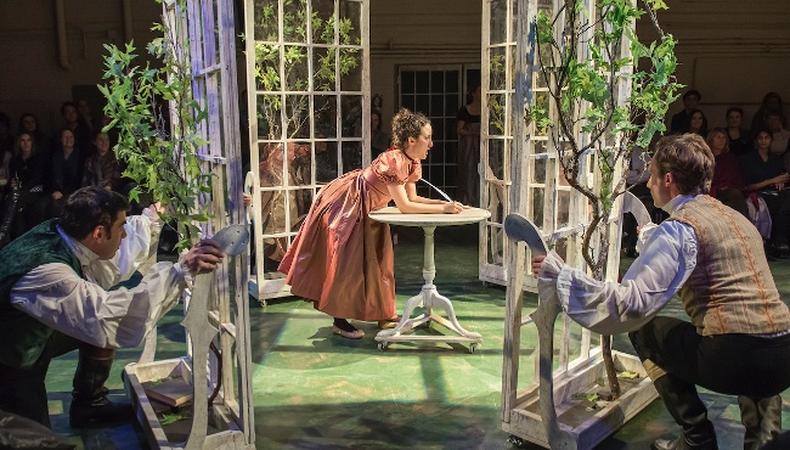 Kate Hamill, like many actors who happen to be women, was fed up with the lack of female roles onstage.
"I had been an actor for many years," she remembers, "and was frustrated because oftentimes when you're a woman, you're competing with 400 other actresses to play someone's wife... girlfriend... prostitute."
Her decision to do something about it led to a Lucille Lortel– and Drama League Award–nominated adaptation of Jane Austen's "Sense and Sensibility." The production (which premiered in 2014, was remounted this spring at the Gym at Judson, and returned to the venue for an extended run June 17–Oct. 2) exemplifies the qualities that put Off-Broadway theater company Bedlam on the map: imaginative staging, a spare but resourceful approach to design, and wholehearted theatricality.
Plenty of classic works receive adaptations for the stage, but too few feature the kind of strong, complicated heroines that populate Austen's novels. "Most adapters," Hamill explains, "are not young women." Thanks in part to a $100 bet from Andrus Nichols, co-founder and producing director of Bedlam, Hamill began writing an adaptation that would fit the company's aesthetic. "I didn't want to lose that hundred bucks," she says with a laugh.
Now Nichols and Hamill play Elinor and Marianne Dashwood, respectively, bringing two of literature's most fascinating and flawed women to life onstage. With direction from Eric Tucker and choreography from Alexandra Beller, Bedlam's "Sense and Sensibility" gives Austen the spirit of a modern rom-com while maintaining a gutsy commitment to posh accents and period costumes. A joyous opening dance number, for example, transitions seamlessly from a Pharrell Williams jam to a 19th-century jig.
"I really love theater that embraces theater," says Hamill. "I feel very strongly that when you're doing an adaptation you should have a point of view—because otherwise, why do it? Jane Austen wrote a brilliant, brilliant novel; what do I have to say that's new? Or what does the novel mean to me?" Adapting anything, she says, is about answering those questions entirely within a new medium. "If someone's coming to the theater, you should have a reason why this should be a play. Not, 'I love that novel, let's have actors speak it.' "
Her experience as a performer, she says, helped fuel this venture into playwriting. "Actors generally tend to make great playwrights because if you're interested enough in acting, you have an ear for dialogue. You have a brain for how different characters react to different situations." More performers should write for the stage, Hamill adds, as it teaches them about every aspect of the theater-making process and engenders empathy for other playwrights. "You can look at stories from all sides. I definitely think it's made me a better actor to be a writer."
Apply for our theater auditions!
Plus, it's simply empowering. Having a project of her own, Hamill says, provided a sense of autonomy. "Even if I was just auditioning and looking for my next gig, I had something of my own. Particularly for actors, it's important to have something of your own. So much is based on chance as an actor, and having your own project can be really helpful to feeling centered."
The most crucial thing for actor-writers to remember, however, is to create the piece you want to see at the theater. "Don't worry about conventional wisdom," says Hamill. "Don't try to write Annie Baker or David Mamet. Try to write what you would like to see onstage."
That goes for inventing the roles you'd like to play as well, she adds, "the kind of roles you would like to give people and yourself—not what you think is popular or even what you think is produceable. Write the play where, if you were to see it, you would go, 'Oh my God! I want to be in that play.' "
Like this interview? Check out more from creators and Meet the Maker!