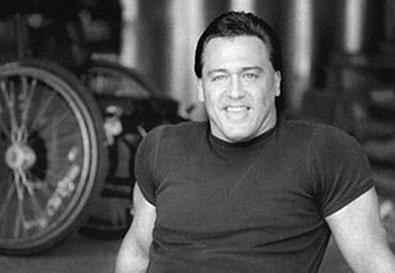 NOTE: White, able-bodied actors will not understand the emotion behind this. Hopefully, all the writers will.
Imagine if you will: A young man comes to town, almost 12 years ago, full of creative energy, with pretty decent looks and pretty decent acting skills, and lands at a great agency his second week here, through a contact. An agency with which he still remains. The young man begins "learning the ropes," networking, contact-making, relationship-building, hell, even winds up on Steven Spielberg's "AI: Artificial Intelligence" set for two weeks in Long Beach. The young man is so excited about what he may be able to offer a story or character, through acting, "for the sake of the project." He's so happy at all the opportunities that await him to represent his "community" by putting out more-positive images in television and film, because these images stick in the nation's collective psyche and either counteract or support prejudices. He's had decent TV credits in those 12 years: "The Office," "CSI:NY," etc., and a handful of national commercials. His film credits are nonexistent, although there are so many roles in films he could play.
So, what's the problem? He gets less than a handful of auditions per year.
He represents a community in America that makes up 20 percent of the country. There's around 60 million people in that community. That 20 percent contributes more than 70 billion consumer dollars—a large number at which TV advertisers look. Yet this community is represented by less than .05 percent speaking roles on television. So again, what's problem? He uses a wheelchair. Unaware, closed-minded, or non-creative writers won't write his character into scripts. And if it's not in the script, the casting director won't be calling him in.
So here's the challenge: Write a more diverse group of characters that better reflects the America or world in which he lives. Because that "he" is me. And you're f-ing with my career and society's brain. You're doing an injustice, story-wise, to the world. And, in the words of Reverend King, "Injustice anywhere is a threat to justice everywhere." And no, I'm not a hospital patient or a bitter war veteran, God bless 'em. And I'm not an A-lister looking for an Oscar nod by "playing" physically challenged. But could you imagine if I were a black, wheelchair-using lesbian over 40? I'd never even have the credits I do now. And for that I am grateful. Makes me wonder, though, what Reverend King would think of this kind of 'script'ural discrimination.
As with most subjects, we're either part of the problem or we're part of the solution. And why be part of the solution? Because it's the 'write' thing to do. Again, there are roughly 60 million physically challenged Americans in our nation and 43 million African-Americans, equaling 103 million to come together for a boycott. That's one-third of our citizens. Well, they say the squeaky wheel gets the grease. Curious to know if Procter & Gamble sells cans of grease as one of their products.
Marcus A. York spends his time writing, cutting together his first documentary, and helping www.SCICure.org (to cure spinal cord injury)—where they're raffling off to the world a "Trip to Hollywood" (to the set of NBC's "The Office"). On Jan. 7, 2010, he organized a successful meeting at the White House in support of SCICure.org, after writing a letter to President Obama in mid-2009. He is repped by KSR. www.MarcusAYork.com.