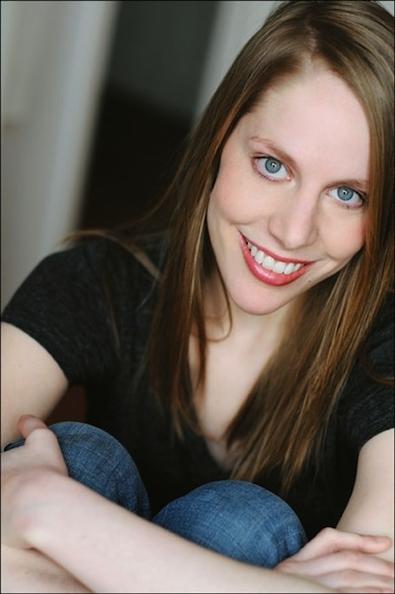 The best way to find work is to write it for yourself. Mindy Kaling, one of the most successful living writer-actors I can think of, puts it bluntly in her book "Is Everyone Hanging Out Without Me?": "If I can give one bit of advice," she says, "it's this: write your own part… It forces you to think about what your strengths really are, and once you find them, you can showcase them, and no one can stop you."
I encountered this passage about a month ago, riding the 4 train to rehearsal for "Different Animals," a full-length play I wrote that runs through May 26th at the Cherry Lane Studio Theatre in Manhattan. My character is Molly Gardner: an exuberant, psychologically unbalanced young lady who falls in love with a Lutheran coworker and his wife. More than a few people have described Molly as "a lunatic" and "psychotic" – one friend called her "a slightly evil Golden Retriever" – and, though I'm not quite any of those things, I can't imagine a more invigorating, more perfect role for myself. But, more on Molly later.
Once the venue was confirmed, a lot of actors and writers asked me how the play got to be produced at such a beautiful and well-known theater. The short answer is that, lucky for me, many very talented and generous people came together to support Different Animals – whether with time, money or raw encouragement – and committed themselves over the course of a year to seeing it produced. Director Bruce Ornstein hosted a series of developmental readings with his Wednesday Repertory Company, which inspired Richard Neustadter to join him as co-producer and a huge number of company members (and non-company members) to volunteer for creative and administrative positions. Bruce and Richard's faith in the play brought it to life, and cast members, understudies, designers, backstage wizards, marketers, and managers have humbled me over and over again with their stunning contributions.
Since plenty of excellent writers have yet to see their work produced, I've wondered what attracted so many angels to "Different Animals" in the first place. Most people have pointed to details in the text. Collaborators invested money or labor in the work of an unknown actor-playwright because they grew attached to ideas, language, and references that, in their specificity, lent the script a memorable voice. Which reminds me of a paradox I've taught in writing classes: Minute specificity creates general relevance. It's thrilling to hear audience members with wildly different tastes and backgrounds express a love for the characters of "Different Animals" – my floundering, depressed, obnoxious, downright slutty Lutherans from Spartanburg, South Carolina – that seems equal in measure to my own overwhelming love for these imaginary eccentrics.
I couldn't have offered anyone a project worth believing in – or characters worth caring about – had I not written something unique to my own fixations. In keeping with Kaling's advice, I think it's fair to say Molly Gardner showcases my particular assets as a writer and actor. I wanted to make her as hilarious and as despairing as a person can be. She embodies all my favorite qualities, from irreverence to desperate promiscuity to spirituality to abject devotion and a genetic incapacity for emotional restraint. She has a tendency towards hyperbole and a comic willingness to wound and humiliate herself. Since I have a special admiration for these qualities (weird as it may sound), I can play them as compassionately as any actor on earth, and people who might've despised Molly in real life have responded to her warmly and gamely in the theater.
But more importantly for the play's survival, I tried to infuse every aspect of the script with the kinds of "strengths," by which I mean to say "passions" or "obsessions," that I brought to Molly herself. I thought about my great loves and convened them on the page:
1. The personalities of my family and relatives
2. Episodic narratives of adultery, à la AMC dramas and nineteenth-century novels
3. Profanity
4. Certain principles of sketch comedy and UCB-style improv
5. The liberal-minded schoolteachers and unpretentious smart people you find all over the South
6. Penis and abortion jokes
7. "Fatal Attraction"
8. Christianity
9. Dialogue that sounds real
10 Diane Keaton in "The Godfather II"
These ingredients, sautéed in so much obsessive contemplation, make "Different Animals" more memorable than anything I'd written before.
I grew up thinking good writing meant meeting universal standards of form and intelligence. Now I realize it has more to do with falling wildly in love with your favorite foibles, illustrating them in fine detail, and indulging in whatever genres and literary conventions have commanded your fanatical allegiance since childhood. In my case: a plural marriage between Southern regionalist melodrama, gross-out humor, and romantic comedy. (I think it's this confluence of traditions that's given my play-about-women a lot of male fans.)
Of course, I only wrote a script I was happy with thanks to a director and some very sharp colleagues who kept me in check at every stage in the writing process – reminding me that ultimately my passions should be martialed in the service of the play, and not vice versa. These people helped me transform moments I'd written to advance subconscious agendas into more truthful moments that enhance the play's formal and thematic integrity. In the long run, the latter kind of moment has proven more satisfying to write and to perform. From "Different Animals," I've learned that "writing for oneself" – creating content tailored to one's strengths – works best when it involves not just the exposure but the surrender of personal obsessions. They are no more, and no less, than the building materials we use to create a sparkling love object for the rest of the world.
"Different Animals" is currently playing at the Cherry Lane Studio Theatre, 38 Commerce St., through May 26.