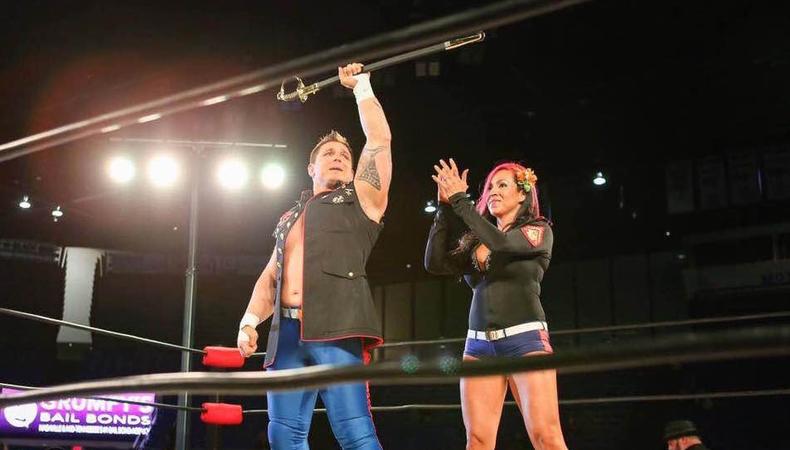 For professional wrestling fans, the "WWE 2K" series of video games provides an opportunity to virtually step into the ring to do WWE battle. While these video game superstars and divas closely resemble their real-life counterparts, the wrestlers actually executing the motion capture moves and ring entrances may not be as familiar to mainstream wrestling audiences.
Based in the Atlanta suburb of McDonough, the husband-and-wife duo of Micah and Tracy Taylor have been involved in wrestling for more than a decade. Originally based in Hawaii, where Micah made a living rewiring helicopters on a Marine base, a chance encounter with Dwayne "The Rock" Johnson inspired the Taylors to eventually move to Georgia to pursue their wrestling dreams.
"They were filming 'The Rundown' and I was at the gym while The Rock was on the treadmill," recalls Micah. "I called Tracy and said, 'The Rock's here!' She goes, 'Go talk to him.' I said, 'No way. He's working out.' When he got off the treadmill, I built up the courage to talk to him and he actually took about 15 minutes out of his day to talk about wrestling. He told me to get out of Hawaii if I wanted to actually make it. We packed up and moved to Richmond, Kentucky." Because Richmond was within driving distance of Louisville-based Ohio Valley Wrestling, then a WWE developmental territory, the Taylors began paying their dues (literally and figuratively) through OVW's beginner classes.
"I worked through lunch so I could leave early on Wednesdays and drive an hour and a half to Louisville to work security at the OVW TV tapings," says Micah Taylor. "On Saturdays we did Nick Dinsmore's beginner class at the old Jeffersonville, Indiana building, which was like 'Rocky' with all the windows busted out and stuff like that. We'd set up the bassinet for our baby daughter, and our 6-year-old son would keep an eye on her. After practice we'd drive up to Indianapolis where Rip Rogers would book OVW shows. We'd help set the ring up and maybe get to work a battle royale. Tracy would have our daughter in the little backpack, trying to help set up and break down the ring."
After graduating from the six-month beginner class, the Taylors were invited to Danny Davis' advanced class, where they trained with other up-and-coming WWE prospects. They trained at WWE's (now defunct) Deep South Wrestling, where Micah became a Tag Team Champion as part of team High Impact. In 2006, the duo began doing motion capture stunt work for WWE's video game franchise.
"They needed a cruiserweight [someone weighing less than 220 pounds] for motion capture. I just lied to them," says Micah Taylor. "I went and they said, 'You're a lot bigger than we thought. That'll be fine.' So, I did all the cruiserweight stuff. They liked me and started requesting me for all the games."
Tracy Taylor was then hired to capture the women's wrestling moves. Together they have performed a majority of the motion capture work for the "WWE 2K" series (including "WWE 2K16" and next year's "WWE 2K17"), spending one week out of every month at 2K's California studios.
Additionally, Micah Taylor has enacted motion capture fighting moves for characters in "Mortal Kombat X" and "Saints Row: The Third," as well as appearing in episodes of Tyler Perry's "House of Payne" and "Madea Goes to Jail." The Taylors wrestle locally and regionally while running the Island Beach Bodies personal training and group fitness facility, which is also home to the Underground Alliance wrestling academy, where the couple shares in-ring and on-camera knowledge with student wrestlers.
"Being in touch with the crowd is one of the important things," says Micah Taylor. "Making eye contact with the people is important because you're making them feel like they're part of the match. I always find the little old lady or man that's making the most noise and make eye contact with them. Once they react, everyone else starts interacting."
When it comes to transitioning from wrestling to stunt performing and acting, the Taylors have learned that it can be just as tough as breaking into the wrestling business.
"Be ready to start from the bottom again," says Tracy Taylor. "You've got to do whatever they want you to do. You've got to run around for them, then you earn your credibility. Then maybe they'll give you a chance—if they like you."
Inspired by this post? Check out our Atlanta audition listings!