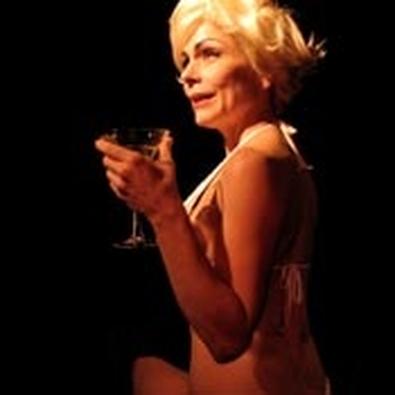 For exactly 60 minutes, actor Irene Glezos sits bolt upright on a stool, her platinum wig teased this way and that. She wears what used to be called a foundation garment, one that generously accentuates her curvaciousness. There is literally nothing else on stage but a sleek bucket holding a bottle of what is ostensibly sparkling wine, from which she periodically pours into a martini glass. She then holds the glass, always with perfect poise, right at the level of her eyes. Before uttering one word in that familiar girlish whisper, before the tiniest sliver of narrative leaves her lips, we know this is Marilyn Monroe.
What we don't know -- what we never know -- is where the legendary sex goddess is speaking to us from. Clearly, she's dead: The piece's title refers to the type of incision typically used on autopsied women. This Marilyn, moreover, details and wistfully rues the manner in which her internal organs were supposedly disposed, and she offers a lament for how the official attribution of her death -- to barbiturate-induced suicide -- may have been, as some historians have argued, a cover-up for President John F. Kennedy initiated by his brother Robert, then the U.S. attorney general.
Y, Marilyn Unstitched isn't merely a chat-and-remember session with the ultimate Hollywood misfit. Other characters in the play, which Glezos created with director Brad Calcaterra, continually elbow themselves into the storytelling like cheap shots of tequila. They include Monroe's mentally unstable mother, Gladys, and a cameo from Jean Kennedy Smith, another toothy sibling in the Kennedy clan.
The problem is that while each character is crystalline -- Glezos has a real facility for voices and faces -- one is not always sure of who is speaking or why they're interrupting Marilyn's already-maddening stream of consciousness. In addition, certain conventions are just confusing. Why does Glezos call "Line" twice—once at the top of the play, then again near the end? And why, if she wants to talk to the audience, does she do so sparingly? That removes you from the world of the play, and that's ironic, because the piece is about Marilyn, perhaps for a final time, helping people enter her psyche.
Presented as part of Frigid New York 2009
at Under St. Marks, 94 St. Marks Place, NYC.
Feb. 25–March 8. Remaining performances: Sat., Feb. 28, 5:30 p.m.; Fri., March 6, 6 p.m.; Sat., March 7, 7 p.m.; Sun., March 8, 5:30 p.m.
(212) 868-4444 or Smart Tix.