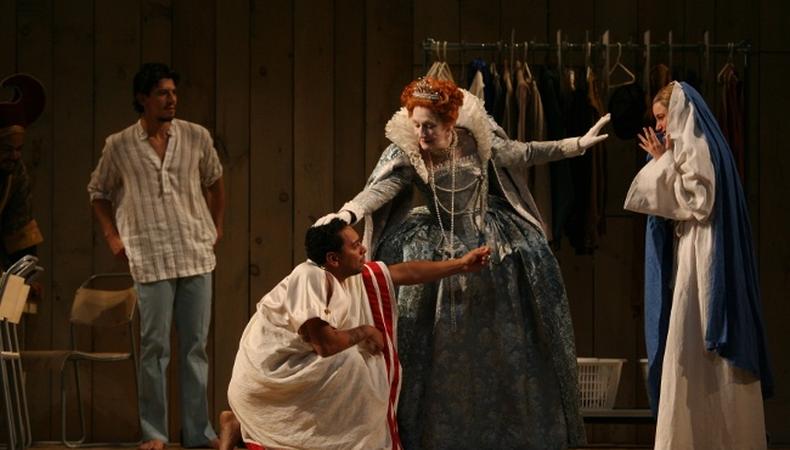 If any regional theater needs no introduction, it's Yale Repertory Theatre. The institution has produced more than 100 world premieres (including two eventual Pulitzer winners), had 17 productions transfer to Broadway, and was the winner of the 1991 Regional Theater Tony Award. So for the theater's 50th anniversary season, artistic director James Bundy was determined to pay tribute to its illustrious history. "We wanted to both honor the theater's past while moving it forward," he says.
That is why the 2016–17 season contains three Yale-commissioned world premieres (all by women), a classic musical, and August Wilson's "Seven Guitars" (Nov. 25–Dec. 17). "We didn't think we could have a meaningful 50th anniversary season without a production of an August Wilson play," says Bundy. "And 'Seven Guitars' is one that Yale Rep has never done." Six of the 10 plays in Wilson's Century Cycle premiered at Yale Rep.
Another familiar Yale name that's getting produced this season: Sarah Ruhl. The season opener, "Scenes From Court Life, or the whipping boy and his prince" (Sept. 30–Oct. 22), is Ruhl's sixth play with the theater. And it's perfect for the presidential election. The play features a contemporary and controversial pair of siblings: George W. Bush and his overshadowed brother Jeb. The play was a commission, though Bundy definitely didn't predict Ruhl would tackle politics. "We didn't know," he admits. "But it's a really timely play and two of the three Bush men who are represented in the play went to Yale. It seemed like a no-brainer."
READ: "Explaining the LORT Contract"
Yale's casting practices are fairly straightforward: The theater hosts an open call in August (its primary acting pool is from New York). The final cast lists are a mix of auditions and actors that the directors and playwrights wanted, but "it's extremely rare that we cast everything with offers," says Bundy. The theater operates on a LORT D contract, and sometimes casts local nonunion actors.
And because Yale Rep operates in partnership with the Yale School of Drama (Bundy also serves as dean of the school), it provides opportunities to the school's students. All acting students in the MFA program work as understudies in Yale Rep productions, and can audition for available roles, as well. "If they're U.S. citizens or have a green card, we guarantee them an Equity card," says Bundy. (A notable Yale understudy: Oscar winner Lupita Nyong'o, who was exposed to "Eclipsed" by Danai Gurira as a student understudying the 2009 production at Yale Rep, though she never went on.)
Browse our list of theaters to find your next stage home!
Another unexpected Yale connection: Stephen Sondheim. The musical maestro premiered his rarely performed Greek riff, "The Frogs," at Yale in 1974 (it featured Meryl Streep and Sigourney Weaver). So for the 50th anniversary, Bundy chose another Sondheim musical, though one that's better known and more fitting for an election season: "Assassins" (March 17–April 8, 2017). But he didn't predict that Donald Trump's rallying cry to those "Second Amendment people" would make Bundy's selection even more morbidly appropriate. "I did not plan that he would say that, but it didn't remotely surprise me that he did say it," Bundy says.
It just proves Bundy's point: "Assassins" is as relevant as ever, because some things in America haven't changed. "No matter which way this election goes, the sense of aggrieved entitlement that is at the heart of 'Assassins' will either be governing the country or we will be suffering a backlash from that part of America in the spring of 2017," he predicts.
Inspired? Check out our theater audition listings!