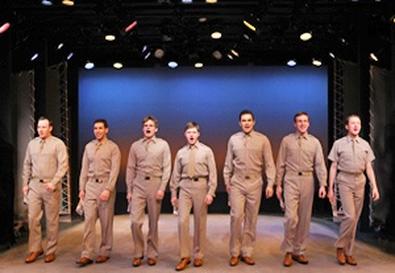 Despite the multitude of gay-themed work this season ("The Pride," "Next Fall," "The Temperamentals," etc.), the musical "Yank!" manages to stand out. Set during World War II, the tender tuner by the brother team of Joseph (composer) and David (book writer and lyricist) Zellnik finds new ways to explore the love that dare not speak its name, at a time when you didn't even think to ask or tell.
Employing the framing device of a diary found in a San Francisco junk shop, the narrative follows Stu, a private wrestling with his attraction for the handsome Mitch, a soldier in his squadron. Stu soon discovers an underground queer community in the Army and eventually hooks up with Artie, a discreetly gay journalist for the titular military publication. Taking a job as Artie's photographer saves Stu from the front but separates him from Mitch; that is, until Stu manages to follow his love to the Pacific under the guise of doing a story. They are romantically reunited, but then Stu's diary falls into the wrong hands, with dire consequences for the couple. Apart from a credibility-stretching wrap-up that sends Stu back to fight on the front lines, the book is clever and compassionate.
The Zellniks take movie and music clichés of the period and turn them inside out, simultaneously paying tribute to and ribbing the popcorn fantasies that supplied the troops and the home front with wholesome heterosexual fantasies. Stu and Mitch's squad is right out of central casting, with each member representing a different part of the country: hayseed Tennessee, lovable Brooklyn lug Czechowski, Italian immigrant Rotelli, and the pseudointellectual Boston-bred Professor. They watch film parodies and listen to the radio play pastiche songs that quote Irving Berlin and Sammy Fain. When Stu is imprisoned by the Army, he indulges in fantasies of Mitch in a dream ballet straight out of "Oklahoma!," with dancer doubles and Agnes de Mille moves.
Bobby Steggert, who has turned in sterling supporting performances in Broadway revivals of musicals such as "110 in the Shade" and "Ragtime," emerges as a major talent. He grows from a callow youth terrified of his sexuality to a determined fighter for his rights. Ivan Hernandez boldly charts Mitch's battle between his love for Stu and his fear of societal censure. Jeffrey Denman gives Artie a wicked spin and also devised the snappy choreography. Nancy Anderson, playing all the female parts, offers a small galaxy of contrasting types, from singers reminiscent of artists such as Dinah Shore and Judy Garland to sassy pinups to a tough-as-nails lesbian WAC. Todd Faulkner skillfully doubles as a macho sergeant and a prissy stenographer nicknamed Scarlett. Andrew Durand, Tally Sessions, David Perlman, and Christopher Ruth make the Warner Bros.–inspired squad members more than Hollywood clichés. Denis Lambert and Joseph Medeiros dance the dream sequence with just the right combination of power and delicacy.
Though the script is sprinkled with parody, director Igor Goldin never lets the action descend into broad sketch comedy. He puts the sweet and painful story of Stu and Mitch center stage and keeps it real. This little musical could definitely march beyond its current engagement into a commercial run Off-Broadway and onto the roster of many a regional theater.

Presented by the York Theatre Company and Maren Berthelsen/Pamela Koslow/Stuart Wilk, Matt Schicker, Hugh Hayes, Jim Kierstead, and Sondra Healy/Shidan Majidi at the Theatre at St. Peter's, 619 Lexington Ave., NYC. Feb. 24–April 4. Tue., 7 p.m.; Wed.–Sat., 8 p.m.; Sat. and Sun., 2:30 p.m. (No performance Tue., March 16; additional performance Sun., March 21, 7:30 p.m.) (212) 935-5820 or www.yorktheatre.org. Casting by Geoff Josselson.