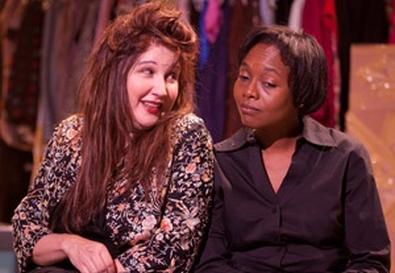 Enough world-weary, archetypal characters, and surreal scenarios converge in this dramedy to make it a near fit for theatre of the absurd, but large doses of realism detract from the more inspired fantastical moments, ultimately creating a textual identity crisis. Playwright Jennie Webb possesses a sharp wit and clear sense of compassion for female characters in flux, but she would do well to pare down the more-sentimental moments of this sometimes sidesplitting romp in which retail therapy serves as the ultimate salve.
The world of the play is a communal dressing room at a posh department store, an apt setting for becoming acquainted with a gaggle of put-upon women. There's The Focused Woman (Inger Tudor), whose recent release from the role of caretaker to her ailing mother finds Focused bereft of identity-bolstering professional drive. Grasping to restore her former power-suit mindset, she shops for an interview outfit, while her friend, The Scattered Woman (Jennifer Taub), serves as fashion consultant and simultaneously attempts to pay a pile of anxiety-inducing bills. As the women shop and dish, they are soon joined by other women who are in the market for life solutions via fashion fixes. Amid the doling-out of fashion tips and the donning of fabulous blouses, the play's central theme emerges: the gulf of misunderstanding between mothers and daughters.
The most clear-cut commentary on motherhood comes via The Woman With Children (a hilarious Hollace Starr): a grinning Barbie doll who waxes bubbly about her life as she literally falls apart under the pressures of her roles as dutiful mother and wife. Webb's writing shines in the crafting of this outlandish character, who is eventually reduced to a head in a hatbox. The play's various clichéd monologues about long-suffering women and their hardships don't hold half the power of this sidesplitting representation of one.
Director Elina de Santos revels in the more-ridiculous moments, nailing the art of creating surreal scenes inhabited by characters who find nothing unusual about their circumstances. The on-sale clothing is artful.

Presented by Rogue Machine at Theatre/Theater, 5041 Pico Blvd., L.A. Sep. 25-Nov. 14. Thu.-Sat., 8 p.m.; Sun., 3 p.m. (323) 960-4424. www.roguemachinetheatre.com.Editor's note: Playwright Jennie Webb reviews for Back Stage.