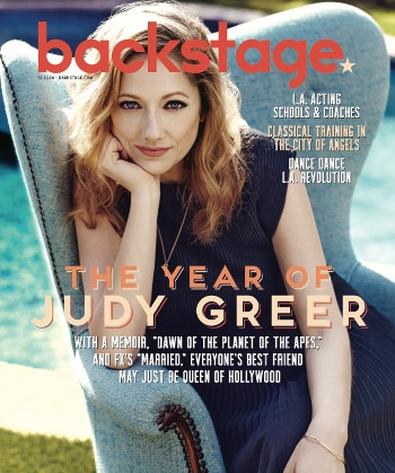 "Talk about not helping myself at all," says Judy Greer. She's referring to her attempts to break out of the "best friend" roles (see: "27 Dresses"; "13 Going on 30") while simultaneously taking on the part of Cornelia, the ape wife to Andy Serkis' Caesar in "Dawn of the Planet of the Apes." Hardly the way to counteract the question she hears so often that she answered it definitively with the title of her memoir, "I Don't Know What You Know Me From: Confessions of a Co-Star."
That question may die down soon. Because although Greer may be unrecognizable as an ape, 2014 has her poised to become a leading lady. "Dawn of the Planet of the Apes" director Matt Reeves knew it and reportedly couldn't believe his luck that an actor of Greer's stature was interested in Cornelia. "My husband ['Real Time with Bill Maher' producer Dean Johnsen] is a huge fan and he said, 'You have to try and get into the movie,' " Greer says. "My agent told me Keri Russell was playing the one female role but that they were looking to cast a real actress to play Cornelia, which was actually better. My husband was way more excited that I was an ape than a human."
Reading between her own lines, it is clear Greer did not necessarily expect to be more excited. Spousal fandom aside, Andy Serkis was the real draw. "I feel he should have been nominated [for 'Rise of the Planet of the Apes'], and [motion capture] is the way of the future so I thought it was cool to get a chance to do it on this level," she says. "Andy's more committed than most actors I've ever worked with and so emotionally present in every scene. I never felt like I was acting with someone in a space suit pretending to be an ape. After the first day, it felt totally normal and so freeing."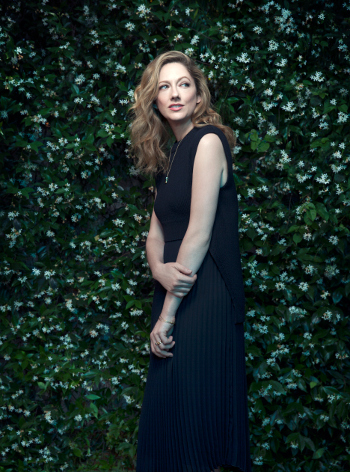 A pioneer in the motion capture field, Serkis has worked with the genre's crème de la crème and speaks highly of Greer's first foray. "I absolutely adored collaborating with Judy. She is one of the most expressive actors I've had the pleasure of working with. The scenes between Caesar and Cornelia are so crucial to the story arc of the film's overall plot, and Judy brought to the table a depth and sincerity that made you believe in the bond the characters share. She is the kind of actress that makes the entire process completely organic."
Though she disappears behind the motion capture work in "Apes," Greer is front and center on FX's "Married" (premiering July 17) as Lina, one half of a perpetually bickering married couple that are parents of three young children. Nat Faxon, co-writer of "The Descendants," plays Lina's other half.
"He made me want to do it," Greer says. "I'm at an age where I'm definitely going to be playing the wife-mom roles; that's where I'm at and that's fine. So now I have to sift through all the eye-rolling wife and overburdened mother roles that there are and figure out what is going to be the least horrible, the least clichéd, the most interesting, the one that I want my friends to watch because they're going to be like, 'Yes, oh my God, yes!' And then when actors like Jenny Slate and Brett Gelman were cast after me, I was like, 'They're making a choice to keep the show real and interesting.' It feels real. Lina doesn't want to have sex with Russ and she's irritated and busy, but they have a real friendship that I feel is missing from a lot of network family shows. I really like that take on it."
That she and Faxon have that friendship—and chemistry to boot—is obvious. "Judy is an actor whose work seems completely effortless," says Faxon. "A comedic talent who is hilarious in the most grounded of ways, and a generous and loving person who makes everyone around her feel completely relaxed. The last part was especially helpful when my character repeatedly masturbated next to her in bed while she was trying to read her favorite vampire book."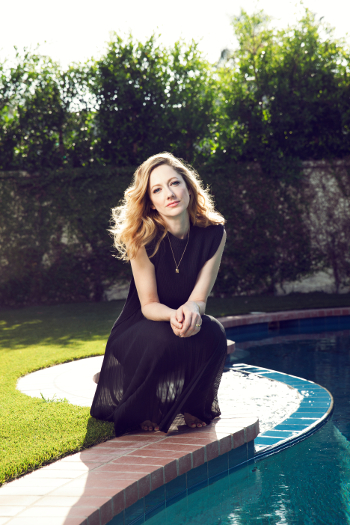 The show's veracity is such that Greer admits she is, for all intents and purposes, playing a real person. "[Show creator] Andrew Gurland is a weird, awesome genius and the whole show is a love letter to his wife. I'm playing his wife! He said, 'I love her so much and I know how terrible I am to her sometimes and how over me and the kids she is, and how much she does. This is my love letter to her.' I've met her and she is so cool, so much cooler than me."
Asking Greer if she feels this, finally, is her time elicits an expected, pragmatic response. "Honestly, I've heard that a lot over the years and I'm always really cautious about thinking, This is it! Because I don't really know what it is," she says. "But if all of this has led me to 'Married,' then I have got what I needed!"
---
Judy Greer On Some of Her Favorite Roles
"13 Going on 30" (2004)
"I've got something really important out of every one of my jobs, whether it's money, friendship, or a bump in my career. This was such a fun project with great friends made. We just had a 10-year anniversary brunch at the producer Donna Roth's house. That's not normal!"
"The TV Set" (2006)
"This is so good, it's on the scale of 'Jeff, Who Lives at Home,' which is one of my favorite films. It's all about the making of a TV pilot and stars David Duchovny and Sigourney Weaver."
"Love Happens" (2009)
"Around the time this was casting, I had saved up some money and told my agents, 'I don't want to play the best friend anymore.' They said, 'We don't think you should either but we think there's going to be a huge writers' strike and you might want to get out of town and get some money in the bank.' So I did. Of course I wanted to work with Jennifer Aniston because I'd always been a fan of hers from 'Friends,' and Aaron Eckhart is an amazing actor."
"Jeff, Who Lives at Home" (2011)
"When people ask what they should watch of mine, I always say this because I love it so much. I loved it from the second I met the Duplass brothers [directors Jay and Mark]. You couldn't meet two nicer guys who have so much sunshine and love in their hearts but also a weird sense of humor—which I require!"
Want to read more? Check out our Backstage covers here!