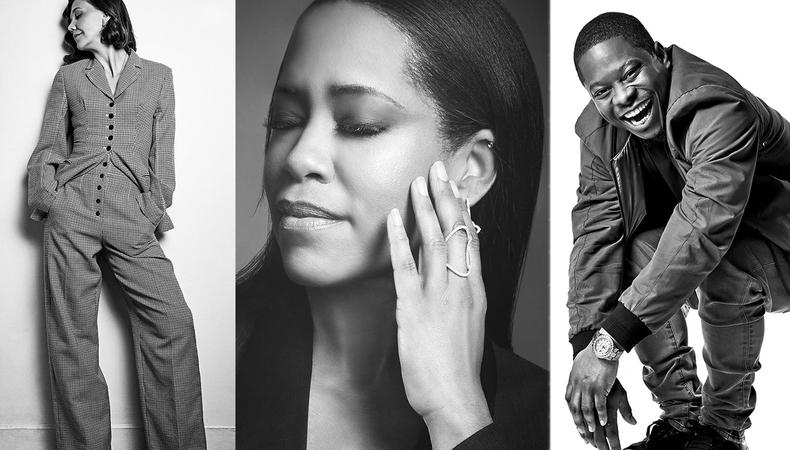 We started off with Lily Tomlin, ended with Vicky Krieps, and were graced by Allison Janney, Laurie Metcalf, Laverne Cox, and Viola Davis in between. Check out these artists and the incredible visionaries who donned the 44 covers of Backstage in 2017.
Lily Tomlin
Tomlin kicked off the year by appearing on the first cover of 2017 with her legendary self. She discussed her SAG Lifetime Achievement Award and her unending work ethic. "Even as a kid, I wanted to work," she said. "I babysat when I was 10 years old. I had a big babysitting service; I lived in an old apartment house, and back in those days, working-class people didn't pay too much mind to who was looking after their children. I spoke with authority, and I looked like the kind of kid that [parents] probably could rely on." Read the full story here.
Viola Davis and Denzel Washington
Davis and Washington took some time away from their busy press schedule for "Fences" to discuss August Wilson, the 23 takes for one monologue, and the "Oscar curse." Read the full story here.
Casey Affleck
Affleck stopped by amidst buzz for "Manchester by the Sea" to chat about Kenneth Lonergan's hyper-specific text, the power of daydreaming, and choosing projects. "Part of the criteria for doing a project is that it's scary or challenging because at some point you go, 'It's too scary, it's too challenging, I don't want to do it.' But things that seem easy are never any fun." Read the full story here.
Aaron Paul
Aaron Paul of "The Path" and "Breaking Bad" stopped by and recalled how Bryan Cranston taught him the valuable lesson of "unzipping" his character at the end of the day. Read the full story here.
Barry Sloane
"Six" star Barry Sloane tells us how showrunners David and William Broyles Jr. convinced him that he was right for the role, despite his hesitance as an Englishman in an inextricably American story. Read the full article here.
Corey Hawkins
Following his lauded performance in "Straight Outta Compton," Hawkins was offered the role of Eric Carter in Fox's "24: Legacy." He stopped by to discuss his past projects and his admiration for fellow Juilliard alumnus, Viola Davis. Read the full story here.



Famke Janssen
Janssen chatted with us about her constant desire to "do right" by her roles. "Very often, you're presented with screenplays or scripts where the character is just two-dimensional, and you very quickly learn as an actor that you have to try to add layers to these people." Read the full story here.
Allison Williams
Williams set the record straight on the characters of HBO's "Girls" and discusses her role in Jordan Peele's "Get Out." Read the full story here.
Finn Wittrock
During his most recent appearance on Broadway in "The Glass Menagerie," Finn Wittrock examines his return to the stage and working with director Sam Gold. Read the full story here.
Laverne Cox
"Orange Is the New Black" star Laverne Cox explained how her advocacy and artistry work hand in hand. Read the full story here
Dan Stevens
Sitting on the brink of stardom, Stevens discussed his career and the challenges of working with cinematic special effects just days before press for "Beauty and the Beast" kicked into high gear. Read the full story here.
Cynthia Nixon
Back in March, Nixon sat with Backstage to discuss her celebrated stage career, transition from a child actor to "Sex and the City" star, and her penchant for robustly structured stories. Read the full article here.

Jessica Chastain
The prolific Chastain chatted with us about "The Zookeeper's Wife," working with animals, and the far-from-over battle for inclusivity in Hollywood. Read the full story here.
Phillipa Soo
The Broadway dynamo and Juilliard alumnus revealed the demands and liberties of originating a role and the rigor of a eight-show-week schedule. Read the full story here.
Condola Rashad
Three-time Tony Award nominee Rashad gave us insight into her role in Lucas Hnath's Tony-nominated "A Doll's House, Part 2" and the road to her celebrated career. Read the full story here.
Carrie Coon
Coon shared her philosophical approach to acting, almost not becoming an actor, and how David Fincher helped her transition from stage to screen. Read the full story here.
Christian Borle
Two-time Tony Award winner Borle discussed his preparation for the role of Willy Wonka and those who came before him as the eccentric factory owner, and shares his thoughts on confidence and Twitter. Read the full story here.
Ben Platt
Platt discussed his journey with "Dear Evan Hansen," his self-proclaimed musical theater nerd status, and casting his family members in musicals as a young, ambitious producer. Read the full story here.

David Hyde Pierce
This veteran actor chatted with us about "Hello, Dolly!", keeping performances fresh, and the persistence involved in being an actor. Read the full story here.
Regina King
Two-time Emmy winning Regina King of "American Crime" spoke with us about finding herself in her roles, learning her craft on the job, and owning her vulnerability. Read the full story here.
Abigail Breslin
Breslin discussed her transition into adulthood from the childhood roles that launched her career, managing her struggles with anxiety through art, and training for the ABC remake of "Dirty Dancing." Read the full story here.
Laura Dern
Dern, star of HBO's hit miniseries "Big Little Lies," shed light on playing a powerful woman against the backdrop of today's political climate, what having actors for parents taught her, and the thrills of working with David Lynch. Read the full story here.
Aziz Ansari
Just on the brink of Emmy madness, Ansari explains his casting process, what it's like to step behind the camera, and his many (many) classic film influences. Read the full story here.
Demetrius Shipp Jr.
Before being cast as the iconic Tupac Shakur for the biopic "All Eyez on Me," Shipp Jr. was living off unemployment. He shared with us his preparation for nailing Tupac's signature mannerisms and the best advice he received while on set. Read the full story here.

Ansel Elgort
Fresh off of "Baby Driver," Elgort sat down with us to chat about his musical theater upbringing and top tips for nailing that audition. Read the full story here.
Tony Revolori
This "Spiderman: Homecoming" star was candid with us about being a brown actor in Hollywood, the difference between acting in independent films versus big-budget projects, and the best piece of advice he's ever received. Read the full story here.
Kumail Nanjiani
The writer-actor spoke with us about the torture of autobiographical writing and tackling the "stuff that bothers you," for his awards season success "The Big Sick." Read the full story here.
Keegan-Michael Key
This classically trained actor-comedian spoke about his most recent projects, including Netflix's "Friends From College" and "Hamlet" at the Public Theater. Read the full story here.
Jessica Williams
Williams sat down for lunch with us (prepared with her own bottle of honey) and discussed her proactive lifestyle and shedding the bad habit of being overly polite. Check out the full story here.
Aubrey Plaza
This actor, known first for her role as April on "Parks and Recreation," gave us insight into her signature brand of off-kilter humor and her transition into producing for "Ingrid Goes West." Read the full story here.

Ann Dowd
She's terrifying as Aunt Lydia on "The Handmaid's Tale," but this now Emmy Award–winning actor was open with us about the fearlessness required of theater performances as compared to film and television, and the importance of sitting in silence to preserve one's mental sanity. Read the full story here.
Michael Kelly
Kelly of "House of Cards" reflected on his days pounding the pavement, dealing with nerve-wracking situations, and the value of grit and determination. Read the full story here.
Maggie Gyllenhaal
This actor of HBO's "The Deuce" spoke on preparing to play a prostitute and learning to trust your directors as well as your instincts. Read the full story here
Nick Kroll
The comedian sat down with us to talk about how improv helped him in audition situations, why he enjoys working on animated content like his newest Netflix venture "Big Mouth," and his best tips for being on set. Read the full story here.
Katrina Lenk
This actor, who currently stars in "The Band's Visit" on Broadway, discussed the perks of originating two roles on stage, supplementing her creativity as a musician, and just being a person. Read the full story here.

Mackenzie Davis
This "Blade Runner 2049" and "Halt and Catch Fire" actor revealed the challenges of learning to become her own taskmaster after graduating school and how "it's really important to choose the career that you want to have." Read the full story here.
Jay Pharoah
The comedian explained to us the meaning behind the title of his new Showtime series "White Famous," as well as discussed his time on "Saturday Night Live" and navigating racism in Hollywood. Read the full story here.
John Leguizamo
This legendary actor, now on Broadway in his play "Latin History for Morons," gave us insight on his early career, pushing audiences further with each iteration of his very personal show, and being a father. Read the full story here.
David Harbour
This "Stranger Things" star spoke honestly about his feelings on becoming a "leading man" actor, his desire to make audiences feel less isolated, and being changed by his work. Read the full story here.
Jason Mitchell
He first made his mark playing Easy-E in "Straight Outta Compton" before moving on to "Kong: Skull Island," "Detroit," and finally "Mudbound." We caught him before the awards season chatter to discuss his love of making movies that reflect the world back to itself. Read the full story here.

Laurie Metcalf
This lauded stage and screen powerhouse, most recently of "Lady Bird," talked embellishing scripts with as many surprises as possible and her affinity for "characters that lead with their flaws." Read the full story here.
Lilli Cooper and Ethan Slater
These stars of the "SpongeBob SquarePants" musical discuss going to school together and starring alongside each other on Broadway. Read the full story here.
Allison Janney
This legendary actor discusses playing a tough-as-nails mother in "I, Tonya," about the disgraced figure skater Tonya Harding, and the importance of persistence, patience, and continuing to do the work. Read the full story here.
Rachel Brosnahan
After stepping into the No. 1 spot on the call sheet for Amazon's "The Marvelous Mrs. Maisel," the breakout actor spoke with us about transitioning from drama to comedy, studying at the Lee Strasberg Theatre & Film Institute, and the challenges of '50s period-appropriate attire. Read the full story here.
Vicky Krieps
After getting cast in "Phantom Thread" from a film Paul Thomas Anderson found on iTunes, Krieps spoke about her experience working alongside the auteur as well as Daniel Day-Lewis (who she calls a shaman), what she wishes someone had told her when she started acting, and why she believes everyone should stand on stage at some point in their life. Read the full story here.
Ready to get started with Backstage? Become a subscriber here!