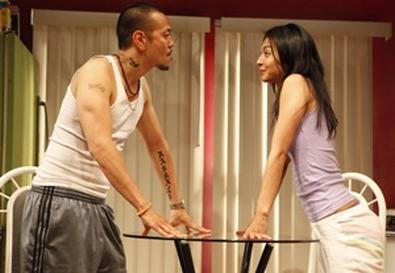 Sixteen-year-old Vuthy (Mason Lee) is having a rough time of it in Michael Golamco's "Year Zero," presented as part of Second Stage Theatre's Uptown Series. It's not that he's a Dungeons & Dragons–playing geek at the Long Beach, Calif., school where he doesn't fit in. His main problems are coping with his mother's death and having to move in with a family friend because his sister Ra (Maureen Sebastian) won't take him to live with her and her yuppie boyfriend, Glenn (a winningly goofy Peter Kim), in Berkeley. From this scenario, which resembles a particularly thoughtful ABC Afterschool Special, Golamco spins a delicate portrait of lost souls attempting to discover their roots and navigate awkward relationships with one another.

Director Will Frears has staged the episodic play with a gentle hand and elicited finely crafted performances from his ensemble. Particularly satisfying is Lee as the young hero. He captures Vuthy's geeky qualities with infinite charm, and during eruptions of anger or sullen bouts of poutiness he impressively manages to reveal the complex combination of confusion and vulnerability that underlies the character's unpleasant behavior.

Equally impressive is Sebastian's nuanced turn as Ra, who's dealing not only with her brother's moodiness but also her growing awareness that she didn't really know her mother, a woman who fled the Khmer Rouge while pregnant with her daughter. Sebastian also delivers cunningly whenever Ra has to deal with Han, an ex-flame just out of prison to whom she's still uncomfortably attracted. Louis Ozawa Changchien imbues Han with both an edge of menace and charismatic good nature.

Although Golamco has overwritten the first half of "Year Zero," the second half proves to be incisive, both dramatically and thematically, leading to a haunting and hopeful climax.


Presented by Second Stage Theatre at the McGinn/Cazale Theatre, 410 W. 42nd St., NYC. May 26–June 13. Tue.–Sat., 7:30 p.m.; Wed. and Sat., 2 p.m. (212) 246-4422 or www.2st.com. Casting by MelCap Casting.