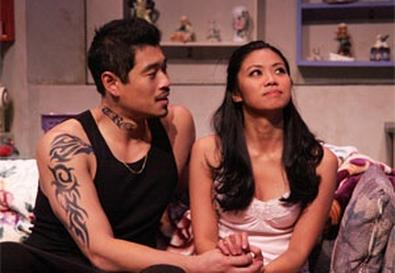 The spirit of a character we never see hovers over Michael Golamco's play. She is Chea Vichea, a Cambodian woman who fled to a refugee camp in Thailand after her brothers and sisters were murdered by Pol Pot's Khmer Rouge. There she met her husband, and the two immigrated to Long Beach, Calif., where they opened a store. After his death, she continued to run the store and raise her two children: a girl, Ra (Christine Corpuz), and a younger boy, Vuthy (David Huynh).
When the play begins, Chea has died, and the children are still trying to cope with the loss. Ra is a student at Berkeley, planning to enter medical school and semi-engaged to Glenn (Eymard Cabling), a Chinese preppie med student. She means to move in with Glenn in Berkeley and farm out 16-year-old Vuthy to a friend of her mother's in Long Beach, until he can finish high school. This is a second abandonment for Vuthy, a misfit who loves hip-hop and Dungeons & Dragons and hates Glenn. But the shape of their lives changes when a neighbor, Han (Tim Chiou), is released from prison, where he was sent because of his involvement with a Cambodian gang. He was once a sort of surrogate son to their mother, and now he loves Ra and assumes the role of elder brother to Vuthy. Ra is torn between safe good-boy Glenn and dangerous bad-boy Han.
Golamco's play is subtle, character-driven, and engrossing, revealing its secrets via nuance and indirection, and director David Rose meticulously charts its shifting shades of feeling. Corpuz captures the sweetness and determination of a young woman trying desperately to do right by everybody: her brother, Glenn, and Han. Chiou's Han is a tormented figure, torn between the urge to go straight and his commitment to his gang past, and Cabling lends a touch of genuine humanity to the predictable and slightly smug Glenn. But the acting honors must go to Huynh for his rich, endearing, and multifaceted performance as the oddball kid Vuthy, whose only confidant is a skull he keeps in a cookie jar.
David Potts' richly detailed set is dominated by Chea's enormous collection of tiny china figurines, which occupies every available surface.
Presented by and at the Colony Theatre, 555 N. Third St., Burbank. June 4–July 3. Thu.–Fri., 8 p.m.; Sat., 2 & 8 p.m.; Sun., 7 p.m. (818) 558-7000, ext. 15. www.colonytheatre.org.