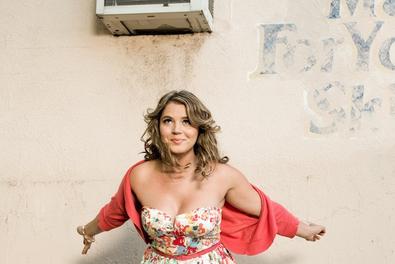 Gearing up for the highly anticipated Season 2 premiere of FXX's "You're the Worst," on which she plays the terrible but hilarious Lindsay, Kether Donohue ("Pitch Perfect," "The Bay") reflects on her audition for the show, what she's taking away from the experience, and her advice for actors who are struggling in the business.
On her serendipitous casting.
"It's a pretty crazy story that I love telling, so I'm happy you asked," says Donohue, when asked how her audition for the hit FXX sitcom went down.
After living in Los Angeles for three years without anything "taking off in a big way," according to the actor, she moved back to NYC in 2013 and booked an Audi commercial with Claire Danes. Shot in North Carolina, Donohue played Danes' bitchy publicist, and was supposed to fly back home once it wrapped. Coincidentally, her animation agent called and asked her to fly out to L.A. for a voiceover audition.
"So I hop on a plane and I come to L.A. That same week, I get an audition for 'You're the Worst' with Stephen Falk," she says. "Now the link between the two, I found this out later, [was] the director of the Audi car commercial had referred me to the casting office 'cause we enjoyed working together."
Of her two-scene audition, Donohue says there was "definite magic and chemistry in the room." Three hours later her agent called and said they wanted to test her for the role against two other girls. "I did a chemistry read with Aya [Cash], and a few days later, I booked the part."
Though her casting might seem fast, Donohue says it took years for her to get to this point. "I always think about this. I've been auditioning for literally 20 years, so it's crazy to think you put in so many years of hard work, blood, sweat, and dedication for your craft, and auditioning, and it feels like such a [long] journey to fulfill your dreams. Then when your dreams are actually coming true, it happens so fast. But it's the manifestation of all the years of hard work."
On playing Lindsay.
"I'm learning to let go of perfectionism," says Donohue. "Whether I'm going on an audition or going on set, you like to be so prepared and know all your lines and do the read just the perfect way. When I'm on set, you're doing so many takes so it's just impossible—from the time you wake up at 5 a.m. to the time you go to bed at 11 p.m. and all the shooting you do in between—it's impossible for everything to go the way you want. So I've learned to be open."
On her advice for actors.
As someone who's candid about how long it took her to find success in this business, Donohue urges actors to be persistent.
"And don't believe these bullshit stories about how success happens overnight. Yes, there are absolutely some actors who get lucky, and some people are blessed and they can just go on one audition and book a job and then they're working the rest of their lives. For me, I spent three years at one point just collecting unemployment because I was not booking work. I've been auditioning since I'm 9 years old. I've been through so many pilot seasons where I didn't test a pilot, where I didn't book a pilot, where I was embarrassed to even call my agent 'cause I felt unworthy to even have one because I just wasn't making them any money....
"My biggest advice is that this is a mental game. I know so many talented actors who don't have representation and who don't work partially because, I think, actors sometimes forget that they have to function as businesspeople as well.
"Don't be jaded! Send out postcards and hit the pavement and send emails and be relentless. Be relentless."
"You're the Worst" returns to FXX Sept. 9 at 10:30 p.m.
Inspired by this post? Check out our television audition listings!