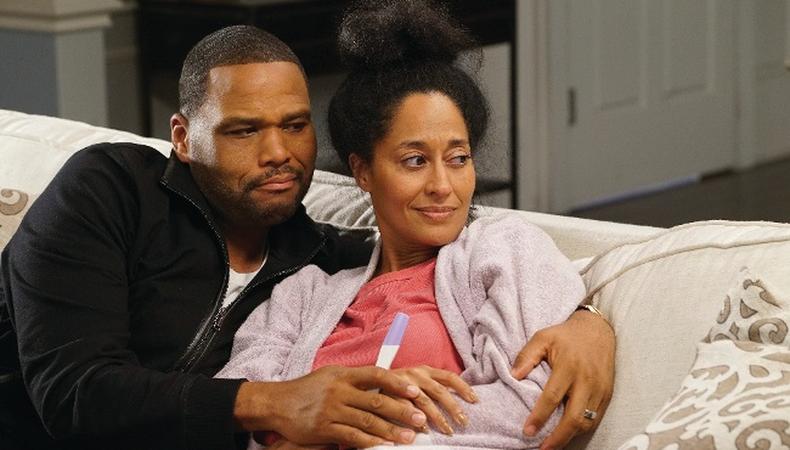 Actors will be voting for actors come January when the 2017 Screen Actors Guild Awards gear up to honor the year's best onscreen performances. In a particularly strong year for television, when network, streaming, and cable programming have all considerably upped their game, pinpointing the best small-screen acting can be difficult.
But Backstage has got you covered: We've gathered the top TV acting contenders for the SAG Awards. Don't be surprised if you hear these names called on Dec. 14!
Outstanding Performance by a Male Actor in a Comedy Series
Anthony Anderson, "Black-ish" (ABC)
Anderson has remained consistent (and hysterical) as Dre, a father of four trying to maintain career, family, and his kids' sense of blackness in their lily-white surroundings of upper-middle-class suburbia. In Seasons 2 and 3, Dre faced tough issues like police brutality, and the actor playing him proved as adept at drama as he is at comedy.
Louie Anderson, "Baskets" (FX)
It's hard to out-funny a scene-stealing comedian like Zach Galifianakis, but Anderson does just that by donning drag as his mother. It's the kind of stunt casting that could easily skew cartoonish, but the Emmy winner gets it right by leaving showmanship at the door, gingerly imbuing his Mrs. Baskets with maternal subtleties and, in the end, paying a fitting tribute to his own real-life mom.
Tituss Burgess, "Unbreakable Kimmy Schmidt" (Netflix)
In Season 2 of this hit Netflix comedy, Burgess proves nothing short of a revelation—sophomore slump be damned! The actor delivers idiosyncratic zingers and songs like he was born to do it while reconciling with his ex-wife from an ill-fated marriage, falling in love with a construction worker, and finally—at long last!—booking the gig.
Ty Burrell, "Modern Family" (ABC)
You'd think the "cool dad" trope would be predictable or played out, but Burrell still proves willing and able to mine comedy gold. Over a whopping seven years playing Phil Dunphy—the awkward, lovable, ever-so-slightly dumb dad in the ABC show's titular clan—Burrell continues to deliver pristine pratfalls and that signature goofy grin.
Will Forte, "The Last Man on Earth" (Fox)
Phil has come a long way since talking to a collection of sports balls with faces drawn on them. Season 2 gave Forte co-stars to bounce off of while the series began to focus less on his self-serving man-child and more on the challenges of maintaining a sense of community under dismal circumstances.
Tony Hale, "Veep" (HBO)
Poor, poor Gary. Could he possibly get any more pitiable? As Hale's ballsy performance in Season 5 proves, the answer is always yes. His genius is in the character's tiniest reactions and throwaway lines, from gasping at Selina's eye job to his increasingly nonsensical whispers in her ear. His best moment this year: Catching his boss and Tom (Hugh Laurie) in flagrante delicto, and the slow, horrified way he creeps backward out of the room.
William H. Macy, "Shameless" (Showtime)
Macy has continued to bring depth to the ultimate deadbeat dad. Frank Gallagher, the perpetually drunk father of seven, finds himself constantly robbed of whatever dignity he thought he had. While Frank is nearly always focused on his next drink, Macy finds a way to bring addiction to the periphery instead of the center of his acting work.
Jeffrey Tambor, "Transparent" (Amazon)
It takes bravery and grace to come out as transgender in middle age. In creating a nuanced character based on her own parent, writer-director Jill Soloway has provided last year's SAG Award winner with the role of a lifetime. Tambor's performance as Maura in the tumultuous third season of "Transparent" continued to be darkly comic, heart-wrenchingly vulnerable, and both brave and graceful in its own way.
Outstanding Performance by a Female Actor in a Comedy Series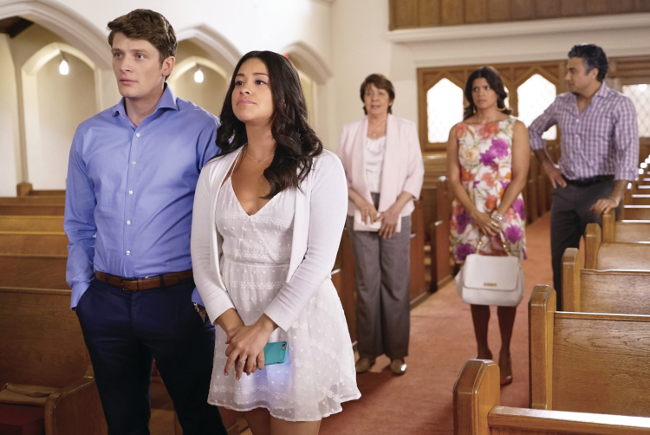 Brett Dier and Gina Rodriguez on "Jane The Virgin"
Uzo Aduba, "Orange Is the New Black" (Netflix)
You've heard it before, but we'd be remiss to leave the phenomenal Aduba off any awards season roundup. New internal complexities came to light this season as we learned why Suzanne is behind bars in the first place and struggled to suppress her anger. If you'd told us in Season 1 that we'd come to love Crazy Eyes, we'd call you crazy. But the fact that we do at all is thanks to Aduba's consistently stellar work.
Kristen Bell, "The Good Place" (NBC)
Bell is playing a truly horrible person on "The Good Place." Eleanor Shellstrop, a deceased saleswoman living in the titular afterlife, an idyllic home for upright citizens, has no qualms about lying, cheating, or shilling chalk to the elderly and calling it medicine. So why is her moral ineptitude so damn funny? The show owes it to Bell's innate everywoman charm.
Ellie Kemper, "Unbreakable Kimmy Schmidt" (Netflix)
The task of balancing goofiness with the genuinely dark elements of this Netflix comedy falls largely to its star, who more than rises to the occasion in Season 2. Kemper masterfully portrays the cracks in Kimmy's determinedly sunny veneer; particularly, for example, when the reason for her fear of Velcro is explained. Our favorite moment of the season, though, will always be her delivery of the impromptu song "Bunny and Kitty." No one can match Kemper when it comes to sweetness.
Judith Light, "Transparent" (Amazon)
Light can be trusted with scenes involving crushing loss or side-splitting laughs. As Shelly, there are times when she seems insufferable, somehow less mature than her selfish kids. But there are other times—her soaring end-of-season performance of "To Shell and Back," for instance—when Light can turn Shelly into one of the wisest (and most fabulous) women on television.
Julia Louis-Dreyfus, "Veep" (HBO)
"I wouldn't be your veep if there were a grassy knoll full of Jodie Foster fans in the front row at your inauguration." The perfect calibration of timing and tone in Louis-Dreyfus' portrayal of Selina Meyer reaches new levels yet again in Season 5. Just watch her hilarious attempt at prayer and the way she almost—almost!—gives in to real grief during her mother's death. Is it any wonder she has a massive shelf of awards for this role?
Gina Rodriguez, "Jane The Virgin" (The CW)
People often talk about Claire Danes' "Homeland" crying face, but Rodriguez has been giving her a run for her money on the CW for going on three seasons now. As the titular virgin with the sunniest of dispositions (despite having been accidentally artificially inseminated), Rodriguez is able to give audiences the emotion, laughs, and heartfelt drama they crave—and turns on a dime to deliver each with fervor. It's that commitment that earned her a Golden Globe win. Only time will tell if she'll be able to repeat the feat this awards season.
Tracee Ellis Ross, "Black-ish" (ABC)
Rainbow is your typical sitcom mother: frazzled but poised, put-upon yet supportive, attractive if not terribly glamorous. But through three seasons, Ross and the creators of ABC's most subversive comedy have turned that trope on its head by adding new qualities: goofy, badass, often borderline deranged.
Lily Tomlin, "Grace and Frankie" (Netflix)
Tomlin is a straight-up legend, and she proved why again this year. Rarely are older women visible in media, but in "Grace and Frankie" Season 2, Tomlin creates a woman who at one moment could be believably grieving the loss of her life companion and at another be flailing and failing at life. No one can deliver a punch line quite like her. (Bonus: She's receiving the SAG Life Achievement Award this year!)
Inspired by this post? Check out our television audition listings!