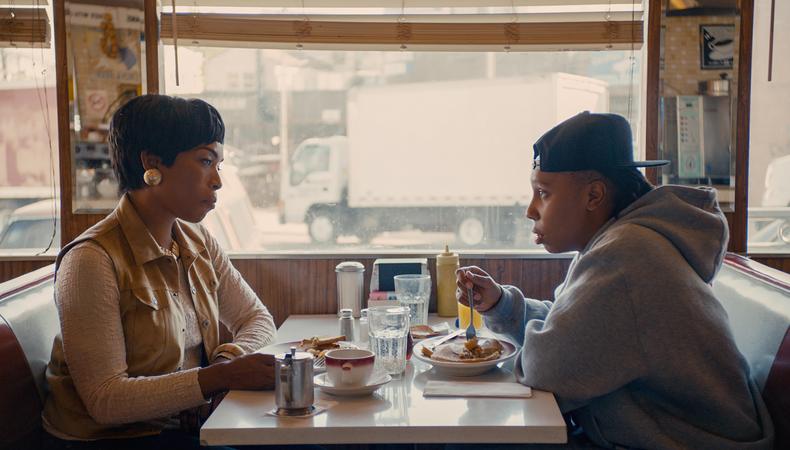 There's a lot that goes into the construction of scripted television. Writing that's full of compelling specificity, acting that exposes something truthful and human, and directing that dictates a story's tone and plotting all must combine to create a spectacular cinematic moment. Great dramas and comedies—and there are plenty of them in this era of Peak TV—are chock-full of such moments, which taken together endear us, as audiences hungry for stories, to shows that become our favorites.
We at Backstage often struggle to whittle down our favorite series, and that's why it's sometimes easier to pinpoint a specific snapshot or beat or piece of dialogue that speaks to us individually. In the midst of an especially competitive Emmy season, we've selected the most impressive scenes from some of this year's nominated shows. If you've ever wondered what makes great, Emmy-worthy TV, look no further than these unforgettable, moving, see-it-to-believe-it scenes.
The Johnson family goes to Bow's sonogram, "Black-ish" (ABC)
Good-natured goofiness and sly send-ups of black American assimilation are what make "Black-ish" notable, but what makes the sitcom great is its loving—and lovable—characters. When the harmony of the Johnson family is threatened, even if only for a minute, we feel protective of their well-being.
The second episode of Season 3 ended with a family trip to the doctor to check out Rainbow's (Tracee Ellis Ross) first sonogram. For about 60 seconds, the baby's heartbeat can't be found. The Johnsons wait. A tense silence stretches onward. Bow takes the hand of her husband, Dre (Anthony Anderson). He remains still, staring.... And then, a thump-thump. The kids (Yara Shahidi, Marcus Scribner, Miles Brown, Marsai Martin) breathe again, their faces lighting up with joy.
It's hard to put into words what Ross does in these moments—or rather, how she conveys what Bow is enduring, as what she physically does is relatively simple: a smile, a frown, an uncomfortable chuckle, a gaze into the middle distance, a tear rolling down her cheek, a gasp of relief. But as she visibly experiences something to which every expectant family can relate, the weight of the world suffocates and then is lifted from her in those 60 seconds. A miniperformance with seismic impact. —Jack Smart
Shelly Pfefferman's one-woman cruise ship show, "Transparent" (Amazon)
The Season 3 finale of "Transparent" should make you want to call your mom. For the first 25 minutes, Judith Light's Shelly Pfefferman is all but ignored by the family she's treating to a cruise, so much so that she spends most of her time with the private butler who "came with the room." Not at home with the family, she feels like an outsider.
So when the final scene opens with a projected video of her disembodied head in triplicate, reciting the silly name of her one-woman show ("To Shell and Back"), it's easy to assume what's to come will be a disaster. Instead, Light stuns.
Standing before her family, actually being seen by them for the first time, her rendition of Alanis Morissette's "Hand in My Pocket" goes from shaky to soaring. The camera, thankfully, stays tight on her face to emphasize Light's ability to make her large, wet eyes go from nervous and darting to strong and steady, and her voice that starts soft and unsure, only to grow as she thrusts her shoulders back and lifts her head. It's masterful acting, perfectly conveying three seasons' and 70 years' worth of secrets and uncertainty bursting into the light at long last.
Shelly is finally getting her moment, and everything's gonna be fine. —Allie White
The 1963 Oscars, "Feud: Bette and Joan" (FX)
Just because those "Game of Thrones" dragon fantasies were out of the running, this Emmys race didn't make prestige TV any less spellbinding. If anything, the most compelling stories spring from historical fact rather than fiction; limited series like last year's "The People v. O.J. Simpson: American Crime Story," for instance, create small-screen magic all their own.
Showrunner Ryan Murphy and FX struck gold again this year with "Feud." Its fifth episode, "And the Winner Is…," made for the season's most compelling and meticulously recreated hour in prime time. Murphy exhaustively reimagined that year's stranger-than-fiction Oscars for the small screen, from reconstructing the Santa Monica Civic Auditorium, where the ceremony historically took place, to hundreds of extras' period garb—a transporting directorial feat.
No moment left me more breathless, though, than when Joan Crawford (played by Jessica Lange), after being snubbed for a nomination herself for "Whatever Happened to Baby Jane?," accepts the best actress Oscar on behalf of Anne Bancroft (Serinda Swan), besting her nominated "Baby Jane" co-star and nemesis Bette Davis (Susan Sarandon). Davis waits in the wings expecting a win, only to stare in disbelief at her loss—and Crawford's malice. The look of smug satisfaction on Lange's face, memorably speckled with silver glitter, looking like a trophy herself, makes for the kind of acting that Emmys dreams are made of. —Benjamin Lindsay
Offred and Fred in the hotel room, "The Handmaid's Tale" (Hulu)
This dystopian drama has a tendency to sear moments into our collective memory, but Offred/June's (Elisabeth Moss) first foray into Gilead's underground sex parties and her hotel tryst with the commander (Joseph Fiennes) remains one of the most vivid.
Director Kate Dennis doesn't go for the obvious in "Jezebels"; despite this being their first sexual encounter outside of the conception "ritual," the act itself happens completely offscreen. It's the gradual lead-up, the depiction of Offred's sheer demoralization under the guise of "free will" that adds a new layer of horror to the handmaid's existence: The commander approaches her from behind, gently pulling back her hair. The shot is tight on her face as she tries to hide her disgust, the edges blurred like a dream.
"What do you think of our little club?" he asks, out of frame. He moves to trace his finger over the red ear tag all the fertile women are pierced with—a subtle and perverse detail. Offred is chattel; she has no control here. The Commander kisses her exposed skin. The muscles in her neck go taut. Silent tears roll down Offred's face as he undresses her. And just like that, Moss gives us one of the realest moments we've ever seen on fictional TV. —Briana Rodriguez
The hospital in Memphis, "This Is Us" (NBC)
What makes "This Is Us" such a network series phenomenon is the show's ability to be real; each character could plausibly be any person on the street just trying to move through the complicated maze that is life. Dan Fogelman's drama has made a name for itself addressing issues that face everyone—including death.
Episode 16 follows Randall (Sterling K. Brown) and his biological father, William (Ron Cephas Jones), on a spontaneous trip to Memphis. Although suffering from stage four cancer, William remains adamant about traveling back to his hometown to share his life as a young man with his son. What both Randall and the audience don't know is that William has a lot less time to live than we were led to believe. In a Memphis hospital, he faces the end of the line.
What follows is nine minutes full of the most gut-wrenching candor between a dying father and his son, a guaranteed tear-inducing scene. Randall is given a book entitled "Poems for My Son," which William has been writing his whole life and saving for the right moment. Every line is heightened with poignancy and reflection, creating a stirring reminder that although all lives end, how you live them and who you love is what makes it all worthwhile. —Isabelle Lichtenstein
Denise comes out to her mom, "Master of None" (Netflix)
Much has already been written about "Thanksgiving," the tour de force eighth episode of the second season of "Master of None," and for good reason. Chronicling Dev's (Aziz Ansari) and Denise's (Lena Waithe) evolution from childhood to present day through the lens of their shared Thanksgivings, the installment deals mainly with Denise's coming out story, from a young girl uncomfortable wearing a dress to a stoned adolescent gazing longingly at a poster of 1990s Jennifer Aniston to, eventually, coming out to her mother (played with warm-hearted bluster by the legendary Angela Bassett).
READ: Lena Waithe on That 'Master of None' Thanksgiving Episode, Broadway + Her Favorite Audition
The latter becomes one of this TV season's most emotionally impactful scenes, despite—or possibly because of—its presence within a comedy. While the two women sit across from one another in the booth of a diner, Denise explains what her mother already knows, but still receives crushingly. As Bassett hisses, "It is hard enough being a black woman in this world. Now you want to add something else to that?," their shared performance generates a somehow simultaneous intimacy and distance that is nothing short of explosive.
The moment crystallizes the sublimity of this episode, co-written by Ansari and Waithe, but also the overall proclivity of "Master" to go where others before it haven't dared, a boldness in which we should all rejoice. —Casey Mink
Want to book an award-winning role? Check out Backstage's TV audition listings!