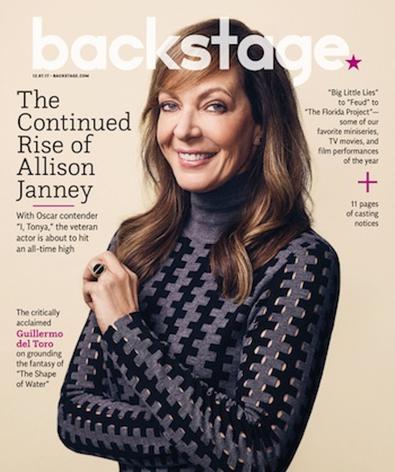 When we first see Allison Janney in "I, Tonya," she's been transformed into the elderly LaVona Golden. Speaking straight to the camera, nearly unrecognizable, she's wrinkled, sporting an awkward bowl cut, giant glasses, and a voluminous fur coat with an energetic bird sitting on her left shoulder, pecking at her oxygen tube. It's Janney like you've never seen her. As Tonya Harding's estranged, abusive mother, she's foul-mouthed and indignant, and she makes it impossible to look away.
"I, Tonya" is the story of figure skater Harding (played by Margot Robbie), her dysfunctional marriage, and her notorious violence against a competitor, which led to one of the biggest scandals in the history of the Olympics. But as Golden, an overbearing presence in Harding's childhood and adolescence, Janney delivers a performance that's earned her Oscar buzz, the cherry on top of what she calls her "busiest year ever."
It's no surprise that Janney commands the screen—she's done so in nearly every role since she broke out as C.J. Cregg on "The West Wing" almost 20 years ago—but Golden feels distinctly revelatory. Even with the knowledge of her chameleonic skill set, a quiet conversation over coffee at the Whitby Hotel in New York City marks her true talent: It's difficult to reconcile Janney the person with the larger-than-life character she plays in the film.
The actor's ability to take on a breadth of personalities is why the role was written with her in mind—not because she was once an ice skater herself. (Smashing through a plate-glass window put an end to those ambitions.) The film's writer, Steven Rogers, knew Janney from her first acting workshop right out of college, at the Neighborhood Playhouse in New York City. He'd been writing her roles for years, and time and again, they'd gone to other actors. This time, he wouldn't let that happen. "Knowing me and what I like to do as an actor, he knew it would make me excited," she says. "I love the wilder, more outlandish characters that are hard to make believable. Those are the ones I want to play."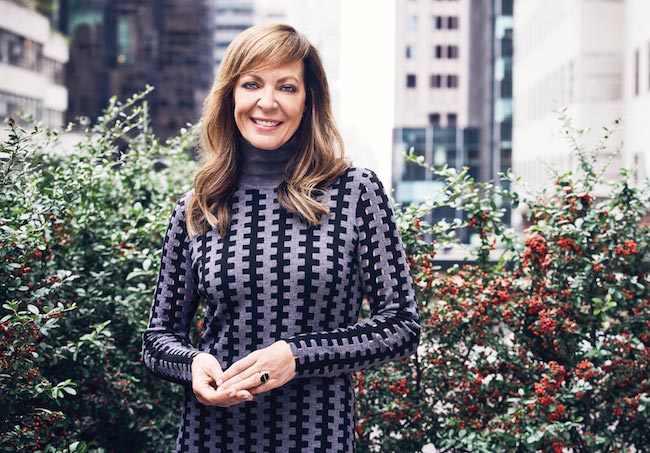 The character is hard to believe. She seems like a composite of every over-the-top stage mom trope. But LaVona, with her fur coat, regrettable haircut, and pet bird, is real. Janney, Rogers, and Robbie put a lot of thought into how she came to be the crass woman who admitted, on national TV, to smacking her daughter around (but only once).
In a film where she has to assume the character in three stages of life many years apart, the visuals were an important aspect in creating LaVona ("You couldn't ask for a better look to create a character"), but Janney also developed an understanding of why she did and said what she did. "What humanity can I find that makes her tick? I go on a hunt for things that make sense to me and that I can actively play as an actress," she explains. "She wanted her daughter to never feel coddled or safe. She felt like the world was a very unfair place and wanted her daughter to have a chance. She roughed her up so she'd be ready for life's challenges."
Although Janney can't relate to Harding's specific hardships and fraught upbringing, she's no stranger to toughing out life's challenges, especially where her career is concerned. She spent 17 years in New York City honing her skills in small plays, bit parts in movies and TV shows, and a soap opera, waiting for a big break before she got it in her Emmy-winning "West Wing" role. It's a Hollywood success story that serves as a reminder of what can happen if you have the foresight to say yes to less glamorous projects and stay committed. "My career has only gotten better. I'm almost 58," she says days before her birthday, "and 20 years later I'm really lucky to be working."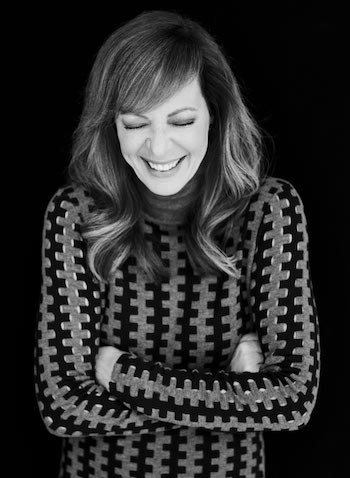 Using the term "working actor" to describe Janney's career at present is a gross understatement, bringing us back to her packed year—"I, Tonya" had a quick, one-month shoot in early 2017 while Janney was filming her CBS comedy, "Mom," and beginning rehearsals for "Six Degrees of Separation," which had a limited run earlier this year on Broadway. "They came out to Los Angeles to rehearse with me, then I started flying to Atlanta to film 'I, Tonya.' All three of those things were going on at the same time. It was the busiest I've ever been," she remembers. She's waited long enough to run into this "problem," and she's not taking one second of it for granted.
In her formative years, Janney said yes to roles that interested her, in between droughts that made her think about quitting. That openness to trying diverse roles made her an actor who can inhabit three wildly different women across as many time periods and genres and platforms—sometimes all at the same time—in a matter of months. "I'm really happy that I've been able to work in all different mediums," she says. Most actors fear being typecast, but it's a near impossibility for Janney; a quick glance at her résumé proves it. "It's relationship-driven for me. I did a play with Stanley Tucci, who put me in his movie 'Big Night.' I did a play at Naked Angels that Mike Nichols saw, and he put me in 'Primary Colors.' Then Aaron Sorkin saw 'Primary Colors' and wanted me to do 'The West Wing,' " she says. "They were fun things that came my way and I was game to do them. I didn't say no. I would say, 'I've never done that. Let's do this.' "
Laid out that way, Janney's success seems inevitable, but it's proof that in acting, persistence, patience, and networking are key. Her advice to actors comes from her own experience—sometimes the small begets the big. "Keep studying improv or scene study classes, or keep yourself involved with a group of people who are doing the same thing that you're doing," she suggests. "Get involved in a theater company and always be in a community of people who are doing the same. You never know who you're going to meet and who's going to introduce you to someone who's going to take you in the right direction."
Her first professional acting community is ultimately how she came to her standout role in "I, Tonya," and that turn as LaVona Golden has now landed her in the middle of Oscar conversations. Janney humbly admits it's no small thing. "This specific award is the ultimate acting honor that every actress dreams of getting and being in the ring for," she says. She's thrilled that her number has come up for this, a project written specifically for her by a longtime friend. "That this is the one I'm in the conversation about for the Oscars makes me very, very excited, happy, and proud," she adds.
Anyone who's been paying attention to Janney's work is probably not surprised about the recent awards chatter, which got louder when she was nominated for a supporting actress Film Independent Spirit Award on Nov. 21. After all, she has seven Emmys and six Screen Actors Guild Awards to her name, plus a Hollywood Film Award and that Film Independent Spirit Award nomination already this season for her "I, Tonya" performance. But for Janney, it wasn't always so obvious. The memories of those early days that paved her way still stick in her mind. "It makes me a little teary-eyed, because it's like, who knew? We keep looking at each other like, look at us now. Who would have thought?" she says with a smile. "If they could see us now, that little gang."
---
Own Your Auditions, Don't Let Your Auditions Own You
When Janney thinks back to her early days of auditioning, she doesn't have the typical actor's go-to, so-bad-it's-funny audition story. Even with all of the successful years of work between then and now, she admits she's not a fan of the process. "I'm so hard on myself and a really harsh critic of my work," she says. "Steven Rogers used to say, 'Allison, you get to act today. That's how you should look at it.' But people were going to be judging me. I got too nervous for the process, and as a result, I didn't feel I did my best and I'd come out and cry." But those bad memories didn't stop her from choosing to go into the room for her current role on "Mom"—even when she didn't have to. "My agents said, 'No, you don't have to audition anymore.' I said, 'I think they really want me to come in,' and I kind of wanted to audition. I didn't want to get the part and disappoint them. I wanted them to know what they were going to get going in," she recalls. "I actually felt pretty confident about that one. I think then I stopped trying to be who I thought they wanted me to be in the audition and just started being myself, being comfortable. The real trick to auditioning is just letting go of trying to please them. Make it your own. That took me a long time to learn."
Check out Backstage's film audition listings!
Photographed on November 16 on location at the Whitby Hotel in NYC by Chad Griffith