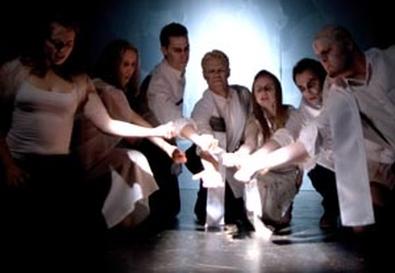 You have to wonder about two guys who call their plays "theatre for sick little monkeys." But by some accounts, that's exactly what playwright James Comtois and director Pete Boisvert have been creating. (It's even in their company's logo.)
How else would you describe a company that once created a play in which "the cruelly-named
Nervous Boy
wanders around a grotesque nightmare version of the city and comes across New Yorkers of every kind, from rude cell phone users, belligerent alcoholics, pretentious academics, screaming couples, demons from the underworld and brain-dead zombies as he tries to burn a recently earned paycheck in order to maintain his sanity."
"We've got a fairly dark sense of humor," says Boisvert. "There's very few moments in these plays that don't have a wide vein of humor running underneath them even though they can be [taking place in] very dark situations."
Their newest play, "
The Little One
," is no exception. In the play, Cynthia, a fledgling vampire, is being taught how to hunt humans. However, she has a rebellious streak and wants to strike out on her own path.
The same could be said for the show's creators, who recently celebrated their tenth anniversary as a company. Their collaboration started from a chance meeting in New York after college.
"We knew each other in high school (in Manchester, New Hampshire). We were part of the same theater club," recalls Comtois. "We didn't really stay in touch during college, and met up in the city when we both moved here independently.
"I was looking around to see about how to get my plays staged, and he was looking around to see how to get directing work," say Comtois. Very quickly they decided to work together. "We met up in August, and I think we had our very first meeting about how do we do this ourselves sometime in late September or early October."
Neither imagined this would be a long-lasting partnership.
"At first it was really more just a pragmatism in that James wanted to get these things produced and I wanted something to work on," says Boisvert. "So it was just sort of who was around at the beginning."
That first year they produced two plays that, in many ways, set the pattern for their work together, alternating between kitchen-sink realism and broad theatricality.
"'Allston' was set in a neighborhood with a lot of college housing, [and described] the ethnic tension with the Chinese immigrants who lived there before the college students moved in," says Boisvert. "'Allston' was named after a neighborhood in Boston, and drew a lot from James' college experience.
"'Monkeys' was a more surreal play set in a coffee shop where the characters would sort of switch identities as it moved through. As that one was a little simpler to stage, it was our first production... And we followed that up in the fall with 'Allston.' Then we were pretty much off the races."
In the decade that followed, the pair and a tight circle of friends and collaborators have created 18 more productions under the moniker
Nosedive Productions
. Usually working in New York's under 100-seat venues, their plays has touched on a wide variety of subjects, from horror tales ("The Blood Brothers" series), comic-book mayhem ("Colorful World"), and crazed zombies ("Evil Hellcat and the Liquid Lunch"), to troubled family dramas ("Dying Goldfish"), three-act tragedy ("Ruins"), and Beckett-like absurdism ("The Adventures of Nervous Boy: A Penny Dreadful").
"We're doing more and more genre theater," says Boisvert. "Taking these a-little-on-the-nerdy-side, niche genres and trying to translate them to the stage."
However, the swings between straight drama and wide theatrical abandon seems to have merged in their more recent work.
"Particularly since 'Nervous Boy,' James has been incorporating two styles more into the same play, having a play that can move back and forth between those worlds," says Boisvert. "'Nervous Boy' starts in a very realistic way—there's a lot of narration to the audience, we're showing a guy who's going about his day dealing with the frustrations of life—and then the horror elements seep in as it moves along.
"By the end, it's completely over the top and a wild bacchanalian: We've got cavemen and blue strippers and crack-smoking, PlayStation-playing demons and all sorts of fun things."
Working with a limited budget, Nosedive's shows always have a DIY feel, relying more on good writing and inventive theatricality than elaborate staging.
"I've always been a big advocate for self-producing, not waiting around for somebody to tell you that you can do a show," says Boisvert. "The bar is incredibly low with off-off-Broadway. It's really easy to get involved and make something out of nothing."
Both Comtois and Boisvert credit their longevity to the fact that, although one writes the plays and one directs them, both feel they contribute equally to each work.
"I think a lot of theatre companies disband because the main members, or someone in the group, is not feeling like they're able to express themselves," say Comtois. "And I don't think that's what's happening [with us]. We're both able to look at the shows and say, 'That's ours.' Pete can look at 'Nervous Boy,' and say, 'That's my play,' and I can look at it and say, 'That's
definitely
my play.'"
"All it takes is sticking it out and coming back again and again and polishing your process, because nobody's going to tell you that you have to stop doing this," adds Boisvert. "We hung in there long enough to really solidify our style and build a following of people who were interested in seeing what we were doing."
Comtois is less philosophical. "Maybe we both just have that very stubborn New Hampshire man-gene of just sticking to it no matter what other people say."
"The Little One" is now playing through July 10 at The Kraine Theater (85 East 4th Street between 2nd Ave and Bowery). Shows are Thursday through Saturday at 7:30pm. Tickets are $18 and are available online at www.theatermania.com or by calling 212-352-3101. For more information, visit www.nosediveproductions.com