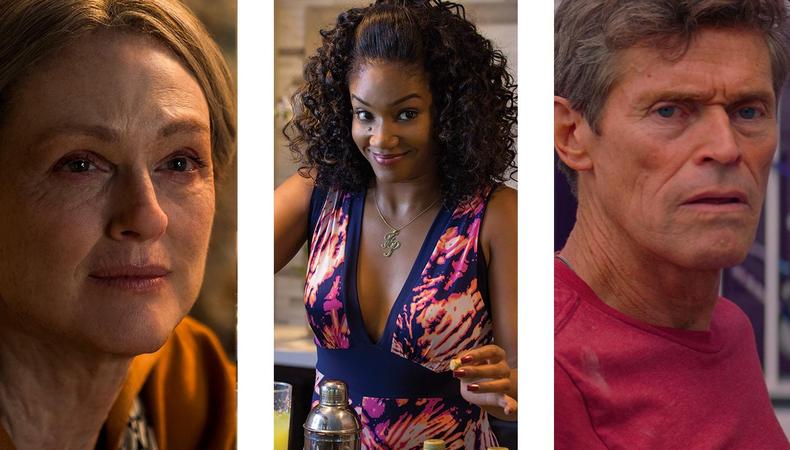 It's that time of year again! The nominations process for this year's Screen Actors Guild Awards is well underway, meaning guild members across the country are considering the very best acting on the big and small screens. As Backstage waits with baited breath for the Dec. 13 announcement, we're breaking down some of the most exciting, groundbreaking, and award-worthy 2017 contenders.
A good supporting film actor adds a human framework to a world built onscreen; a great one can make an impression while still remaining on the spotlight's periphery. For your consideration, here are 27 pitch-perfect performances from scene stealers we haven't stopped thinking about.
OUTSTANDING PERFORMANCE BY A FEMALE ACTOR IN A SUPPORTING ROLE
Mary J. Blige, "Mudbound"
Anyone familiar with her music knows Blige is a discerning artist, but that doesn't necessarily prepare us for her astutely nuanced performance in this World War II epic. As matriarch Florence Jackson, she makes what veteran actors know is often the best choice: quiet and stillness. Rather than swinging for the fences, the magnetic Blige draws us into her character's inner life modestly yet movingly.
Hong Chau, "Downsizing"
Not every actor gets to play someone shrunk down to five inches tall. Chau, the one relative unknown among a cast full of Hollywood stars, stands out as a woman who never wanted to be. Her Ngoc Lan Tran, a Vietnamese refugee maid and this film's representation of the Third World, makes no bones about communicating her traumatic past. In one searing monologue, the actor navigates that trauma with aplomb.
Tiffany Haddish, "Girls Trip"
A star is born. In one of the year's biggest hits, Haddish gives the kind of fearlessly committed performance that should be studied in acting school—if, of course, anyone could copy the timbre of her comedic timing. Dina's every moment becomes instantly iconic: that shockingly graphic monologue, the epic dance-off, her demonstration involving a banana and grapefruit. And the way she says "booty hole" is straight-up hilarity.
Holly Hunter, "The Big Sick"
It's about time Hunter returned to the big screen with the substantial material she deserves. The Oscar winner turns in an unforgettable performance as Beth, mother to Zoe Kazan's ailing Emily. Delivered in Hunter's inimitable voice, she's a fiery, no-holds-barred character that remains both ultra-specific and universally relatable to all mothers.
Allison Janney, "I, Tonya"
Portraying the foul-mouthed, abusive mother of the titular Olympian skater, Janney sticks a landing that could well see her taking home gold herself. The TV legend has received the best big-screen buzz of her career, and it's a juicy role that's drawn comparisons to past supporting actress winners: Mo'Nique in "Precious" and Melissa Leo in "The Fighter."
Melissa Leo, "Novitiate"
Count on Leo to give the kind of unflinching performance that makes an audience flinch. Her Reverend Mother isn't simply strict; her antagonism to the progressive Second Vatican Council and every change it stands for is downright ferocious. Mixed up in her devotion you can find equal parts fear and love. Watching Leo hint at both highlights her expertise once again.
Laurie Metcalf, "Lady Bird"
As a "warm but scary" mother struggling to make ends meet and appreciate—as well as love—her daughter, Metcalf provides this story with both its familiarity and idiosyncrasy. Her comic yet devastating tour de force confirms what stage and TV audiences have known for years: Metcalf is a master. There's a final, silent scene she delivers so brilliantly, it feels tailor-made for awards.
Julianne Moore, "Wonderstruck"
Never before has Moore played three roles in one movie, let alone three nonspeaking roles. It's a testament to her power as a screen performer (and muse of director Todd Haynes) that she leaves you breathless with all three. Learning American Sign Language on top of it all is further proof she's one of the very best.
Michelle Pfeiffer, "Mother!"
In both this thriller and the new "Murder on the Orient Express," this maestro mixes spine-tingling suspense with humor verging on camp, a combination at which no one excels quite like her. Pfeiffer's steely arrival in "Mother!" is the film's first sign that something sinister is afoot; even the way she glugs vodka cocktails like water tactfully signals the terror to come.
Rosamund Pike, "Hostiles"
Pike is in a class of her own, in this movie and perhaps in Hollywood at large. Here, she delivers the kind of exposed-nerve vulnerability that can be physically difficult to watch. Severed in this Western's first few moments from everything she knows and loves, her Rosalie displays piercing moments of lucid intelligence amid the sea of sorrow she's so viscerally experiencing.
Lois Smith, "Marjorie Prime"
Smith is a legend of stage and screen for a reason. Having lived with this tricky role—a woman conversing with the holographic projection of her deceased husband—for over five years in the Jordan Harrison play's incarnations, she now transfers it to the big screen with exacting skill. In fact, Michael Almereyda's film magnifies her quiet vitality; in this ever-expanding head-scratcher, Smith proves full of surprises.
Octavia Spencer, "The Shape of Water"
In addition to turning in consistently wonderful performances, Spencer continues to prove she has excellent taste in cinema. As Zelda, co-worker and protective friend of Sally Hawkins' Elisa, she gives the ideal supporting performance, quietly letting her co-stars shine until the story needs her to seize the spotlight. And when she does, Spencer is magnificent.
Kristin Scott Thomas, "Darkest Hour"
Thomas is tasked with playing this World War II political drama's beating heart. The only person in Winston Churchill's life who loves him for exactly who he is, warts and all, her Clementine is the counterpart to his steeliness and short temper. The magnetic Thomas can make warmth and resilience crucial ingredients in a story full of dread.
Emma Thompson, "The Meyerowitz Stories (New and Selected)"
No list of standout performances would feel complete without Thompson. In this Noah Baumbach vehicle, she plays Maureen, wife of Dustin Hoffman's Harold, a part that in the hands of a lesser actor could be reduced to "absent-minded hippie." Instead, the audience gets the divine pleasure of experiencing Thompson's skill with both comedy and tragedy.
READ: Your Definitive 2017–18 Film Awards Calendar
OUTSTANDING PERFORMANCE BY A MALE ACTOR IN A SUPPORTING ROLE
Kenneth Branagh, "Dunkirk"
Included in the ensemble of Christopher Nolan's intricate, riveting World War II drama are such acting veterans as Mark Rylance, Cillian Murphy, and Tom Hardy. Making the biggest impression, however, is the indelible Branagh, who imbues his trapped master commander with nail-biting apprehension; he follows it up with a pride that puts a lump in your throat, perfectly embodying the stiff-upper-lip British spirit.
Willem Dafoe, "The Florida Project"
Best known perhaps for his zany or malevolent characters, Dafoe surprises here by leaning into an everyman sort of naturalness. His exasperated but tender-hearted hotel manager, Bobby, is one of the most memorable performances of the year simply because of its understated, immense humanity.
Idris Elba, "Molly's Game"
Because he molds himself into pretty much any role, seeing Elba take on Aaron Sorkin's witty, rapidly paced dialogue was always going to be a treat. Playing the reluctant lawyer of the titular poker ringleader (Jessica Chastain), Elba swings for the fences, particularly in a rousing final speech that steals the show.
Harrison Ford, "Blade Runner 2049"
We couldn't be happier for the resurgence in Ford's career that sees him revisiting the big-screen roles that made him a legend. In Ridley Scott's stunning sci-fi–fantasy sequel, Ford magnifies the gravitas and uncertainty in his original "Blade Runner" performance, turning Rick Deckard into the film's most human—or, if you like, least robotic—figure.
Armie Hammer, "Call Me by Your Name"
Cocky yet kind, aloof yet curious, Hammer's performance is as intelligent—and as exquisitely rendered—as Luca Guadagnino's film itself. He makes us want to try to figure him out. By the time Oliver's true feelings for Elio (Timothée Chalamet) have bubbled to the surface, Hammer is shooting close-ups full of unabashed wonder that are simply gorgeous.
Dustin Hoffman, "The Meyerowitz Stories (New and Selected)"
As this titular family's papa bear and lead eccentric, Hoffman continues to give master classes in listening, precise line delivery, and truth-telling. He displays a complete commitment to the narcissistic Harold, bringing sly notes of decades-brewing embitterment to keep him grounded. Years on, Hoffman remains a marvel.
Richard Jenkins, "The Shape of Water"
Jenkins has never been more empathetic than as closeted illustrator Giles, whose warmth and charm provide his neighbor with an oasis of much-needed kindness; he and Hawkins blossom in each other's company. Bumbling, chatty, and emanating heartache, Giles is an all-too-familiar outsider figure in a tale full of them.
Ben Mendelsohn, "Darkest Hour"
We've seen it before with Oscar-caliber work from Colin Firth, but the reliably great Mendelsohn puts a more clean-cut and confident spin on King George VI. This monarch is a man who has adjusted to both power and his quirks of speech, and is sure enough of himself to work with Gary Oldman's Winston Churchill with the utmost—and most British—reluctance.
Jason Mitchell, "Mudbound"
The stakes remain high throughout this ensemble drama about two families, one white and one black, with sons fighting in and recovering from World War II. As those increasingly intertwined soldiers, Mitchell and Garrett Hedlund convey those stakes with their tender interplay. Mitchell does wonders with a close-up; his every hesitation and reaction becomes riveting—especially with the restraint demanded of black men in the American South.
Sam Rockwell, "Three Billboards Outside Ebbing, Missouri"
This longtime favorite actor finally gets a part that demonstrates his versatility. Like others in this darkly comic story, Rockwell's aggressive, racist cop seems predictable from the get-go. As Martin McDonagh dares to change our minds about him, Rockwell himself finds for his audience layers of surprise and sympathy in a man whose problem may be that he never quite grew up.
Michael Shannon, "The Shape of Water"
A bullheaded military man who tortures the creature at the center of this story—all while crunching on cheap hard candies—Shannon's colonel takes the all-American, square-jawed hero and makes him the bona fide bad guy. The actor uses his innate unpredictability to immense advantage here, upping the stakes masterfully. He and Guillermo del Toro should work together more often.
Patrick Stewart, "Logan"
Isn't it about time this legend got recognition for his towering work on the big screen? Yes, "Logan" is technically another superhero saga, but that doesn't stop Stewart and his co-star Hugh Jackman, as grizzled, fading mutants, from turning the film into a legitimately tearful drama. The masterful Stewart reminds us he can deliver intimacy and follow it up with biting humor.
Michael Stuhlbarg, "Call Me by Your Name"
Until a profoundly moving final monologue to his son, Stuhlbarg's character remains in the background of this Italian love story. He plays a fervent academic whose theories on antique statues' human form provides the film with its intellectual backbone, but in the end he's its heart, rather than its brain. Stuhlbarg delivers a speech of simple love and acceptance for the ages.
Check out Backstage's film audition listings!