Before we are treated to the 70th Primetime Emmy Awards on Sept. 17, Backstage is breaking down each nominee in major acting categories: how they earned their nomination, what you should remember about their performances, and why we at Backstage can't stop thinking about them. Whether you're in the Television Academy and need a refresher or are just overwhelmed by the sheer amount of peak TV binge-watching options, read on for a 2018 Emmy acting voting guide!
OUTSTANDING LEAD ACTOR IN A LIMITED SERIES OR MOVIE
Antonio Banderas, "Genius: Picasso"
More than just an extravagant combover is Banderas' take on Pablo Picasso, the Spanish artist and lothario whose reputation was begging for a miniseries adaptation like this National Geographic hit. The actor has fun with the artist's stylish eccentricities, but excels most in the moments in front of the easel, making us believe he's really about to create from scratch some of the world's most groundbreaking works of art.=
Darren Criss, "The Assassination of Gianni Versace: American Crime Story"
Together with creator Ryan Murphy, Criss has created one of the most complex, compelling gay characters ever on TV in the second outing of "American Crime Story." The season zeroed in not on Versace, but on his killer, Andrew Cunanan: a sociopathic monster, yes, but one born of an internalized homophobia that we, as an audience watching his intricate devolution, are tempted to blame on society.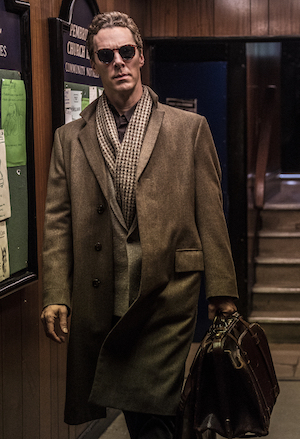 Benedict Cumberbatch, "Patrick Melrose"
So personal and committed is Cumberbatch's portrayal of an upper-class British addict in this Showtime miniseries, it feels like he's pouring pieces of himself onto the screen. The show's source material, the Edward St Aubyn novels of the same name, are similarly semiautobiographical, making Cumberbatch's vulnerable, no-holds-barred approach fitting.
Jeff Daniels, "The Looming Tower"
Before counterterrorism was forever tied to the events of Sept. 11, 2001, the FBI and CIA were actively seeking information to prevent attacks on U.S. soil—just not always in tandem. As the real-life John O'Neill, head of the New York FBI's I-49, Daniels illuminates, as only an actor of his caliber can, the very human errors that led to a great American tragedy.
John Legend, "Jesus Christ Superstar Live in Concert"
NBC's choice to include a raucous audience in staging Tim Rice and Andrew Lloyd Webber's wild rock opera about Jesus Christ's final days paid off; this dazzling spectacle is worthy of every accolade. Credit also goes to the show's directors and producers for casting the honey-voiced Legend, who not only knows how to fire up a concert crowd, but has the trustworthy, charismatic demeanor for the title role.
Jesse Plemons, "USS Callister" ("Black Mirror")
Plemons' Robert Daly is the meek, bullied CTO of a virtual reality gaming company—until he's revealed to be the horrifically dictatorial captain of his simulated starship, enacting vindictive fantasies on digital versions of his co-workers. This "Black Mirror" episode and "Star Trek" tribute is as inventive and unexpected as they come, and the reliably magnetic Plemons embodies the series' ability to keep pulling the rug out from under us.
OUTSTANDING LEAD ACTRESS IN A LIMITED SERIES OR MOVIE
Jessica Biel, "The Sinner"
Biel surprised audiences with her emotional prowess in USA's gut-punch of a mystery-thriller. The scene that sets this tantalizing "whydunnit" into motion is her standout moment: overtaken by an inexplicable rage, her Cora walks over to a stranger on a crowded beach and stabs him to death. It's a marvel to watch Biel's face, focused to the point of hypnosis, and her body, moving with an unforgettable, animalistic violence.
Laura Dern, "The Tale"
An Emmy winner just last year, Dern shows no signs of slowing in her dominance of the small screen. Writer-director Jennifer Fox channeled her childhood trauma into this HBO film, and needed an actor with the right judgment and sheer skill to pull off its thorny subject matter. Dern, one of today's best leading ladies, knows when to push the discomfort and when to rely on her innate sensitivity and grace in what must have been an emotionally arduous storytelling process.
Michelle Dockery, "Godless"
More roles for this superbly versatile actor, please. A tough-as-nails survivor of the Old West doesn't sound like a fit for someone known for playing upper-class British fabulousness, but it's a testament to Dockery's talent that she fits right in and provides this series with its weathered, still-beating heart.
Edie Falco, "Law & Order True Crime: The Menendez Murders"
In a crowded genre, Falco manages to bring a fresh take on the storied criminal attorney defending a guilty party. Her Leslie Abramson exudes intelligence and self-assurance, showcasing the actor's ability to be compassionate to convicted criminals the rest of the world is quick to write off. And, best of all, Falco doesn't let the curly wig and late-'80s style overwhelm or render her superb performance gimmicky.
Regina King, "Seven Seconds"
It should be law that King is nominated for an Emmy every year. She reigns in limited series categories once again with this Netflix drama following white-cop-on-black-teenager violence and its cover-up, playing the victim's mother with her usual empathy, intense focus, and capacity for outrage.
Sarah Paulson, "American Horror Story: Cult"
Count on Paulson to navigate and ground the twists and turns of Murphy's long-running anthology horror romp. This time she plays Ally Mayfair-Richards, a representation of liberal America—taken, of course, to horrific extremes. After the election of Donald Trump, she is overwhelmed by paranoia and various phobias (and clown attacks), material that Paulson makes a meal of, earning her status as a TV legend.
OUTSTANDING SUPPORTING ACTOR IN A LIMITED SERIES OR MOVIE
Jeff Daniels, "Godless"
Daniels should be commended for his actorly range; he can do goofy slapstick ("Dumb and Dumber"), world-weary cynicism ("The Newsroom"), and now, apparently, terrifying Western outlaw. Frank Griffin, this Netflix mini's revenge-seeking villain, creates fear not through his violent outbursts, but in his growls and glances—the sign of a great performer.
Brandon Victor Dixon, "Jesus Christ Superstar Live in Concert"
What a breakthrough moment for Dixon, a longtime Broadway pro relatively unknown to TV audiences. Belting, emoting, and grooving across the stage with enough energy to power a small city, Dixon stole the show as Judas, this musical's most demanding and psychologically nuanced role. This was musical theater performing at its most impressive.
John Leguizamo, "Waco"
It's good to see Leguizamo on our small screens; the multitalented performer has the kind of natural gravitas that assures you're in good hands. As a federal agent attempting to infiltrate David Koresh's Branch Davidians, Leguizamo helps build the tension that leads to the infamous and ultimately fatal standoff between the religious group and the FBI.
Ricky Martin, "The Assassination of Gianni Versace: American Crime Story"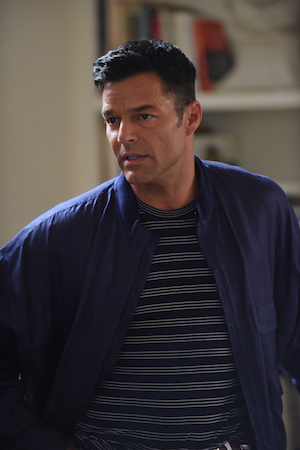 One of several musicians who have recently showed off their on-camera chops, Martin proves as surprising as he is moving in this FX miniseries. Giving life to model and designer Antonio D'Amico, longtime lover of Gianni Versace, Martin nails the emotional highs and lows of first the man's loving but closeted relationship, then his explosive grief.
Edgar Ramírez, "The Assassination of Gianni Versace: American Crime Story"
In the titular role, Ramírez must pay homage to a murdered man by both portraying his most intimate moments and representing the designer's massive impact on fashion and 1990s culture. It helps that the actor is quietly charismatic, painting a more restrained and intellectually vibrant portrait than we may have expected of such a flamboyant artist.
Michael Stuhlbarg, "The Looming Tower"
Stuhlbarg brings his reliably thorough character-building approach to a real figure of recent American history in Hulu's limited series about the buildup to 9/11. National Security Council adviser Richard Clarke, in addition to offering Stuhlbarg the challenge of portraying him faithfully and with nuance, also happens to resemble the actor—or is Stuhlbarg just that transformative?
Finn Wittrock, "The Assassination of Gianni Versace: American Crime Story"
Wittrock has benefited from small-screen collaborations with Murphy, and opposite Criss he may have achieved his best, most riveting work. One of the hapless victims of Cunanan's killing spree, Wittrock's Jeff Trail is a tragic figure; it helps that the heartfelt actor gives us reasons to feel for him.
OUTSTANDING SUPPORTING ACTRESS IN A LIMITED SERIES OR MOVIE
Sara Bareilles, "Jesus Christ Superstar Live in Concert"
Count on an artist as emotionally intelligent as Bareilles to bring depth to Mary Magdalene and sell "Jesus Christ Superstar" with the panache this unique production required. Now a tried-and-true Broadway performer (and Tonys host), the singer-songwriter should continue letting audiences watch her think and feel onstage; she's a bona fide star.
Penélope Cruz, "The Assassination of Gianni Versace: American Crime Story"
Entrances don't get more fabulous than the one Cruz's Donatella Versace receives in this show's first episode; clad in black, emerging from a private jet, projecting an icy grimness that feels distinctly Italian, the legendary designer strolls into the aftermath of her brother's assassination and Cruz proceeds to steal the show. The actor proved again why she's a legend on camera—is it too much to hope she comes back to TV?
Judith Light, "The Assassination of Gianni Versace: American Crime Story"
If anyone can lend a close-up and simple line a seismic weight, it's Light. "I knew it," she whispers as cosmetics spokeswoman and entrepreneur Marilyn Miglin, reacting to the horrific reality of her husband's murder. Her mascara trembles with tears, her throat constricts, a world of grief settles on her shoulders. Few actors alive can use their face and voice as skillfully as this legend.
Adina Porter, "American Horror Story: Cult"
Newscaster Beverly Hope goes from disillusioned in the wake of the 2016 U.S. presidential election to joining a murderous cult to ultimately taking down this "American Horror Story" season's Big Bad (Evan Peters). This fascinating actor manages to find human authenticity every step of the way. Porter has been working on the small screen long enough that she's overdue for this Emmys recognition; regardless of what projects she takes on next, they'll be ones to watch.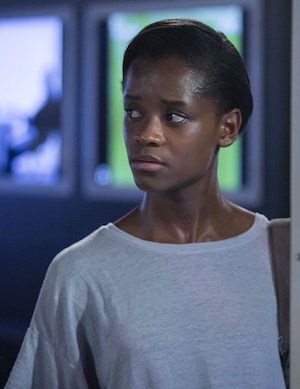 Merritt Wever, "Godless"
Has Wever ever been anything less than stellar in any of her roles? As Mary Agnes McNue, a de facto leader in her town following the mining accident that killed most of its men, including her husband, the mayor, she's as viciously frank as ever. Much like the actor playing her, Mary can smell bullshit and isn't having any of it.
Letitia Wright, "Black Museum" ("Black Mirror")
How thrilling to watch this young star on the rise stealing the show in "Black Panther" and this Netflix sci-fi anthology series. Nish, a visitor to a museum full of technological oddities, has more than a few secrets up her sleeves, and so does the actor playing her. There's something inviting and mischievous in Wright's expressive face, making each moment of her performance feel crucial.

Ready to win your Emmy statue? Check out Backstage's TV audition listings!