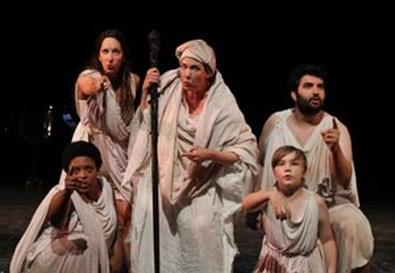 From urine to single-cell bacteria, Greg Kotis and Mark Hollmann choose the most unexpected musical topics. Their satirical comedy about pay-per-use toilets, "Urinetown," which premiered at the Fringe in 2001 before transferring first to Off-Broadway and then to the Main Stem, earned Tony Awards for best original score and best book of a musical. Well, the pair has done it again with "Yeast Nation (The Triumph of Life)," a Greek tragedy–like spoof on the downfall of government rule and the power of love through the eyes—or whatever organ they use—of salt-eating yeasts.
In 3,000,458,000 B.C., at the bottom of the primordial sea, Jan the Elder (an endearing George McDaniel), king of the yeasts, all named Jan (pronounced Yahn), forbids his subjects to asexually reproduce or rise beyond the sea floor. When his favorite son and heir, Jan the Second Oldest (an attractive and talented Erik Altemus), disobeys the rule, life changes forever. Meanwhile, Second and his father's advisor Jan the Wise (a deadpan Manu Narayan) both love Jan the Sweet (a charming Emily Tarpey). While Jan the Sly (Joy Suprano), third in line for the throne, schemes with Wise, the self-hating traitor Jan the Famished (Jennifer Blood) and her illegal spawn Jan the Youngest (Rick Crom) plot to undo her brother Second. Who knew conniving and blackmailing yeasts could be so entertaining?
Hollmann's diverse and robust score spans the music spectrum, from a scat number to the powerful showstopper "Burning Love." Kotis is conscious of the show's absurdity in his witty, philosophical dialogue, and the youngest chorus Jan (an outstanding Charlie Plummer) epitomizes Kotis' awareness by constantly referring to the "creatures yet to come," meaning humans. Tony winner Harriet Harris carries the show as Jan the Unnamed, the lovable blind narrator and leader of the chorus of Jans.
David Kaley's toga party–chic costumes reflect the ancient influence in character-appropriate designs, while Adam Koch's attractive set is simple without looking like a typically low-budget Fringe offering. As the yeast chorus belts the show's message, "The world won't wait," theatergoers take heed. The box office won't either.
Presented by John Arthur Pinckard, Ryan Bogner, and Gregory Rae at La MaMa ETC's Ellen Stewart Theatre, 66-68 E. Fourth St., NYC. Aug. 13–25. Remaining performances: Thu., Aug. 18, 5:15 p.m.; Sun., Aug. 21, 2:15 p.m.; Mon., Aug. 22, 8:15 p.m.; Thu., Aug. 25, 2 p.m. (866) 468-7619 or www.fringenyc.org.