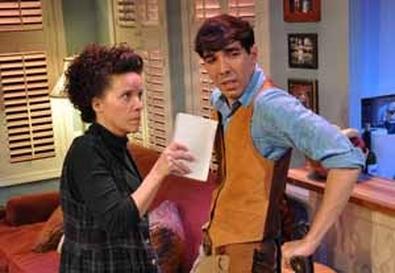 In his latest play, writer-director Del Shores daringly ventures outside the dramaturgic terrain that has earned him long-standing success. In place of the bawdy, bucolic humor and outrageous characters of his past plays, Shores has fashioned a realistic domestic drama in a traditional vein, eloquently exploring the power of forgiveness, the true definition of family, and the thorny compromises of love. This astutely cast premiere production taps into the rich satisfactions of Shores' emotionally galvanizing piece.
The narrative is set in Vicksburg, Miss., a more conventional suburb than the scribe's usual turf of Bible Belt Texas. The seemingly idyllic household of football coach Bobby Westmoreland (David Cowgill); his psychotherapist wife, Kate (Kristen McCullough); and their two teenage children, golden-boy athlete Dayne (Luke McClure) and brash but insecure Gracie (Evie Louise Thompson), is rocked by tragedy, which precipitates the devastating revelation of a long-held secret. Via a dovetailing story line, Shores incorporates some of his trademark themes: suppressed homosexuality and the destructiveness of religious fanaticism. A Westmoreland family friend—closeted student Kendall (Matthew Scott Montgomery)—suffers through the suffocating control of his scripture-spouting mother (Susan Leslie).
Anchoring the ensemble, as the seemingly perfect son, McClure gives a portrayal that subtly but assuredly sharpens the unfolding tragedy. His journey from joy to fear to courage to nobility is masterfully depicted. Montgomery takes the colorful role of beleaguered yet resilient Kendall to surprising places in an exquisitely layered characterization, as warmly funny as it is poignant. There's a transcendentally beautiful climactic moment between Dayne and Kendall, as the vastly different young men come to terms with their platonic spiritual bond, well aware of an impending calamity.
As the couple in marital crisis, Cowgill and McCullough imbue difficult roles with dignity and nuance. Leslie is superb as the abusive zealot, though the script could temper her character somewhat, so her eleventh-hour change of heart feels less jarring. Thompson excels at conveying the comic neurosis and underlying pathos of the bratty sister. Though script trimming is advisable, this powerfully moving work points to exciting new creative directions for a gifted playwright.
Presented by JD3atrical Productions at the Coast Playhouse, 8325 Santa Monica Blvd., West Hollywood. June 11–July 25. Fri.–Sat., 8 p.m.; Sun., 2 and 7 p.m. (800) 595-4849. www.yellowbydelshores.com.