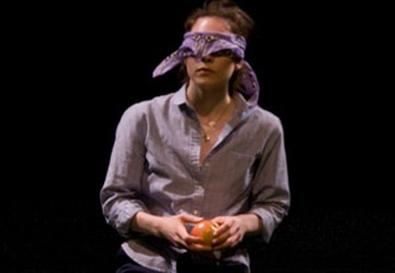 In Anna Brenner's "Are We Here Yet?," everything begins with "Hello." Nearly every entrance and monologue is prefaced by the greeting, a reminder of the multitude of human connections in our everyday lives. Brenner and her cast rely heavily on that often-hackneyed idea of interconnectedness, in a production that struggles to find a balance between conceptual and concrete.
The script of "Are We Here Yet?," Brenner writes in her director's note, was cobbled together from interviews, correspondence, and improvisations by the cast members, with bits of Dostoyevsky, Rilke, and Foucault thrown in. The concept recalls the heralded 2008 epic from Nature Theater of Oklahoma, "No Dice," whose creation relied heavily on recorded telephone conversations; perhaps unsurprisingly, Gabel Eiben, one of the cast members in "Are We Here Yet?" and a Nature Theater of Oklahoma member, performed in "No Dice."
The collective creation of "Are We Here Yet?" highlights the conceptual foundation that underlies the entire production: Every directorial move underscores the interconnectedness of the human community, especially through speech. Characters constantly reach out to each other with a "Hello" and wander in the shadows during others' scenes, interrupting or overlapping them. Even with a stage that is bare but for a carpeting of Astroturf and two ladders, the intricate web of lights that illuminates the actors proves that they are part of something larger, though intangible
But notably unlike "No Dice," Brenner moves back and forth between the abstract and the concrete. She grounds her ideas in a loose series of relationships with defined characters, all of whom frequent the same community garden. Washed-up writer Helen (Melissa Brown) interviews political candidate Rick (Mike James), who meets Tim (Eiben), a brother to artist Alex (Rachael Richman) and an aide to the elderly George (also played by Richman in a remarkable turn; she and Brown are standouts in a strong cast). The chain of connections plays into the conceptual groundwork, but often it also cleverly plays into character development; when Helen and Tim make their inevitable connection, this time a romantic one, Alex's resultant jealousy stems from her own personal connections to both of them.
But Brenner occasionally chooses to emphasize the theoretical at unusual intervals throughout the play, overturning the delicate equilibrium between concept and character. Occasionally, all the players will move and turn together, trancelike. In one jarring sequence, they roll on a TV showing experimental musician Laurie Anderson while singing and miming along. Although these moments contribute to Brenner's feeling of community action, they're not at home in a production in which the plot plays an equally important role as the thoughts behind it. It is instead through the characters that we begin to see how these ever-present connections permeate even the most solitary life.
Presented by East River Commedia in association with Anna Brenner as part of the Undergroundzero Festival at Performance Space 122, 150 First Ave., NYC. July 14–18. Remaining performances: Thu., July 15, 7 p.m.; Fri., July 16, 9 p.m.; Sat., July 17, 2 p.m.; Sun., July 18, 3 p.m. (212) 352-3101, (866) 811-4111, or www.ps122.org.