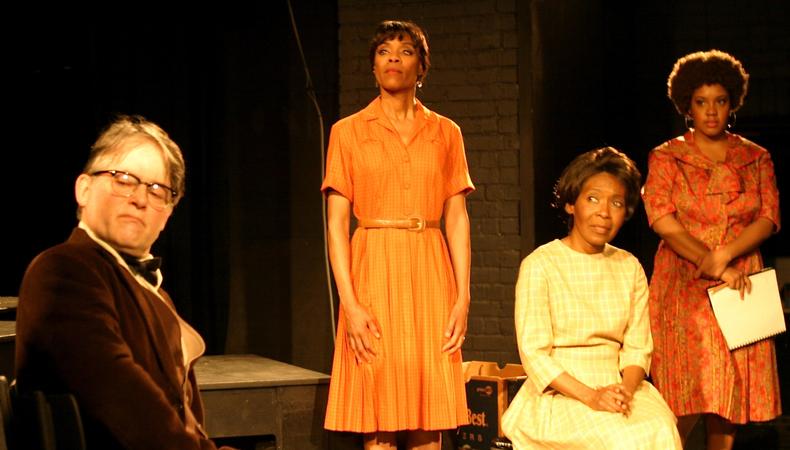 "To Be Young, Gifted and Black" is not so much a traditional play as a collage of Lorraine Hansberry's writings, memories, and statements, compiled by the playwright's ex-husband, Robert Nemiroff, after her untimely death at the age of 34. The text tends to be more literary than theatrical, and director Andi Chapman succumbs to the trap of allowing the performances to become overly didactic. As a result, it is almost impossible to become emotionally involved, except when scenes from Hansberry's plays are enacted.
The loose narrative re-creates significant moments from the playwright's life: her childhood in a Chicago ghetto; her college years, which included a relationship with a young Ethiopian man; and her first experience at the theater, when she realized the similarity between the pain depicted by an Irish playwright and the pain she saw as a member of the black community and was thus inspired to become a playwright herself. There is also her civil rights activism in New York; the Broadway opening of "A Raisin in the Sun," her acclaimed play about a black family being bribed not to move into a white suburb; a dry period; her next play, "The Sign in Sidney Brustein's Window"; and ultimately her terminal illness.
Despite the overall failings of this Actors Co-op production, most of the eight ensemble members, who weave in and out of various roles, have their individual moments. Three actors play Hansberry. Kimi Walker does a credible job and is particularly effective in the section in which Hansberry bitterly talks about the rich white boys who, assuming she is a prostitute, proposition her from their cars. At other times, however, Walker's delivery becomes a bit too soft. Though Deborah Marlowe is the least successful Hansberry, she is quite striking as an Irish schoolteacher and as the bigoted sister in an excerpt from "The Sign in Sidney Brustein's Window." Elayn J. Taylor is a strong Hansberry, but she is even more compelling as a mother standing over the coffin of her boy, who has been shot by a policeman, and as matriarch Lena Younger in scenes from "A Raisin in the Sun." Also impressive in those scenes is J. Patrick Wise as Lena's son Walter Lee, who can't find his place in the world. Wise's performance in another segment as a runaway slave is potentially moving, but the actor is so subdued that he seems to be talking to himself.
Shea Scott does full-bodied work and clearly differentiates her characters, from a sweet, innocent, fearful slave to Beneatha, the silently angry sister in "Raisin." Bruce Ladd is also impressive for his ability to delineate and flesh out his roles as a poor, white farmer; a hermit; and the cynical, bohemian Jewish artist Sidney Brustein. Montelle Harvey is in top form as Joseph Asagai, a Nigerian college student with old-fashioned values in "Raisin," but Greyson Chadwick needs to dig more deeply into her characters to avoid coming across as flip and superficial.
Though there are isolated pieces of admirable work, most of "To Be Young, Gifted and Black" is more suited to the page than to the stage.
Presented by and at Actors Co-op, 1760 N. Gower St., L.A. Feb. 8–March 17. (323) 462-8460 ext. 300 or www.actorsco-op.org.
Critic's Score: B-