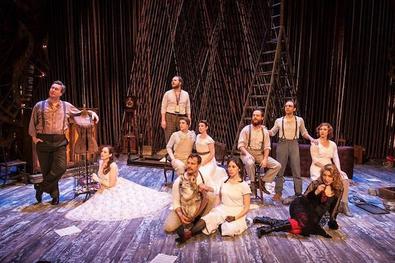 In a theatrical landscape as diverse as it is populated, the old saying holds true: If you can make it in New York, you can make it anywhere. With approximately 2,000 productions per year from some 500 Off-Off-Broadway theater companies and thousands more from small Off-Broadway troupes, established mid-size theaters, and massive Broadway houses, the New York theater scene is as vibrant—and competitive—as ever. Here are eight young, New York-based theater companies that are making their mark in a major way.
Fiasco Theater
A darling of the Off-Broadway scene, this ensemble-based theater from Brown/Trinity Rep grads has grown up with an almost unheard of swiftness. Fiasco's many-times-extended production of "Into the Woods" was remounted at Roundabout's Laura Pels Theatre this year to rave reviews, and Theatre for a New Audience has presented not one but two of the group's groundbreaking Shakespearean productions—"Cymbeline" in 2011 and "The Two Gentlemen of Verona"—this past season. Known for its innovative staging, deconstructed sets and costumes and "boundless imagination," Fiasco is an important (and entertaining) New York theater to watch.
Fault Line Theatre
Another young company founded by Brown/Trinity Rep graduates, Fault Line Theatre hit the scene in 2011 with Christopher Marlowe's Doctor Faustus and Aristophanes' "The Frogs," and quickly earned a reputation for new play development with the award-winning world premiere of Michael Perlman's "From White Plains." Three seasons later the company is undoubtedly on the rise, and known for its socially relevant and provocative works; recent world premieres include "House of Cards" creator Beau Willimon's "Breathing Time" (2014), and another success from playwright/director Michael Perlman, "At the Table" presented at HERE Arts Center downtown.
Bedlam
Barely past its sophomore season, Bedlam is one of New York's most talked about young theater companies. Led by artistic director Eric Tucker and a strong ensemble of actor-creators, the company has wasted no time in building its aesthetic. Immersive, engaging productions of classical works replace overblown production style with a unique actor-audience connection; the casts are small, the spaces are intimate, and simple storytelling is at the forefront. These innovatively minimalist concepts breathe new life into the classics in rep, such as last season's highly acclaimed shows, "Saint Joan" and "Hamlet," and thrill audiences and critics alike.
Nylon Fusion Theatre Company
This up-and-coming New York via London (NY-Lon) based theatrical collective stormed the city's indie scene in 2007. Renowned playwright (and advisory board member) John Patrick Shanley calls Nylon Fusion "exactly the right kind of theater for New York City now," a reputation earned through the development of new plays and challenging works that build "political, social, and cultural awareness." In addition to mounting full productions of highly-theatrical new plays each year, Nylon Fusion presents quarterly, curated evenings of one-acts through its "This Round's On Us" short play series.
New York Shakespeare Exchange
Founded in 2009 as part of a work/life balance initiative for corporate employees, New York Shakespeare Exchange has quickly grown into one of the city's best sources for approachable, vibrant Shakespearean work. All at once authentic to the Bard and relevant to a modern audience, the company's varied programming provides "fresh points of entry" into the classics. In addition to fully produced main stage productions each year, NYSX brings Shakespeare to the people (and the other way around) with a rotating reading series and the ShakesBEER Pub Crawl—a rowdy, regular event that is exactly what it sounds like. Add on the company's brilliant and groundbreaking Sonnet Project, a video series several years and over 100 actors in the making, and you have a young New York-based company that is changing the way we see (and perform) Shakespeare's work.
Flux Theatre Ensemble
Nearing its 10th birthday, this critically acclaimed company awakens audiences and collaborators through its ensemble-based, transformative work. Plays are chosen for their didactic impact above all else; viewers are forced to consider change, consequence, and the morality of their own decision-making. The style of the work is eclectic and the messages often varied, but the company's commitment to excellence—onstage and off—remains consistent. As part of Flux's ethical focus, the company recently launched a game-changing ticketing and giving program that creates complete transparency in the artistic budgeting process.
Shrunken Shakespeare Company
Though in its early stages, this site-specific classical company has entered the scene with plenty to offer. SSC's works are chosen by the space in which they live—think an aerialist "A Midsummer Night's Dream" at the Muse circus school in Brooklyn and an immersive (and musical) "Two Gentlemen of Verona" inside an uptown lounge. A recent, devised retelling of Chekhov's "Three Sisters" (2014's "What We Know") earned rave reviews for its contemporary take, and the company's young fan base is gearing up for what is sure to be a successful fourth season.
The Attic Theater Company
This energetic young company draws in top New York talent and produces untapped classics and new works that scream of the American experience. The Attic's character-driven, large cast plays create fabulous opportunities for actors, and audiences enjoy clever staging of some of the country's best (and least produced) plays. Running now through Aug. 15 is New York's very first revival of John Patrick Shanley's 1986 powerhouse, "The Dreamer Examines His Pillow."
Inspired by this post? Check out our New York City audition listings!