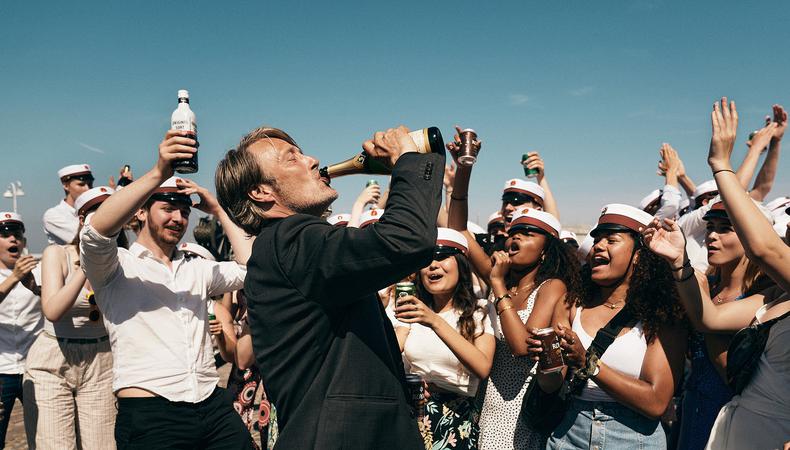 Denmark, Bosnia and Herzegovina, Hong Kong, and, for the first time ever, Tunisia and Romania will be represented at this year's Oscars in what has become one of the awards' buzziest categories: best international feature film. Known prior to 2020 as best foreign language film, the prize merits attention—especially considering that last year's winner, "Parasite," also won for directing, writing, and best picture. The increasingly international membership of the Academy of Motion Picture Arts and Sciences has nominated a strong crop of 2021 contenders, with several also boasting nods in additional categories. Here's your refresher on the five titles contending for best international film this year. Tune in to the Oscars on April 25 to find out who wins!
"Another Round"
This critical hit re-teams writer-director Thomas Vinterberg (2012's "The Hunt") with star Mads Mikkelsen for a drunken romp-turned-tragicomedy. It follows four friends, all teachers, as they dare each other to maintain a constant level of alcohol in their system in order to live better lives. A film festival staple that was also nominated for a 2021 Golden Globe Award, the Samuel Goldwyn Films release has been hailed by critics as deeply human and bittersweet, with some even saying that it's the best performance of Mikkelsen's career. "Another Round" may be the favorite to take home Oscar gold, if Vinterberg's corresponding nomination in the best director race is anything to go by.
"Better Days"
From Hong Kong and distributed stateside by Well Go USA Entertainment, this romantic crime drama from filmmaker Kwok Cheung Tsang ("Soulmate") follows a bullied high school girl and a small-time criminal whose lives become unexpectedly intertwined when they are named as prime suspects in the murder of a teenage girl. Set against the backdrop of an oppressive society, the film paints a fairy tale–esque love story while also commenting on the pressures of achievement and the very real-world plague of high school bullying.
"Collective"
A historic first nomination for Romania, this nonfiction Magnolia Pictures film has also received an Oscar nod in the best documentary feature category. In a searing condemnation of the recent corruption within the country's health-care industry, director Alexander Nanau ("Toto and His Sisters") follows a team of investigators at a Romanian newspaper as they seek to uncover mass health-care fraud that empowered moguls and politicians while innocent citizens were left to die.
"The Man Who Sold His Skin"
Marking a first-ever nomination in the international feature category for Tunisia, this Samuel Goldwyn Films release from director Kaouther Ben Hania tells the story of a Syrian refugee, Sam (newcomer Yahya Mahayni), who gains entry to Europe by agreeing to become the canvas for a controversial contemporary artist. As such, Sam's journey to what he thought was freedom turns out to be anything but. The critical darling's provocative premise brings a mix of drama, satire, and dark humor to the screen.
"Quo Vadis, Aida?"
From Bosnia and Herzegovina, the latest from Jasmila Žbanić ("Grbavica: The Land of My Dreams" and "On the Path") centers on Aida, a translator for the U.N. whose family is among the thousands of citizens looking for shelter in a U.N. camp during the Bosnian War. As an insider to the negotiations, Aida has crucial information that will decide whether her family lives or dies, along with countless others. Writer-director Žbanić was herself a teenager in Sarajevo during the time in which the film is set, and she brings the violence of that era to all her work—this latest from U.S. distributor Super LTD being no exception.
This story originally appeared in the April 8 issue of Backstage Magazine. Subscribe here.
Looking for remote work? Backstage has got you covered! Click here for auditions you can do from home!