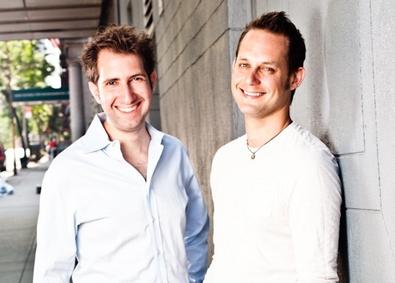 The idea for "Carner & Gregor's Barely Legal Show-Tune Extravaganza" series was hatched when Derek and I started discovering video performances of our songs on Youtube—many by talented college students from around the country and world. We were deeply impressed by the passion, skill, and story-telling abilities we saw in their performances and wanted to find a way of showcasing their work. We were also intrigued by the distant reach that the internet allowed our songs and new musical theater in general. After all, the videos we were seeing were came from all over. We thought it would be exciting to invite young musical theater performers to New York to take part in a concert of our songs.

The resulting "Barely Legal Show-Tune Extravaganza" concerts have been some of the most fun and rewarding events Derek and I have be part of. We have recorded each "Extravaganza" and posted the performances on Youtube, so the show could, in turn, be seen after the fact by people outside New York. With hits reaching into the thousands for some videos, it became clear that the performances were reaching even more people after the fact than at the shows themselves.

The first two editions of the "Extravaganza" were by invitation. Our team invited talented performers whose work we were able to find on Youtube. Of course, this process left out performers who had not posted their work publicly. So we sought to level the playing field by holding a contest and requesting submissions. Of course, it felt natural to use the internet as the means.

For our contest, we ask college singers to submit a video performance of any Carner & Gregor song. Anyone in college (or high school) is eligible, and we do welcome submissions from spring graduates as well. We try to make the process as easy—and, we hope, rewarding—as possible. We provide our sheet music for free or at a discount (depending on the song) to all entrants. We also provide piano tracks for most songs, as we realize that not all performers have ready access to accompanists. The trickiest part of the process is probably getting us the video file, which can be quite large, but services such as Dropbox, Dropsend, Yousendit, etc. make sending big video files relatively easy these days. Once we receive the video, we post it on the Extravaganza Youtube page, where it remains indefinitely (unless the performer requests that it be removed); so the work of every candidate is featured, not only during the contest, but into the future as well.

We assemble a panel of industry judges to view and score the entries. (We hope that this exposure to industry is another opportunity to everyone submitting). This year's panel included casting director Jason Najjoum, casting director Michael Cassara, concert producer Alina Gutierrez, director Marlo Hunter, and Broadway performer (and concert host) Andrew Kober.

Although Derek and I do make a point of watching all the submissions, it's important to us that we not be among the judges. Aside from the concern that we might be too close to the material to make the best decisions, we also don't want to be the gate-keepers. After all, we are truly grateful to everyone who chooses to sing our songs and would rather be in the position of thanking each performer.

The selection process itself actually quite simple. The judges score each video on a 1-10 scale, and the performers with the highest aggregate scores are invited.

The process's strength is probably also its weakness. As the panel reflects a variety of sensibilities and concerns, it tends to lead to the selection of performers who are strong all-around: great singers, excellent story-tellers, likeable, good-looking, engaging, etc. Sometimes, though, quirkier performers get short shrift. Certain really distinctive singers will get very high scores from some judges and very low scores from others. I think that this is something we may want to look at in the future. Maybe we'll add "wild card" picks, where each judge's favorite performer gets an automatic invitation.

That's a question for next year, though. In the meantime, we're thrilled to have a really remarkable group of singers in this year's class. They have all been a joy to work with and are bringing so much talent and intelligence to our songs. The Extravaganza remains one of the most exciting things we do. We hope you'll be able to join us on August 5th at (Le) Poisson Rouge to watch these brilliant young singers in person—or at least to check out the Youtube videos after the concert!
Sam Carner and Derek Gregor's musical UNLOCK'D won a Richard Rodgers Award and was produced at NYMF in 2007, where it won the "Best in the Fest" audience prize and Talkin' Broadway Citations for "Best Original Theatrical Score" and "Best Musical." UNLOCK'D is currently playing Off-Broadway at the Duke Theater on 42nd St. Carner & Gregor's show ISLAND SONG will be workshopped this summer at the Balagan Theatre in Seattle and the Bloomington Playwrights Project in Indiana, after late 2012 concert performances at (le) Poisson Rouge in NYC and in Tokyo (in Japanese!). Three numbers from the show have been nominated for MAC Awards. Their work has been performed around the US and the world (including in Antarctica), and a concert of their songs sung by West End performers was presented in London this March. www.carnerandgregor.com