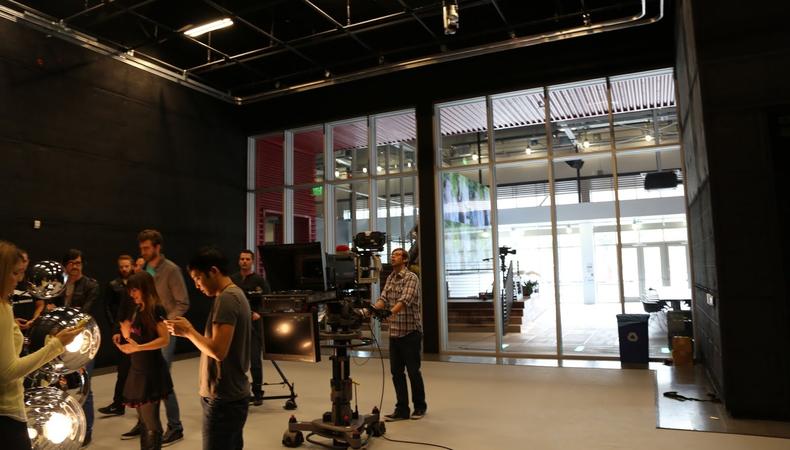 Following the success of its YouTube Partner Program and YouTube Next, YouTube is expanding its commitment to original online video content by opening a new studio space where YouTube partners can create, network, and learn more about digital video production.

The 41,000-square-foot YouTube Space Los Angeles, located in Playa Vista, Calif., is a former aircraft hangar that was once owned by Howard Hughes. It includes two stages for digital video production, three green screen studios, a motion capture studio, a recording studio, a rehearsal and dance studio, a screening room, and an outdoor amphitheater, as well as post-production facilities for audio and video recording, mixing, and editing. Production equipment is also available for checkout. Public areas like the lobby, hallways, and even the parking lot will be available for productions as well.

YouTube creators can visit the new production facility at an open house Wednesday, Nov. 28.

"Everything about this facility is about putting creators in settings that they may not have been in before," Liam Collins, head of the YouTube Space, told the L.A. Times. "The facility is all about being more ambitious with your content, and this is a place where you can see the possibilities." Collins added, "The idea is we really want to incentivize creators to hang out here, spend time and interact with each other."

The production services, spaces, and equipment are available for free to YouTube creators, who must apply for access to the facility. Qualified applicants are established and emerging creators who have "demonstrated a strong commitment to the YouTube platform" and whose channels feature consistent publishing, substantial monthly views, a large and growing subscriber base, at least three prior collaborations with other YouTube channels, and a comprehensive plan for use of the space.

"What we've learned over the last couple of years is the act of bringing creators together causes good thing to happen," Tom Pickett, vice president of global content operations for YouTube, told the L.A. Times. "They cross-promote each other, they teach each other, they crew for each other. There really is this community element to being YouTube creators. In a few markets, we want to see if we can help facilitate that."

In addition to providing a place to create new content, the YouTube Space will be a meeting place where YouTube creators can attend networking events, educational workshops and training programs, screenings, and more. These events will be open to anyone with a YouTube channel and will not require an application to participate, although space is limited.

The facility will be fully operational in January, according to The Wrap. YouTube opened a similar studio space in London in July.

For more information about the YouTube Space, visit YouTube.com/space.