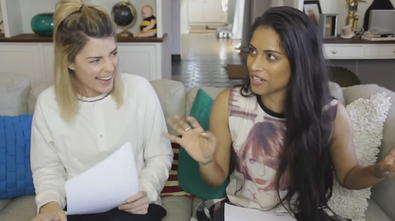 Can you believe YouTube is only 10 years old? New media has been changing the face of Hollywood—and advertising—since its earliest days, and the streaming platform has become an indispensible tool for actors hoping to gain exposure and experience on camera. Many of YouTube's biggest stars didn't start out as actors, but their massive fan bases have led them to the big screen; here are 10 of the many YouTube influencers who are currently breaking into Hollywood.
Grace Helbig
This New Jersey-born Renaissance woman rose to fame with her quirky brand of daily vlogs, and has her own wildly popular channel on YouTube. Her millions of fans followed her from "It'sGrace" to numerous web series, and she has acted in recent films "Camp Takota" (which Helbig Executive produced alongside fellow influencer Hannah Hart) and the YouTube-born "Smosh: The Movie."
Hannah Hart
Most famous for the YouTube hit "My Drunk Kitchen" on her personal channel, this talented comedian and Internet star joined Helbig as a producer and actor in the feature film "Camp Takota." Hart and Helbig will also star in this year's YouTube-inspired miniseries "Electra Woman and Dyna Girl," a reboot of the 1976 sci-fi series.
Ian Hecox and Anthony Padilla
This comedy duo has been one of YouTube's most popular attractions for over a decade, and their sketch channel "Smosh" has a mind boggling 21.7 million subscribers. The channel has expanded with regular series, apps, animated content, and even video games, and the 2015 feature film "Smosh" starred Hecox and Padilla, along with many other YouTube celebrities.
Kian Lawley
This YouTube and Vine sensation (and part of former YouTube channel "Our 2nd Life") made his acting debut with a the first film role he ever auditioned for, a part in the horror feature "The Chosen." Next up Lawley stars in "Shovel Buddies" co-starring Bella Thorne, and the young star has two more films in production.
Lilly Singh
This ultra-talented comedian of the YouTube channel "IISuperwomanII" has over 7 million subscribers and gets hundreds of thousands of views on every sketch and vlog she posts. She recently toured the world with her show "A Trip to Unicorn Island" (and documented the trip for an upcoming film) and continues to produce short videos and longer-form content featuring her hilarious original characters.
Jenn MacAllister
Also known by her YouTube moniker jennxpenn, this impressive performer operates multiple channels on the platform and is most famous for her quirky vlogs. She is a regular on AwesomenessTV and just completed her first feature film role (alongside fellow YouTuber Lauren Elizabeth Luthringshausen) in 2015's "Bad Night."
Cameron Dallas
With over 9 million followers on Vine and over 4 million subscribers on YouTube, this young personality is one of the most prolific social media stars out there. He is signed by William Morris Endeavor and works with channel AwesomenessTV, and has played roles in several films including "Expelled" and "The Outfield."
Lia Marie Johnson
This teen actor and YouTube star recurred on the popular series "Kids React" back in 2008 (and was later featured on the spinoff "Teens React") and writes and performs regular sketches on her own YouTube channel. An actor since an early age, Johnson's YouTube fame has led her to several successful roles on AwesomenessTV and more; she has over 20 short and feature film titles to her name.
Chester See
This multi-talented internet personality has been posting sketches and songs to his YouTube channel "ChesterSee" since 2007, and is a content creator for Walt Disney and Maker Studios. See executive produced and acted in the online musical series "Side Effects," and was featured in "Camp Takota," and broke away from the small and large screens in 2014 with a large role in Broadway's "Rock of Ages."
Want industry advice? Check out Backstage's YouTube channel!