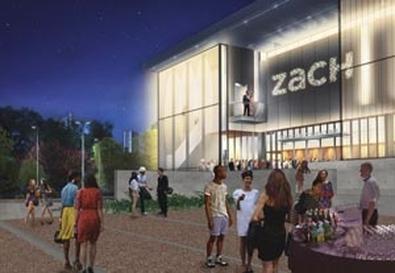 Austin, the capital city of the Lone Star State, has plenty going for it. Kiplinger magazine ranked it number one on its "Best Cities 2010" list, and the city is third on CNNMoney.com's roster of "America's Most Recession-Proof Cities."
Clearly, Austin is doing something right. It has long been defined by its music scene, which is how it became home to the popular and growing South by Southwest festival. But Austin has emerged as more than just a base for music. In fact, it has become a mecca for theatrical and visual arts as well. So what makes the city such a bastion of creative energy?
"Historically, you can blame the University of Texas," says Robert Faires, senior arts editor of The Austin Chronicle. "Since the 1880s, it's been drawing creative types from all over the state—most of whom felt like lonely outsiders in their small hometowns—to this spot in the heart of Texas. They all discover one another here and begin to interact, and then the creativity just begins breeding. Because it's so fulfilling for them creatively here, they decide not to leave."
"We're a blue oasis in a red state," echoes Dave Steakley, the producing artistic director of Austin theater
ZACH
for more than 20 years. "People, even politicians, come from the conservative parts of the state to be their true selves. It's an unbelievably desirable place to live."
If there is anyone who has his finger on Austin's artistic pulse, it's Steakley, who has shepherded ZACH to its position as the linchpin of the Austin arts scene. Founded in 1933 as the Austin Civic Theatre, ZACH (renamed in 1968 for Zachary Scott, the Austin-born actor best known for the Hollywood classic "Mildred Pierce") is the longest-running theater in Texas and one of 10 original resident theater companies in the United States.
Steakley credits Austin's music scene for the dialogue ZACH creates between performer and audience. "We're a highly participatory people," he explained. "We're a visceral people. We talk back to the performers onstage; we're used to that give-and-take in nightclubs. And that bleeds over into the other areas of the performing arts."
Building on this, Steakley opts to create visceral works that break down barriers. Shows have included a bilingual production of Andrew Lloyd Webber and Tim Rice's "Jesus Christ Superstar" titled "Jesucristo Superestrella," a jazz-R&B adaptation of Gersh­win's "Porgy and Bess" set in Katrina-ravaged New Orleans, and "Keepin' It Weird," a Steakley-penned paean to Austin itself.
He also views ZACH as an incubator for artists. The theater nurtured the Anna Deavere Smith solo piece "Let Me Down Easy" and provided the space for Suzan-Lori Parks to extensively rewrite her drama "The Book of Grace." The published version of "Grace" comes from the work done at ZACH.
"ZACH catches the vibe of Austin in a lot of ways—through music, humor, politics, storytelling," says award-winning playwright Steven Dietz, who teaches in the graduate playwriting division at the University of Texas and has directed such productions as "Doubt" and his own play "Becky's New Car" at ZACH. Dietz has penned an adaptation of "La Ronde" titled "360 (round dance)" to be performed at the venue. "I don't think it's the job of a theater to strive to be different than other theaters but to strive to be true to itself. And ZACH—with Dave's leadership—manages to do that."
Elisbeth Challener, managing director of ZACH, also credits the friendliness of Austinites for establishing an emotional connection with the theater. "People really care here," Challener says. "There's no veneer of Southern hospitality—it's real. People ask if they can help, they'll give recommendations of things to see, and then they'll follow up." Challener views ZACH as a meeting tent for audiences and prides herself on the intimacy that occurs throughout the performance space. She also points out the importance of staging both musicals and plays, since the two forms of entertainment are equally relevant to audiences.
A Part of the Community
Challener and Steakley wax as enthusiastically about the entire Austin artistic scene as they do about their own venue. They feel that ZACH has a responsibility to the city and view themselves as part of the greater community.
Such thought has governed the Topfer Theatre Campaign, a landmark redesign in which ZACH will reopen in 2012 with a new home on the banks of Lady Bird Lake that will include a 420-seat theater. Designed by Andersson-Wise Architects (which also designed Austin's W Hotel and the Austin City Limits Live at the Moody Theater), the theater's Karen Kuykendall Stage will be three and a half times larger than ZACH's current Kleberg Stage. Challener views ZACH as a community gathering space, and every aspect of the expansion supports the mindset. The new lobby will overlook the Austin skyline, and audience members will be encouraged to stay for drinks at the bar after the show, when the actors will join them.
"I don't know that there's a theater in Austin that has a deeper commitment to community," Faires says, "and so much of that is driven by Steakley. He makes work for Austin, and his productions have the spirit of the city pulsing through them. He also has a company of some of the sharpest and funniest comedic actors in town."
Many of the actors who work with ZACH match Faires' passion. "ZACH has created such a tremendous sense of family both inside and outside of the organization," says actor Martin Burke, who has appeared in many ZACH productions and can be seen this season in a revival of "The Laramie Project," David Sedaris' "The Santaland Diaries," and "Fully Committed."
"We are so intimately related to each other, to our audiences, that the performances transcend mere presentation and entertainment," continues Burke. "We all go on a journey, and our lives expand because of it." Other upcoming ZACH productions this season include Tony winners "Spring Awakening," "God of Carnage," and "Next to Normal." The company conducts open casting calls in central Texas for all shows and also holds calls in New York City to cast specific parts, with a mix of Equity and non-Equity performers in most productions. Both "Awakening" and "Carnage" include actors found through New York casting calls.
"ZACH could not exist in any other city," says Barbara Chis­holm, voted best actress in The Austin Chronicle's "Best of Austin 2011" poll. Chisholm, who is married to Faires, seconds Burke's contention that the theater's success depends a great deal on audience engagement. "ZACH audiences lean forward; they don't sit back with arms folded. Because the spaces are intimate, audiences feel keenly their participation with the art on the stage. Visiting artists comment on this communal aspect all the time."
"The creative energy never stops flowing in Austin, and artists are always trying something new, which I love," Faires explains. "It isn't that people here don't love the classics, but they're much more interested in making something original. I'm always knocked out by the amount of new theater being generated here—one out of every four plays produced in Austin was either written locally or commissioned by a local company. And there's a hugely collaborative spirit among the artists, a friendliness and sense of support that makes Austin feel very much like a creative community [rather] than just a competitive little scene."
Mechanicals and Cranks
ZACH is one of many performing arts outlets in Austin. The
Rude Mechanicals
re-create historic productions from the last half-century; the current offering is a restaging of Mabou Mines' 1974 work "The B. Beaver Animation." Faires describes the company as being "as brave and committed and funny a troupe of theater makers as you could hope to meet." Its original production "The Method Gun" was a hit at the Humana Festival of New American Plays at the Actors Theatre of Louisville, in Louisville, Ky., and played Off-Broadway, and there are plans for a tour of Australia.
Crank Collective
offers satirical musical comedies with a live band, typically with an unconventional theme. This winter saw "Drone," a musical about two pilots finding romance while they control surveillance aircraft near the Texas border; the production received a 2011 Austin Critics Table Award nomination for best musical. The upcoming show, "Antarctica," centers on a descendant of polar explorer Ernest Shackleton who mounts a musical on a cruise ship. John Cecil, part of Crank Collective, appreciates the fusion of music and theater in Austin. "The 'music' part of musical theater is pretty exciting, since there are lots of musicians available here and interested in new projects," he says.
Faires also cites the experimental group
Rubber Repertory
as not just a company to watch but also another one that fosters a rapport between stage and audience. "Rubber Repertory is like the theatrical equivalent of a craft microbrewery, making these amazingly original shows that create an individual experience for each audience member without sacrificing the communal nature of the theatrical experience," he says. "They're so far outside the box that you can't quite remember what the box looked like."
"Artistic cachet in Austin seems to be based not on fame or success but on a kind of dogged fearlessness, a boundary-busting, authority-questioning aesthetic that values newness and shrewdness over familiarity and comfort," Dietz says.
The city's artistically nurturing spirit shows no sign of stopping any time soon. Perhaps Chisholm says it best: "There's possibility in the air we breathe and the tacos we eat."