Like every actor out there, Zachary Levi has an origin story. It all started when he was 4, when he learned firsthand what it meant to entertain another person. "I intentionally made somebody laugh," he recalls. "They laughed, and I could process that they were feeling good and that made me feel good. I never wanted to stop doing that ever again." He hasn't.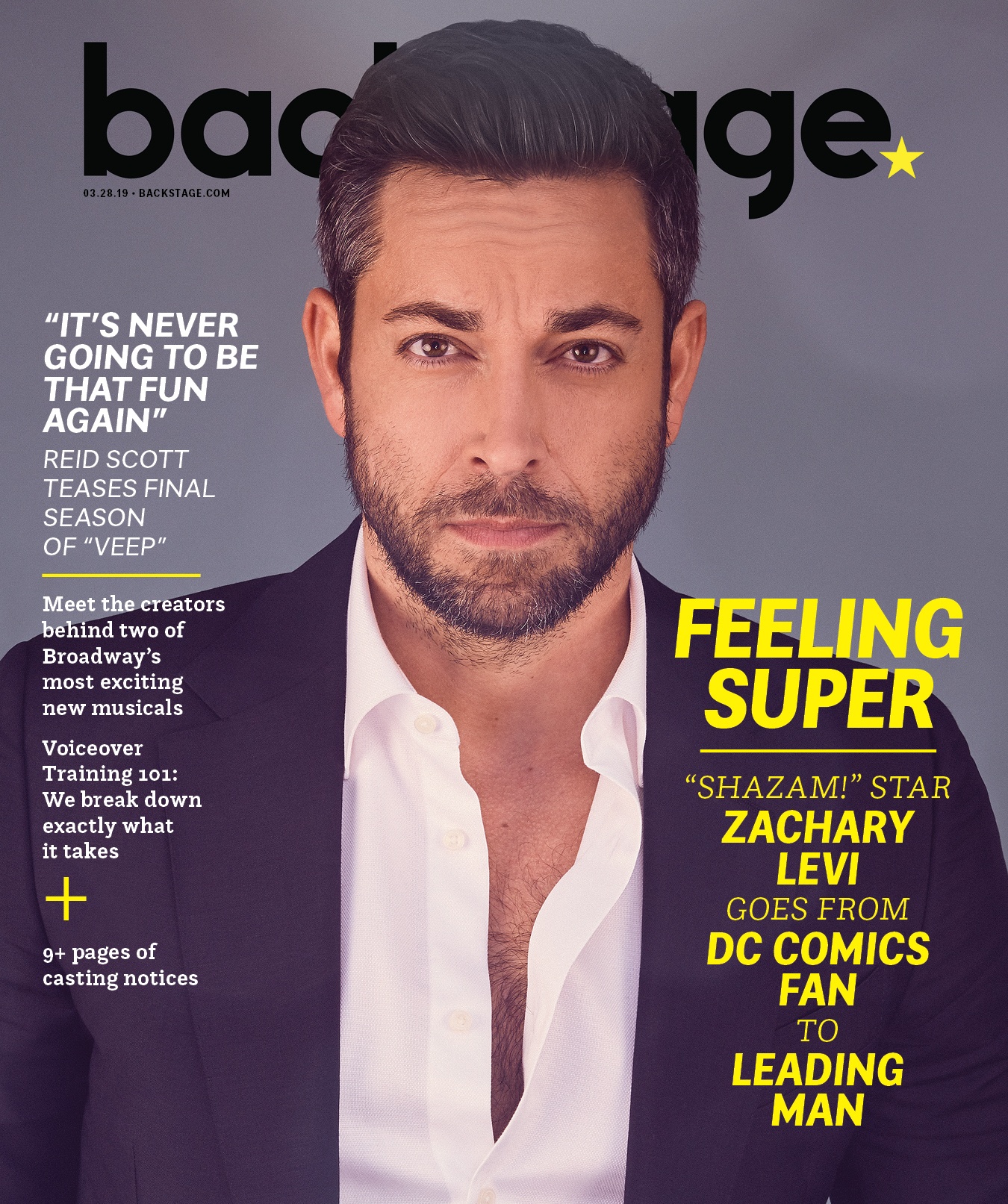 Best known as the titular character on the beloved show "Chuck," as Georg Nowack in the 2016 Broadway revival of "She Loves Me" (for which he received a Tony nomination), and most recently as the dashing Dr. Benjamin Ettenberg on Season 2 of "The Marvelous Mrs. Maisel," Levi has been steadily working professionally onstage and onscreen for the better part of two decades. But now, he is ready for his big-screen close-up; in April, he stars in DC Comics' superhero blockbuster "Shazam!"
In addition to the genre's trademark action, the David F. Sandberg film is also a laugh-out-loud crowd-pleaser thanks to Levi's penchant for expressive, broad humor. ("I learned all of my acting from watching cartoons," he quips.) Levi plays the godlike superhero alter ego of 14-year-old Billy Batson (Asher Angel), a foster kid who, thanks to some magic, morphs into Levi's jacked, superpowered adult form after shouting the word "shazam!"
The comic book comedy is a dream come true for the Louisiana-born Levi. In essence, he gets to play "Big"-meets-"Superman." Plus, he didn't have to look far to find the tools to act like an overeager teen thrilled by his newfound abilities; the glee he felt when donning a cape and flying was genuine. Here, the infectious energy that first fueled him as a kid is front and center.
"At the end of the day, I genuinely believe that I was created to do what I do," Levi says. "It wasn't that I wanted to entertain people as much as I want people to feel love. To help people feel seen and recognized and appreciated and loved."
There's no better example of how committed he is to spreading love than his devotion to his fans. When he acted on Broadway—first in the original musical "First Date," and later alongside Laura Benanti in "She Loves Me"—he made stage dooring his own. Always keen to make sure every fan got their due, he'd camp out after performances and sign Playbills and take photos with everyone who'd show up, no matter how long it took.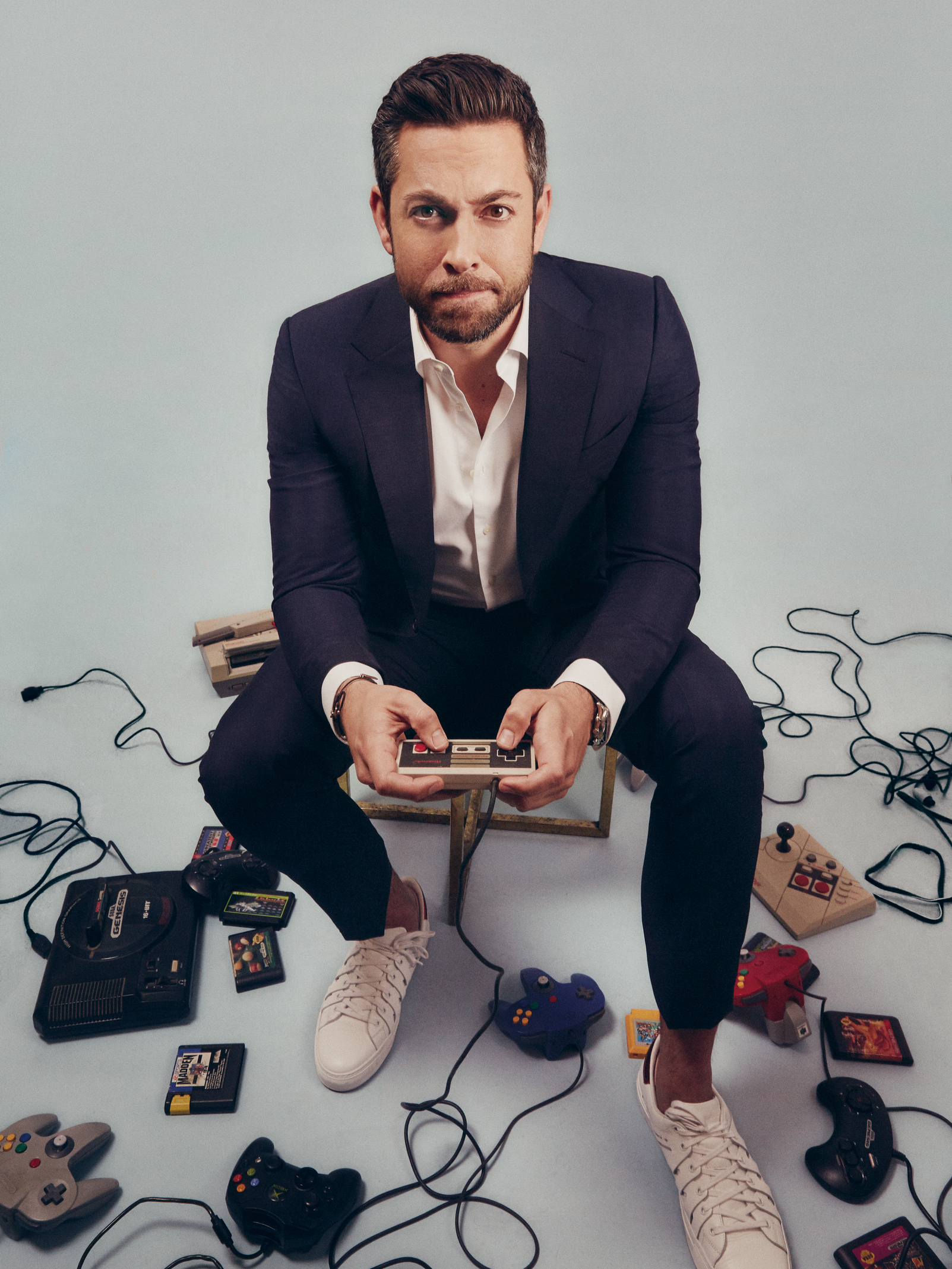 Even in talking about those stage door meetings now, Levi lights up. "I'm an outgoing, gregarious extrovert of a person," he admits. "I'm genuinely an extrovert's extrovert: Energy feeds me." Which explains why he so relished the chance to head to Broadway and play eight shows a week. In fact, in an alternate world, audiences would have first met Levi not as Chuck but as the leading man in one of the buzziest shows to open the 2007–2008 Broadway season: Right after booking the NBC pilot about an average computer whiz who ends up becoming a key spy asset for the CIA, Levi got a call to audition for none other than Mel Brooks. The legendary filmmaker was looking for the star of his upcoming "Young Frankenstein."
Levi was so nervous during his audition that talking about it still rankles him. As he was singing his first song, his leg started shaking uncontrollably ("By the way, that had never happened," he deadpans); he chose to mask it by tapping along to the rhythm. He later screwed up some of the dialogue multiple times and had to start the scene over. It wasn't a total disaster, but after leaving the room, he called his agent to tell him that he'd give himself a C+ or B-. Midcall, though, Brooks and director Susan Stroman reached out to his agent to ask Levi to come in the next day for a workshop.
Despite his nerves and the competition (which included "Will & Grace" star Eric McCormack and eventual star of the show Roger Bart), Levi booked the role. Only, he'd signed on to "Chuck" first. It's the kind of nerve-racking decision every actor dreams of and dreads: Do you choose the pilot for a show whose chances of being picked up to series are unknown, or a dream Broadway gig that comes with its own perils? Levi's "Chuck" contract, in the end, made the call for him. He had to honor that first.
Looking back, it comforts the actor to know that he's made some headway on Broadway. When asked whether that felt like a "Sliding Doors" moment in his career, Levi gleefully perks up at the mention of the Gwyneth Paltrow vehicle.
"I think about 'Sliding Doors' moments all the time! I honestly, like, have big deep philosophical concepts and theories about how it's more than just one or the other. There are infinite choices we make that determine our lives; you'll never know if you're the Gwyneth who missed the train or the Gwyneth who made the train."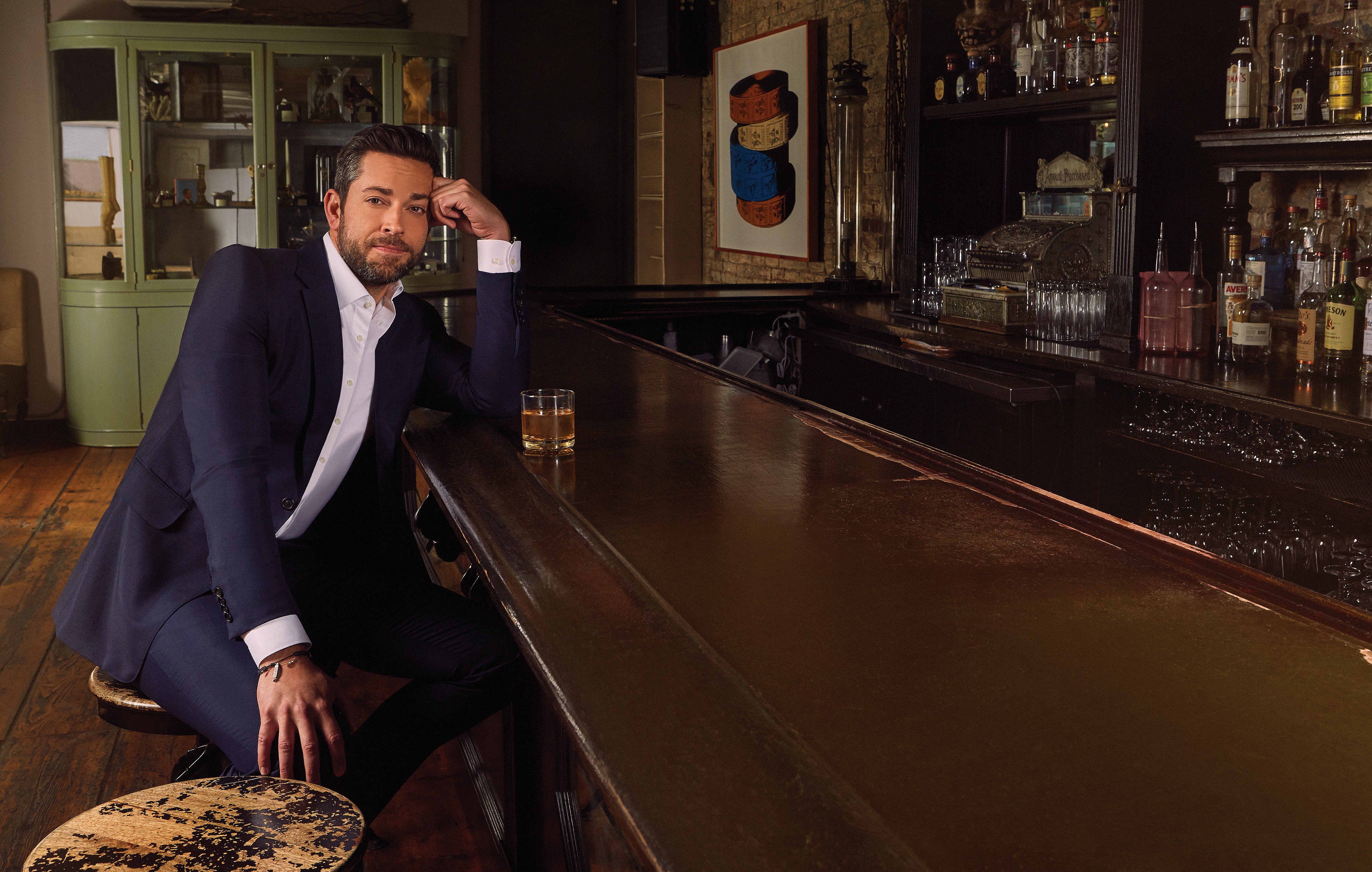 Which is to say, there are choices Levi considers quite carefully. In the period leading up to booking "Shazam!," he wanted to get away from lighthearted or heartfelt projects. He wanted to try new things. Maybe nab a role in one of those brooding dark dramas—think "Breaking Bad" or "The Wire"—that catch the attention of viewers and industry insiders alike. To hear him talk about taking the role in "Shazam!," which he passed on at first, is to hear out loud the kind of career-mapping actors so seldom have the privilege to steer.
"I've done a lot of stuff that's very family-accessible, and I have a very good fan base in that demo. But in my business I don't feel like people respect what I do. I don't have peers coming up to me and saying, 'Bro, what you did in that episode of "Chuck"!' Like, nobody in the biz watched 'Chuck'!"
Instead, sunnier and funnier roles kept finding their way to him. By the time he was shooting "Shazam!," having warmed up to the thrilling prospect of putting his goofball sensibility to work, he got a call about another opportunity that was as far from those dark dramas as it gets.
Amy Sherman-Palladino and Daniel Palladino had seen him on Broadway in "She Loves Me" and had an offer for him to join their Amazon series for its sophomore season, as a new love interest for Emmy winner Rachel Brosnahan's Mrs. Maisel. And while the show is a candy-colored 1960s confection, Levi saw in it the chance to finally get his peers to perk up and take notice of what his lighthearted sensibility can look like in a prestige banner series.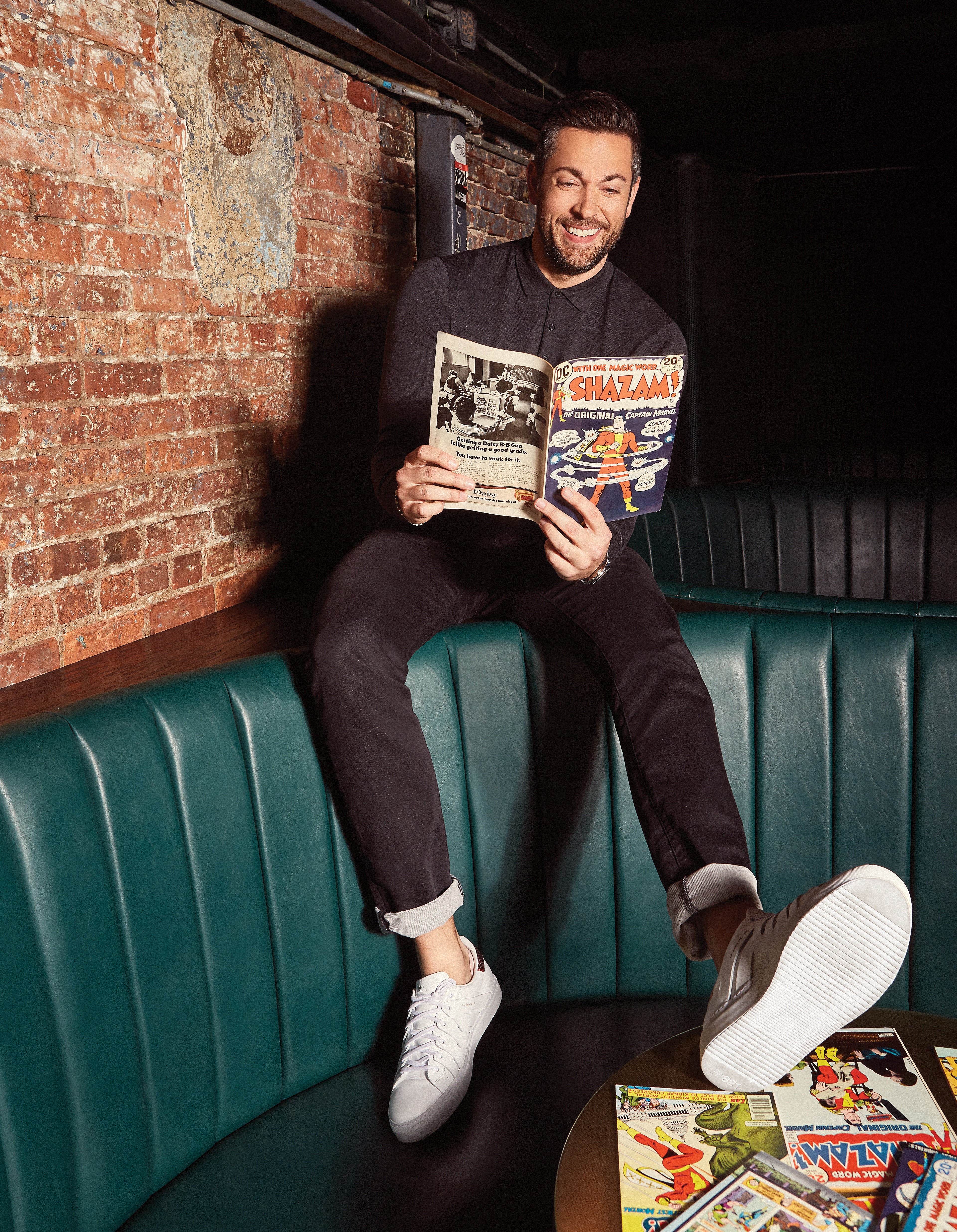 "Certainly, part of the deciding factor was the fact that this is a beloved show. Not just by audiences but by [the] industry. It's respected, as it should be," Levi says. "It's a really delightful, excellent show. So, very consciously, I thought this could be a great one-two punch with 'Shazam!'—pardon the pun—in that I can go and do this movie that I hope people in the industry will go and see but that's commercially viable, and then have this acting piece over here.
The move paid off. At this year's Screen Actors Guild Awards ceremony, Levi, along with the rest of the "Maisel" ensemble cast, picked up a win for the show's second season. It's a moment he still can't quite process, but one he credits in part to self-care outside of acting.
"I'm just grateful that I'm finally in a place in my life, on a personal level, where I've done work on being a healthier, stronger, happier me. Which is why I think everything is timed to that. All of it opened up when I tried to get healthy. Because this business can beat the shit out of you—life can beat the shit out of you."
This focus on his mental health, which the Austin, Texas–based actor shares candidly with fans on social media, is integral to how he approaches his work now. He's intent on getting everyone to talk more about self-love and self-care, especially when it comes to actors.
"I can't say that unresolved issues and mental illness and things of that nature won't lead to a great performance. Because we all know that there have been plenty of actors who have had tons of demons and given incredible performance through all of that," Levi says. "I can't in all fairness say that that won't get you there. I mean, there are so many different acting styles. But I want to believe, and I do believe, that the healthier you are, the more capable you are of doing your job as an actor."
Photographed by Emily Assiran on Feb. 20 at Fig19 in NYC; Shazam comics courtesy Thom Leavy, Cool Stuff/Effin Comics; Groomed by Janice Kinjo; Styled by Dolly Pratt