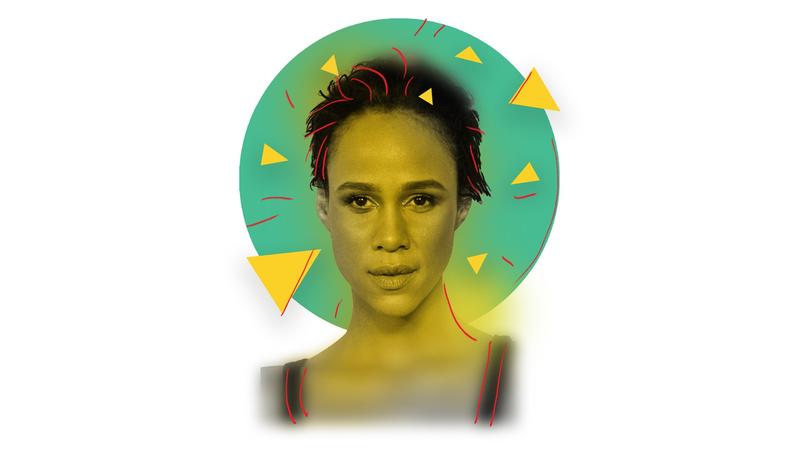 Zawe Ashton might be making her Broadway debut in the West End transfer of "Betrayal," but it's one of the few firsts left for her in the industry. Ashton, who began acting at age 6, is a veteran of both stage and screen; in addition to her many acting accolades, she's also garnered attention for her writing and directing. Ashton has learned that being true to oneself is the key to success as an actor and creative. On top of her many U.K. film, television, and theater credits, she recently appeared in "Velvet Buzzsaw" opposite Jake Gyllenhaal, in last year's "Greta" with Isabelle Huppert, and is now reprising her role as Emma opposite Tom Hiddleston and Charlie Cox in Harold Pinter's time-bending 1978 play about a couple's ups, downs, and deceptions. While on the phone with Backstage, Ashton pulled up to the Bernard B. Jacobs Theatre and saw her face on the marquis for the very first time; fittingly, she went on to share some of the wisdom she's learned through the years that got her to that moment.
READ: How to Become an Actor
How did you get your big break?
One of the first plays I ever did was at the Royal Court Theatre in London; it was the first play I got after drama school. I was sure I wasn't going to work; I hadn't worked properly for about six or seven months after leaving, and that's when the doubt started to kick in. Then I got a leading role in the play called "Gone Too Far!" by Bola Agbaje. That's what got me kick-started and got casting directors knowing who I was. Then the thing that really put my head above the parapet in the U.K. was a show and film I did coming out simultaneously. I had a film called "Dreams of a Life" out exactly at the same time as I had a comedy show called "Fresh Meat," and I think the one-two punch of that was the thing where not just industry knew who I was, suddenly people wanted to stop and talk to me on the street. People starting out need to know there are different kinds of breaks. There are breaks that really introduce you to the industry and then there are breaks that kind of give you more of a commercial push.
What is your worst audition horror story?
I had gone to audition for a Broadway play and the director just basically yelled at me throughout the whole audition. The source material was very, very intense. There was a lot of music in the play that spanned a lot of eras in the U.S., and instead of getting into the script, I had to dance through time. He created a megamix that was music from the 1920s to the present day, and he expected me to dance appropriately to each one. I had no idea this was going to happen. One minute I was doing a very heavy monologue about a woman's history of abuse, and then the next minute I was dancing through time. That was a low.
What is the wildest thing you've done for an audition?
Very early on, when sci-fi projects started to become a thing, I dressed head-to-toe as a Grecian goddess—which I regretted immediately. You just shouldn't do it. Now, I tend to keep it quite low-key. Having now been on the other side of things (I direct now and have been writing for a long time), I just feel like if you go in trying to dress exactly like the character or if you go in and are trying too hard, you lose a little bit of yourself. What's going to get you the role is keeping an essence of yourself, because everyone is going up for the same thing. Just go in in a way that is going to make you feel comfortable—no distractions. If you're distracted by what you've worn or by what you've done with your hair, people can sense it immediately, and it just doesn't ever work in your favor. Make sure you're in there to get the role rather than to get the modeling job.
READ: 7 Theater Audition Tricks Every Actor Should Know
What advice would you give your younger self?
Just make it all about the work. It's all about the work, so let the work speak. Don't worry if you're interesting enough or beautiful enough or any of the "enoughs." Just go in, be prepared, and be malleable. I think [with] the time and energy I wasted on how I looked as a young actor, I could have built Rome. Let the work do the talking, because that's what's going to set you apart from everyone at the end of the day. And if you go into a room and suddenly you're with someone, a professional person, who's not making it about the work, you can feel free to leave that room, because it's a contract you should make with yourself from the beginning of your career.
What advice would you give to people getting their start in London?
If you're looking for reps, write letters that are short and professional. Make sure you have a really great reel of yourself. If there are friends you know who are making short films, do them—it's all material for your reel. You can find teams of people looking for actors or people wanting to do headshots for a discount. Just get all your bits and pieces together as much as possible. Volunteer to do theater. I did so much theater for free, I did so many short films for free; it was just all about building experience, and you just never know where it's going to lead. Start building a community of artists that you want to work with, and when you're applying for things, be short, sharp, and professional. Don't try to be too chatty. It just doesn't work.
What performance should every actor see and why?
Patsy Ferran in Tennessee Williams' "Summer and Smoke"—I thought that was just one of the most phenomenal performances I've seen from a young woman. All the performances of "Eclipsed" on Broadway [with Lupita Nyong'o, Saycon Sengbloh, Akosua Busia, Zainab Jah, and Pascale Armand]; I just thought the cast of that was incredible. I think also, film-wise, there is an actor called Gena Rowlands who is in all of John Cassavetes' work, and I would say her performance in "A Woman Under the Influence" is one of the most incredible, vulnerable performances you're going to see. It has a theatricality to it.