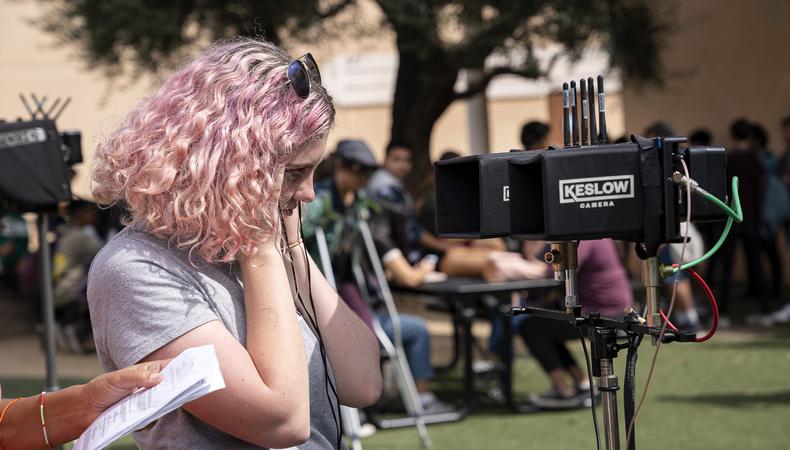 The following Career Dispatches essay was written by Zelda Barnz, who is the co-creator of as well as a writer and producer on the new HBO Max series "Generation."
I remember being 13 and developing an addiction to media set in high school. The heightened drama and extensive wardrobes and sex appeal made ages 14–19 seem like some glamorous and exclusive club. I binged teen shows obsessively, imagining future boyfriends and parties, always planning (like the Virgo I am) for my coming-of-age movie moment. And then I started freshman year.
I caked drugstore concealer onto my face in place of foundation, I had my first panic attack, I tried to get drunk and wound up faking it because I was scared of alcohol, I attempted an honors science class and failed my first test, I wore push up bras to get boys to notice me and then realized I might actually be kind of gay. Within just a few months of starting high school, I began to have a sinking feeling that the next four years would not be glossy at all.
Panicked, I went back and rewatched my old favorite shows, trying to pinpoint the exact places and moments wherein they'd mislead me. There were plenty of little details, but in particular, there was one common thread that I teased loose as I simultaneously confronted my own identity.
Almost every teenage LGBTQ+ character has one of two storylines (sometimes both): either they are bullied because they're queer, or their narrative is a coming out storyline. Bisexual women are either mocked or fetishized, bisexual men are ignored entirely. Why do so many forms of high school media insist on creating these one-dimensional, B-storyline queer characters for comic relief?
I wanted to write something that reflected the essence of my own experience. The messiness and awkwardness, the joy and the pain, the isolation and the search for connectedness. I wanted to create something that centered, honored, and celebrated queer youth as we are. And I wanted this show to feel as real as possible. With authenticity functioning as the lifeblood of "Generation," the littlest details became increasingly important. From the placements of a "like" or "um" in our dialogue, to the composition of every text message, to the wallpaper in our characters' bedrooms, we asked ourselves, does this feel real?
In casting, we tried to find actors that felt believable as teens. We wrote our show's sex scenes to feel messy and awkward, and never gratuitous. We worked hard to have a variety of perspectives present on set and in the writers' room, because true authenticity relies on more than one experience. I was the only member of gen Z in the writers' room, and it was also my first writers' room, and I got to collaborate with more experienced writers while acting almost as a consultant, making adjustments to ensure each scene felt believable for this particular group of queer students in Southern California. "Generation" was inspired by real high school students, real members of gen Z, real queer people.
I have learned so much from this experience, on and off set, in and out of the writers' room. To see oneself represented onscreen is powerful. To see authenticity reflected in the media, to have your story told, to see people that look like you and love like you in front of the camera—it matters. To my LGBTQ+ family, I am honored and humbled by this opportunity to tell stories that might resonate with you.
Looking for remote work? Backstage has got you covered! Click here for auditions you can do from home!