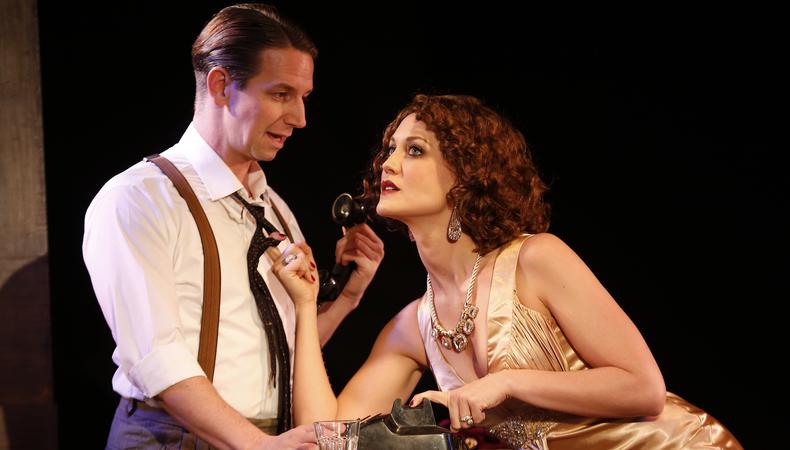 Two tour de force performances in this 80-minute, one-act production are simply not enough to persuade us that Zelda Fitzgerald was the power behind her author husband, F. Scott Fitzgerald, and that she may even have written some of his work. Playwright P.H. Lin's "Zelda at the Oasis" puts forth this premise, the latest of many such tries, but the show is limited and diffuse in the telling and never really jells.
Gardner Reed makes a commanding New York theater debut as the zany, bipolar Zelda, and Edwin Cahill demonstrates great versatility as a bartender-musician who befriends the literary demi-widow. Cahill also plays Scott in flashbacks as well as a panoply of other characters, including Ernest Hemingway, Zelda's Alabama mama, and a female Russian-born dance teacher. But bravura as they are, Reed's and Cahill's performances are often at odds with one another and in the end do little to clarify Lin's thesis. Nor does Andy Sandberg's yo-yo direction help. The playwright's setup, which is simplicity itself, is not sufficient to establish anything beyond Zelda's lifelong lunacy and the barman's equally lifelong frustration at not being able to break into big-time music.
It's 1934, and Zelda has wafted into a Midtown New York City bar, the Oasis, at closing time. She is effectively separated from Scott, mostly checking in and out of the loony bin while he lives the high life in the South of France and elsewhere, with Hemingway and others. Scott and Zelda can't divorce, much as she begs for it, as he was raised Roman Catholic and his family wouldn't approve. So, lonely and inebriated, Zelda latches onto the barman to retell her story. He at first has no idea who she is (which gives her a good excuse to go over her biography), but finally, with prodding, he remembers her first mental incarceration. All he wants to do is close the bar and keep a late date with a chanteuse who may want to sing his songs and launch his career. (The snag here is that he neither reads music nor can he write it down; he plays and composes by ear.) All Zelda wants to do is drink and flirt. Eventually, the two lost souls meet somewhere near the middle and march toward an unearned denouement.
Lin cites no sources for his bioplay (though Nancy Milford's standard biography "Zelda" would be a good guess) and successful scenes are rare. One that works well is Scott's confrontation with Zelda about submitting her novel, "Save Me the Waltz," to his editor, Scribner's Max Perkins, without letting Scott read it first or even telling him that she was sending it off. (Perkins published it anyway.) A few more such scenes might have grounded the narrative a bit better. On the plus side is Colin McGurk's oak-laden set, a perfectly believable watering hole in 1930s New York.
Presented by Zelda Oasis Productions at St. Luke's Theatre, 308 W. 46th St., NYC. Opened Dec. 4 for an open run. (212) 239-6200, (800) 432-7250, or www.telecharge.com. Casting by Michael Cassara.
Critic's Grade: C+