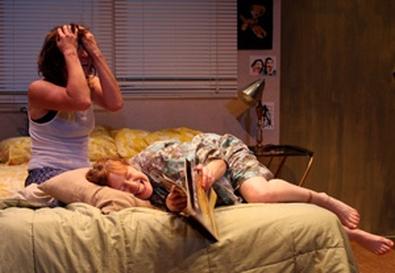 Madeleine George's "The Zero Hour" grabs our interest from its first provocative line. As girlfriends O (Hannah Cabell) and Rebecca (Angela Goethals) lie in bed in their cramped Flushing apartment (effective scenic design by Mimi Lien), O murmurs, "I think my mother may just have died." The moment beautifully sets the stage for this play that puts the women's relationship under a microscope while blending realism and fantasy and exploring the bonds between mothers and daughters. Ambitious and sprawling, "The Zero Hour" never holds the audience's attention as deftly as it does at the outset.
The truth behind what may have happened to O's mother, Rae, is never fully revealed, but she does show up (imperiously played by Goethals) in sequences in which O imagines that this disapproving woman has mysteriously appeared in the apartment. These moments are a lovely juxtaposition to the ever-felt presence of Lily, Rebecca's mother, to whom Rebecca has yet to come out and to whom she refuses to introduce O. When Lily does finally appear, she's played—charmingly—by Goethals, a terrific bit of triple casting that pungently underscores the sense that, in each other, the lovers are working out unresolved issues with their moms.
Rebecca and O's strained partnership and maternal baggage could be enough for one play, but George layers the proceedings with an additional level of fantasy. Rebecca is at work on a middle-school textbook about the Holocaust, and as tensions rise at home, she begins to imagine encounters with Nazis (all played by Cabell). These sections—and ones in which Rebecca delivers lessons from her book as monologues—emphasize the similarities between Rebecca's internalized homophobia and the anti-Semitism of Nazi Germany. Unfortunately, they unduly fragment what could be a concise, emotional glimpse into what dooms the two women's relationship.
Guided by director Adam Greenfield, Cabell and Goethals turn in marvelous performances in their primary roles. Goethals is particularly notable for embracing all of Rebecca's increasingly angry and unattractive qualities.
"The Zero Hour" is a work to savor. Even when George's writing falters, it fascinates.
Presented by 13P at Walkerspace, 46 Walker St., NYC. June 27–July 10. Mon.–Fri., 8 p.m. (Additional performances Sun., June 27, and Sat., July 10.) (212) 352-3101, (866) 811-4111, www.theatermania.com, or www.13p.org. Casting by Kelly Gillespie.