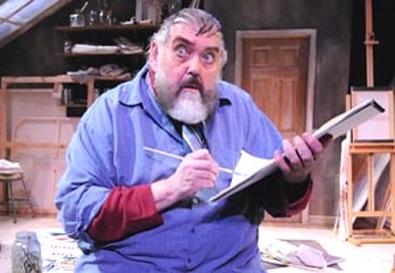 Writer-performer Jim Brochu takes on a daunting task in his new solo show about actor Zero Mostel, one of the greatest and most outsized talents ever to grace the American stage and screen. Happily, Brochu and his smart director, Piper Laurie, another great American actor, are up to the challenge. Brochu not only creates an astonishing physical resemblance, capturing Mostel's distinctive body language and vocal patterns; he goes deep under the skin to reveal the man's complicated psyche and conflicted soul. It's a fitting and touching tribute to a man who was supportive of Brochu early in his acting career. It's always a pleasure to see good karma come around.
The simple setup is an interview in July 1977 with a young unseen reporter from The New York Times, scheduled because Mostel is soon to star on Broadway in "The Merchant," Arnold Wesker's adaptation of Shakespeare's "The Merchant of Venice." (Mostel died suddenly during the show's out-of-town tryout, having played only one public performance.) The setting is Mostel's painting studio on West 28th Street. Josh Iacovelli's disorderly environment, littered with original abstracts in striking colors, is properly redolent of the actor's restless mind and talent.
Brochu covers a lot of territory in the two-hour, one-intermission show, from Mostel's youth and early stage and screen career to his later triumphs in "Rhinoceros," "A Funny Thing Happened on the Way to the Forum," and "Fiddler on the Roof," as well as his iconic role in Mel Brooks' film "The Producers." We learn of Mostel's long and happy marriage to Kate Harkin, a Catholic, for which he had to undo an unhappy marriage, causing the actor's conservative Jewish parents to disown him. But the centerpiece of "Zero Hour" is the McCarthy era and the blacklist, of which Mostel was a target and which led a dear friend, actor Phillip Loeb, to suicide. Brochu delivers this part of the evening with caustic wit and striking passion, making us understand in the most visceral way the price Mostel and many others paid for their convictions. It also provides an effective first-act curtain, something generally hard to come by in one-person shows.
Brochu's writing is necessarily bold considering his subject, but there's also a welcome subtlety. After Mostel has related the tale of Loeb's suicide, the reporter questions the means of the actor's death, having found differently in his research. Mostel's response: "You're asking an actor for truth?" Later, we see Mostel inventing his legacy when he discusses "Forum" and says that Harold Prince hired authors Larry Gelbart, Burt Shevelove, and Stephen Sondheim only after Mostel deemed the script submitted to him "god-awful." Not true, of course.
I do wish Brochu had found a less familiar structure for telling his tale, one that better reflected the anarchic talent at its center. But it's a minor quibble. "Zero Hour" is never less than engrossing, thanks to the rich blood coursing through Brochu's admirable portrayal.
Presented by Kurt Peterson and Edmund Gaynes in association with the Peccadillo Theater Company at the Theatre at St. Clement's, 423 W. 46th St., NYC. Nov. 22–Jan. 31. Schedule varies. (212) 239-6200, (800) 432-7250, or www.telecharge.com.