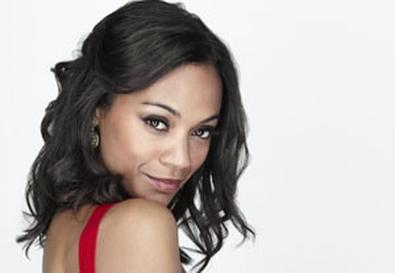 The first time Zoe Saldana attended the Sundance Film Festival, she was, in her words, "somebody's plus-one." Her sister Cisely worked on "Gun Hill Road," which premiered at last year's fest, and Saldana went along to offer support. The actor had also participated in the 2001 Directors Lab workshop, in which she spent part of her summer working on a script called "Sleep Dealer." Says Saldana, "It was heaven. Everybody just lends their time and support to these filmmakers; it was a great experience."
So the stunning actor, perhaps best known for films such as "Avatar" and "Star Trek," is already familiar with the Park City, Utah, neighborhood. This year she will be attending with a film of her own, the twisty thriller "The Words," co-starring Bradley Cooper and Olivia Wilde. The film marks the feature-writing and directing debut of Brian Klugman and Lee Sternthal, childhood friends of Cooper, who plays a writer on the verge of major success who might have plagiarized the work of an author played by Jeremy Irons. But Saldana says it's about much more. "It's a love story, and it's also a story about a boy trying to become a man," she notes. "There are some interesting twists, so I wouldn't even know how to explain it to you in a way that wouldn't give something away."
Saldana plays the wife of Cooper's character, a role she says is quite different from women she has previously portrayed. "This is someone who believes so much in her husband and is willing to do anything for love," she says. "The script got my attention immediately, and when I went to meet Brian and Lee in person, they told me their plans for making the film. And I was completely swept off my feet."
Of course, the low-budget world of "The Words" must be very different from working on a project such as "Avatar," the highest-grossing movie of all time. Is it safe to say the catering bill on James Cameron's sci-fi flick was larger than the entire shooting budget on "The Words"? Saldana laughs and replies, "It was, but both films have the same amount of heart." As for working with first-time directors, Saldana is equally generous in her praise. "If anything, working with small budgets and directors just starting out is more familiar to me. Being an underdog myself, I know what it's like when a chance is taken on you."
Being Blue
Saldana admits there was a time when she swore off big-budget movie experiences. She broke out with her 2000 film debut, "Center Stage," an ideal role for the trained dancer. Shortly thereafter, she signed on to "Pirates of the Caribbean: The Curse of the Black Pearl," which would become a blockbuster and spawn three sequels (as of now). But it was not a pleasurable time for Saldana. "I had such a bad experience working on a big-budget movie; I literally left that experience with the worst aftertaste of Hollywood ever," she reveals. "I was like, I'll never do a big movie again; I'll never move to L.A.—I was even thinking about quitting."
Instead, she put herself on tape for Steven Spielberg's next film, the 2004 comedy-drama "The Terminal." She wanted to try something different, so she committed an audition sin—she chewed gum while delivering her lines. Word came back that Spielberg wanted to see her again. "He liked the fact that I tried something different, but he wanted to see me without the gum," Saldana says. When she won the role, she had some hesitation. "I remember thinking that if 'Pirates' was big, this would be 10 times bigger. And it was. But it was also the most amazing, humbling experience, and it taught me so much." She credits Spielberg with renewing her faith in filmmaking. "Before he's a filmmaker, he's a father, a friend, a brother, a son," she enthuses. "He's someone I want to be when I grow up."
No longer scared away by big budgets, Saldana jumped with glee into the role of Nyota Uhura in the "Star Trek" reboot. "People don't believe me when I say this, but I'm a fucking geek!" she exclaims. "I've been a science fiction fanatic all my life. The first movie I really remember impacting me was 'The Hunger.' I was reading Stephen King as a kid! I wanted to go as Lady Jessica from 'Dune' for Halloween!"
That is only one of many things that made Saldana the perfect choice to play Neytiri, the beautiful and spirited daughter of the leader of the Na'vi clan in "Avatar." Saldana spent countless hours on a motion capture stage, with more than 100 cameras recording her every movement. She earned raves for the performance—Cameron called it Oscar-worthy—but did it ever bother her that her face wasn't being seen? "If I told you no, I would be lying to you, and I don't want to bullshit you," Saldana says with a laugh. "The reality is that, as human beings, we're prone to vanity." She says once the process was explained to her, she got over her doubts. "The reality is, I want to be known for my work, not my face. In truth, Neytiri is the best role an actress could ever be given. I got to pour my heart and soul into her, and that's what stays with people—not who I'm dating or what I'm wearing. I literally bled for that character, and the fact it touched so many people is a blessing."
Her work didn't go unnoticed by the industry. Among her fans was filmmaker Luc Besson, who cast Saldana in the lead role of last year's action flick "Colombiana," which he wrote and produced. "He was really moved by 'Avatar,' and he gave me this script," Saldana recalls. "He said, 'Read this. If you want to do it, it's yours.' " Another perk of the role? Daniel Day-Lewis approached Saldana to tell her his son had a crush on Neytiri. "To me, he's one of the best actors who has ever walked this earth," she raves. "And for him to give me credit,…I can't even explain it. I won. I won everything."
Thrill of the Chase
Saldana is being offered movies like "Colombiana" with increasing frequency, but she has mixed feelings about skipping the audition process. "It has gotten easier to get in certain rooms," she says. "But I wouldn't want it to get too easy, because it takes away the hunger and the excitement of getting something. I like having to chase something I really want, because things that fall in your lap are things you take for granted."
She will admit to some bad audition experiences—"where you freeze or you cry or you sabotage everything"—but also says there have been roles she didn't get but that left her feeling like she had won the respect of the director and the CD. Either way, she looks for feedback. "I always tell my team to tell me the truth; it's the only way I can get better," she notes. "I don't like hearing 'Well, you just weren't what they were looking for.' No, tell me! I want to know!"
Saldana says her attitude about auditioning has been helped by her mother's support. "My mother has been such an encouraging figure in my life and always told me to remember I am equal to everything and everyone," she notes. "Every time I'd leave the house—I could have been going for an interview or meeting someone's parents for the first time or going on an audition—she would always say before I walked through the door, 'Zoe? I hope you like them.' "
Continues Saldana, "With that simple thing, she told me so much: that even though I'm out there to look for something, to see if they will give something to me, I also have to give it back to them. Me liking you is just as important as you liking me. I matter just as much. She always centered me. She would say, 'It's fifty-fifty, and you bring in one of the fifty.' "
Coming Attractions
Sequels for "Star Trek" and "Avatar" are in the works, though Saldana is understandably mum when it comes to information on either. "I could tell you the things I've heard, but then I would be robbing you of the experience of seeing them," she notes. "I don't want to lose that childlike quality in me that made me fall in love with movies in the first place. And I really don't want to do that to anyone else." She does know that Cameron is hard at work on a script for "Avatar 2," adding, "I don't know that much about it, but I know it will be amazing and heart-wrenching."
Of course, Saldana is bundling up to head to Sundance to see "The Words" with an audience for the first time. Asked if she'll have time to hit any of the famous parties, she replies, "To me, going to see movies and supporting colleagues is my party. So I certainly hope to do that and soak up the experience of having a film at Sundance."
"The Words" plays the Sundance Film Festival Jan. 27, 6:30 p.m.; Jan. 28, 9 a.m. and 9:30 p.m.; Jan. 29, 12:30 p.m. Visit filmguide.sundance.org/film/120121/the_words for more information.
Outtakes
-Other films include "Death at a Funeral," "Guess Who," and "The Losers"
-Began working as a teenager with a theater group in Brooklyn called FACES, which puts on shows promoting positive messages to kids
-Got her SAG card on a Burger King commercial
-Works with acting teacher Catlin Adams, whom she calls "my guru"