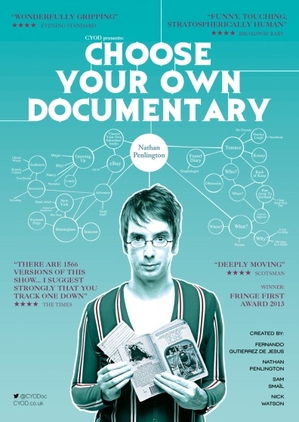 Who remembers those old "Choose Your Own Adventure" books?
You'd be presented with a situation within in the book and, as the reader, you had to make a choice. For example, you're in an abandoned warehouse hunting extraterrestrials for a government experiment and have to decide what part of the warehouse you want to investigate. To go down the staircase to your right, turn to page 36. To explore more of the floor you're already on, turn to page 72, and the story would unravel from there.
As a part of the Tribeca Film Festival's Storyscapes section, writer-performer Nathan Penlington has taken the idea of CYOA books and turned it into a performance-documentary. "Choose Your Own Documentary" melds theater and film, and centers on the true story of the "epic journey and emotional quest" to find the author of four pages of a diary Penlington found tucked in a CYOA book he bought on eBay.
Told through a mixture of video footage from the journey to find the boy writer (now grown), and Penlington's performances between segments of the audience's chosen adventure, "CYOD" is a fresh take on interactive storytelling.
At the start of the show, audience members receive remote controls and are asked to vote on decisions and questions within the story; the outcomes dictate where Penlington will go. The film has 1,566 possible endings that touch upon childhood memories, loss, and friendship, and are a tender look at a man's love of adventure and his struggle to connect.
Penlington, a London-based performer, will be putting on his 90-minute show at the Bombay Sapphire House of Imagination at 121 Varick St. on April 24, at 4 p.m.; April 25, 8 p.m.; and April 26 at 2 p.m. and 5 p.m. Performances are free and open to the public, and a Q&A with the creators will follow each show.
Want to start creating your own interactive story? Learn some basics here.