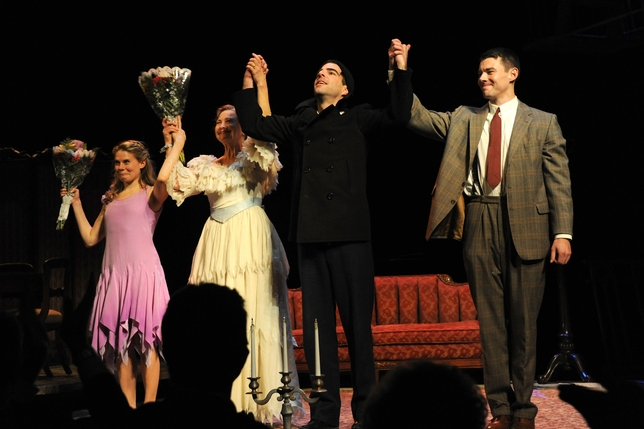 The time is up for some of Broadway's great shows. It's indeed one of the best (and sometimes saddest) things about theater, but it's out with the old and in with the new, people! So if you're looking to see some shows before they're out for good, here's a list of all the plays and musicals closing before the end of February.
"Big Fish"
Closing: Dec. 29
This Broadway musical follows a son as he navigates the smokescreen of his father's tall tales to find out for himself where his reality ends and fantasy begins. Based on the 1998 novel, "Big Fish: A Novel of Mythic Proportions," and the 2003 film starring Ewan McGregor, "Big Fish" is heading off the Great White Way and into unchartered waters come Dec. 29. Starring Tony Award-winner Norbert Leo Butz ("Catch Me If You Can") and Kate Baldwin ("Giant"), don't miss the musical that'll make you walk out of theater, call your dad, and tell him you love him.
"Spider-Man: Turn Off the Dark"
Closing: Jan. 4
The musical with one of the most infamous openings, and longest preview time in Broadway history, is coming to a close Jan. 4. The new take on a familiar tale follows Peter Parker through his change into a superhero and features favorite characters like Mary Jane, as well as new super-villains. Watch the web-slinging hero beat the odds while soaring over your head at the Foxwoods Theatre to the rock music of U2's Bono.
"Annie"
Closing: Jan. 5
She's the little red-headed orphan with the big heart and unfaltering optimism. Starring Taylor Richardson as Annie, Anthony Warlow (recently replaced by Ron Raines) as Daddy Warbucks, and Faith Prince as Miss Hannigan, "Annie" will be leaving us Jan. 5 after a two-year run. Nominated for the Tony Award for Best Revival of a Musical, the show features the original score by Charles Strouse with classics like "It's a Hard Knock Life" and "Tomorrow."
"First Date"
Closing: Jan. 5
Catch the Broadway show on a topic many of us are all too familiar with: the blind date. Drinks turn into Google searches, and fake emergency phone calls for a mismatched pair trying desperately to connect in this musical comedy. Starring "Smash's" Krysta Rodriguez and Zachary Levi ("Chuck"), with music and lyrics by Alan Zachary and Michael Weiner, this show will have it's final run Jan. 5.
"Betrayal"
Closing: Jan. 5
Directed by Mike Nichols, this revival of the 1978 story about a love triangle between lovers and friends is coming off Broadway Jan. 5. Starring Daniel Craig ("Skyfall") as Robert, Rafe Spall ("Prometheus") as Jerry, and Rachel Weisz as the philanderess Emma, catch the last of Weisz and Spall's Broadway debuts at the Barrymore Theatre.
"700 Sundays"
Closing: Jan. 12
Billy Crystal's nine-year, on-again-off-again run of the autobiographical one-man show that is "700 Sundays" is coming to a close at the Imperial Theatre, Jan. 12. The journey follows funny man Crystal as he plays numerous influential characters throughout his life as a teenager into adulthood within the "jazz world" of Manhattan. "700 Sundays" won the Tony for Best Special Theatrical Event, as well as a Drama Desk Award in 2005.
"Macbeth"
Closing: Jan. 12
From "Before Midnight" to Shakespeare's "Macbeth," watch Ethan Hawke return to Lincoln Center, this time as the doomed Scottish king in this classic tragedy. Starring Anne-Marie Duff as Lady Macbeth and directed by Jack O'Brien, the drama comes to a close Jan. 12. Hawke's previous appearance in a Shakespeare play, "Henry IV"—also directed by O'Brien—earned a Tony Award.
"Twelfth Night"
Closing: Feb. 16
This Shakespeare play starring Samuel Barnett as Viola is having it's final show Feb. 16, 2014, after a 16-week engagement on Broadway, and a sold-out run in London's West End. Presented in the custom of the original stagings of Shakespeare's plays, the company participates in the pre-show ritual of dressing and preparing their makeup on stage on front of an audience while accompanied by live music, played on traditional instruments. So if you do make it to the final performances of the play about a cross-dressing girl in love (in short), try to arrive at least 20 minutes before showtime!
"Richard III"
Closing: Feb. 16
Played by the same cast as "Twelfth Night," "Richard III" also ends its run in Broadway's Belasco Theatre on Feb. 16. With lighting created almost exclusively by 100 on-stage candles, the play can be made even more intimate with the option of on-stage seating. Be sure to catch this hilarious Shakespeare play about the monstrous but charismatic duke determined to get the crown of England before it's too late.
"The Glass Menagerie"
Closing: Feb. 23
Tony Award-winner Cherry Jones and Zachary Quinto star in the Broadway revival of Tennessee Williams' classic play about a southern belle looking to find love for her crippled daughter. Staged by acclaimed director John Tiffany, the play has it's final run Feb. 23, 2014.