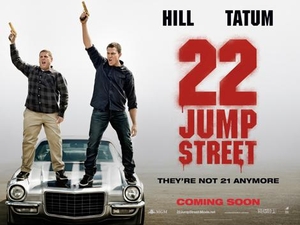 If you want to beat the June heat and escape to a quiet movie theater this month, there are plenty of films opening! Check out what's hitting theaters in the coming weeks.
"Trust Me," June 6
Trust Me is a film written, directed and starring Clark Gregg ("The Avengers," "Iron Man," "(500) Days of Summer.") This indie film tells the story Howard Holloway (Gregg), a down on his luck Hollywood agent who's lost many of his clients and seems hopeless until he gets the opportunity to represent Lydia (Saxon Sharbino). She's about to secure the next big franchise in Hollywood, a movie about vampire aliens. "Trust Me" has a power house cast including Felicity Huffman, Allison Janney William H. Macy, Amanda Peet, and Molly Shannon. The film was first shown at the Tribeca Film Festival in 2013 and will now have a limited release in theaters.
"The Fault in Our Stars," June 6
Based on the NY Times best-selling book of the same title, "The Fault in Our Stars" stars Shailene Woodley and Ansel Elgort as two unlucky lovers, Hazel and Gus, who meet in a cancer support group where Gus reveals he walks with a prosthetic leg after recovering from cancer, while Hazel's condition is terminal. Hazel struggles to cope with the fact that she's falling for someone when she has only limited time, but they two can't help but fall in love. Gus makes it his mission to grant Hazel's wish of meeting her favorite author and the two travel to Amsterdam. Be sure to bring tissues to this one.
"Anna," June 6
Starring Mark Strong ("Kick-Ass") and Taissa Farmiga ("American Horror Story"), "Anna" tells the story of Detective John Washington (Strong) who, with his ability to enter peoples' minds and memories, tries to determine whether Anna (Farmiga), a troubled young girl, is a killer or a victim of trauma. This psychological thriller comes out on limited release on June 6.
"How to Train Your Dragon 2," June 13
From DreamWorks Animation, the sequel to the first "How to Train Your Dragon" film takes place five years later, featuring Hiccup and the gang as young adults. Hiccup and Toothless are forced into battle when Drago Bludvist plans to build a dragon army and take over the world. Featuring the voices of Jay Baruchel, Cate Blanchett, Gerard Butler, Djimon Hounsou, Kristen Wigg, Jonah Hill, Christopher Mintz-Plasse, and America Ferrara, "How to Train Your Dragon 2" is the animated film of the summer.
"22 Jump Street," June 13
"22 Jump Street," the sequel to the hit "21 Jump Street" stars Jonah Hill and Channing Tatum. This time Officer Schmitt and Jenko go undercover at a local college. Jenko (Tatum) joins the football team and Schmit (Hill) gets involved with the art scene. If the humor is just as sharp as in its predecessor, Tatum and Hill hit a home run again.
"Lullaby," June 13
Jonathan (Garett Hedlund), a man estranged from his family, discovers that his father has but two days left to live. Through dealing with the family strife Jonathan reconnects with his mother (Anne Archer), sister (Jessica Brown-Findlay), and his love (Amy Adams). He also learns from the advice of a wise-beyond-her-years patient, as well as a hard-headed nurse played by Jennifer Hudson. The film marks actor Andrew Levitas' directorial debut.
"Jersey Boys," June 20
The Broadway hit is making its way to the big screen. From director Clint Eastwood, the film tells the story, of course, of the legendary Frankie Valli and The Four Seasons.The film stars Christopher Walken, and Tony winner John Lloyd Young reprising his Broadway role of Valli.
"Transformers: Age of Extinction," June 27
The fourth installment in the "Transformers" series stars Mark Wahlberg as our hero discovering Optimus Prime four years after the invasion of Chicago. Stanley Tucci stars at the villain of this "Transformers" film, an arrogant designer who wants to build his own robots. Meanwhile the government pushes the boundaries of interactions with Transformers beyond what can be controlled.
"Begin Again," June 27
"Begin Again follows" Greta (Keira Knightley) and Dave (Adam Levine), college sweethearts and songwriting partners who decamp for New York when Dave receives a deal with a record label. The new fame leads Dave astray and Greta is left alone. Things take a turn for the better when Greta is seen performing by Dan (Mark Ruffalo) a disgraced record-label exec. He is mesmerized by her raw talent. Hailee Steinfeld makes an appearance as Dan's daughter with Cee Lo Green also appearing in the film. From the director of "Once," John Carney, this musical romcom has a limited release this June and with a wider release to follow in July.
"Snowpiercer," June 27
"Snowpiercer," a South Korean film, makes its debut in the U.S. this June. Starring recognizable faces Chris Evans, Octavia Spencer, and Alison Pill, "Snowpiercer" is a film about an attempt to stop global warming gone wrong. This attempt kills almost all life on Earth except the inhabitants of the train Snowpiercer. A class system is installed: the elite at the front of the train with the poor at the rear, but the inhabitants of the rear end of the train prepare for rebellion.
Inspired by this post? Check out our film audition listings!