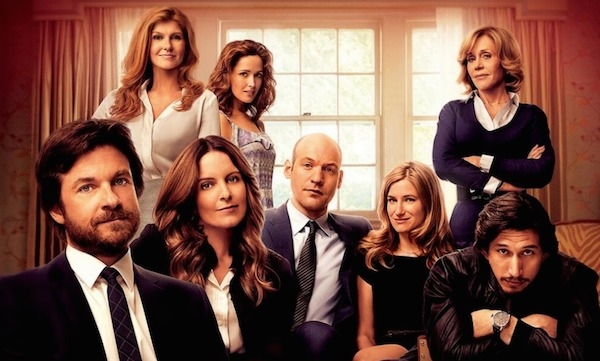 Sure, post-Labor Day blues have kicked in, Summer Fridays at work came and went, and back-to-school traffic and subway congestion is testing your patience, but there's some good news! With the upcoming fall season comes some great films, from Oscar contenders to star-studded comedies, and we've hand-picked 10 that you should be checking out this month. Which are you most excited to see?
"Frontera," Sept. 5
Starring Ed Harris, Michael Peña, and this week's Backstage cover star Eva Longoria, "Frontera" follows a former Arizona Sheriff (Harris) as he searches for answers regarding his wife's murder. Though it appears a Mexican man (Peña) crossing into the country illegally is at fault, the facts and answers of the case are more complex. Of the film, Longoria told Backstage, "I read [the script] and thought, Oh my God, this I have to do. I didn't want to do any kind of story that villainized either side of the border. But this is a beautiful love story set against this border issue that we're going through right now in our country. It doesn't have a statement—it just humanizes the issue."
"The Longest Week," Sept. 5
This comedy-drama tells the story of Conrad Valmont (Jason Bateman), a man who lives the easy life in his parent's upscale Manhattan hotel. However, in the span of a week, he's evicted, disinherited, and has fallen in love, despite his friend (Billy Crudup) asking him not to try anything with Beatrice (Olivia Wilde), the girl with whom he's infatuated.
"No Good Deed," Sept. 12
No good deed goes unpunished in this thriller featuring "The Wire" and "Luther" star Idris Elba, and when a wife and mother of two (Taraji P. Henson) opens her door for a stranger (Elba) claiming to have car trouble, she learns the cliché's harsh meaning.
"The Skeleton Twins," Sept. 12
Bill Hader and Kristen Wiig star as estranged twins who coincidentally cheated death on the same day and attempt to reunite. The SNL alumni bring hilarious elements to the drama from writer-director Craig Johnson. Supporting cast includes Ty Burrell and Luke Wilson.
"The Disappearance of Eleanor Rigby: Them," Sept. 12
"The Disappearance of Eleanor Rigby: Them" from writer-director Ned Benson, stars Jessica Chastain and James McAvoy. The film is the couple's story as they try to reclaim the love and life they once had. Originally two films, "The Disappearance of Eleanor Rigby: Him" and "The Disappearance of Eleanor Rigby: Her," "Them" could be an Oscar contender. The film also stars Viola Davis, Bill Hader, and Archie Panjabi ("The Good Wife"), among others.
"The Maze Runner," Sept. 19
The latest YA novel-turned-film, "The Maze Runner" is a sci-fi action flick based on the book of the same name by James Dashner, and is the first of the three post-apocalyptic novels in the series. Dylan O'Brien ("Teen Wolf") plays Thomas, who's put in a community of boys after his memory is erased. After discovering they're trapped in a maze, the "runners" need to come together if they ever want to escape.
"This Is Where I Leave You," Sept. 19
Hitting theaters Sept. 19, this star-studded comedy (Jason Bateman, Tina Fey, Jane Fonda, Adam Driver, Rose Byrne, Corey Stoll, Kathryn Hahn, Connie Britton, and more!) follow four grown siblings living at home for a week after their father passes away, and the goings on with their over-sharing mother and slew of spouses and exes. Based on the novel by Jonathan Tropper, the film is directed by Shawn Levy ("Date Night," "The Internship," "Night at the Museum").
"Space Station 76," Sept. 19. (NYC and L.A.)
"Space Station 76" marks the directorial debut for actor Jack Plotnick, who's sunk his teeth into something out of the ordinary with the film. The sci-fi dramedy is set in a 1970s version of the future "where personalities and asteroids collide." Life on the Omega 76 space station is similar to suburban 1970s life, aside from the fact that Capt. Glenn Terry (Patrick Wilson) is controlling the ship while struggling with his alcoholism and bisexuality. The movie also features Matt Bomer and Liv Tyler.
"The Zero Theorem," Sept. 19
Fans of Terry Gilliam ("12 Monkeys," "Fear and Loathing in Las Vegas") rejoice! The director's newest film stars two-time Oscar winner Christoph Waltz as a computer genius living in isolation, working to discover the meaning of life—or lack thereof. However, as he is continually interrupted by various visits, and finally discovers love for himself, he finds himself able to understand his own reason for being. Also starring Matt Damon and Tilda Swinton, among others, the film is slated for a limited release.
"The Two Faces of January," Sept. 26
From the writer of "Drive," Hossein Amini, comes a thriller set in Greece and Instanbul, based on the novel by Patricia Highsmith. When American tourists (Viggo Mortensen and Kirsten Dunst) meet an American expat (Oscar Isaac) the three become friends. However, a murder at the couple's hotel sends them on the run, and new relationships are put to the test.
Inspired by this post? Check out our film audition listings!