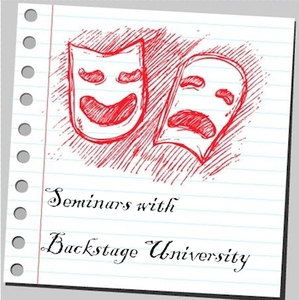 Whether it is an agent or a CD, Backstage University has you covered this week.
Backstage University is showcasing more great events with two different seminars this week to help with your acting career.
This Wednesday, April 30, we have an agent seminar with Sue Winik of SW Artists. Winik is the owner of this well-known boutique agency with a record for finding new talent. Her office has called in multiple actors from previous events with Backstage University, and we are thrilled to have her back. Recently, SW Artists called in and started working with Yeshe Pfeifer, after meeting her at Backstage University. Soon after she got an audition to appear on the Netflix series "Orange Is the New Black."
Next up, on Thursday, May 1, we have a casting seminar with Nikki Grillos, the newest casting associate with Joy Dewing Casting. Dewing's office is a favorite among New York actors and we are thrilled to welcome Grillo in for her first event with Backstage University. Being new to the office, she is has her eye out for new talent as she starts to cast larger projects. The best part is that she will be seeing both songs and monologues, so actors can choose to showcase what they do best.
Space is limited and going fast, so don't miss out on these fantastic events with Backstage University!