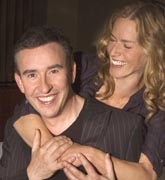 "I've built my career on being an asshole," asserts Steve Coogan. "And if you're happy being an asshole, it's freeing. You end up quite cool." "The end run to coolness," quips Elisabeth Shue. Coogan and Shue are successful actors, and so, despite their lighthearted banter, they know about the vagaries of acting and the pain of rejection. Shue admits, "Being an actress is extremely humiliating."
Shue and Coogan co-star in filmmaker Andrew Fleming's Hamlet 2, released next week nationwide, so these are topics close to their hearts. Indeed, most actors can find something to identify with in the film. Part satire, part valentine, Hamlet 2 recounts the comic misadventures of Dana Marschz (Coogan), failed-actor-turned-high school drama teacher who transforms his "high risk" students into the hot musical-theatre cast of a singing, dancing, politically incorrect sequel to Shakespeare's tale. Dana is the ultimate nerd-loser: earnest, determined, and relentlessly talent-free. On the bright side, he meets actor Elisabeth Shue, who plays herself. In the film's crazy version of reality, Shue has thrown in the towel on her dramatic career and become a nurse.
Shue has toyed with the idea of leaving acting, though she's never gone through with it. "There are ups and downs in any career," says the actor, who broke out in The Karate Kid, went on to star in such films as Back to the Future Part II and Part III, Woody Allen's Deconstructing Harry, and Steven Soderbergh's Underneath, was nominated for an Oscar for her role a hooker in Leaving Las Vegas, and then seemed to inexplicably fall off Hollywood's radar. "There have been many times in my career when I've thought of quitting. Four years ago, I sent away for an application from Columbia University. I was thinking of getting an M.A. in creative writing and then teaching it. But I was saved. I took over for Catherine Keener in Burn This."
Asked if a writing career is any less precarious than acting, Shue says creativity is what interests her, money is not her primary concern. Coogan adds that writing is fundamentally different from acting in that a distance exists between the finished manuscript and the author, whereas the actor is always totally exposed.
The Humiliating Audition
Still, he says there have been dark moments. "You're fashionable and then you're unfashionable," notes Coogan, who is famous in his native England for his film and television work. Lesser known in the U.S., his American credits include Curb Your Enthusiasm, Marie Antoinette, Jim Jarmusch's Coffee and Cigarettes, and Night at the Museum. "And when you're unfashionable, you're petrified and hope things change. But you keep working and move forward. I write, creating my own work." For Coogan the process of auditioning has often been a waste of time. All the way back in drama school, he realized he would have to produce his own material as a way of circumventing the audition. He was graduating from Manchester's Polytechnic's drama school and had participated in the annual showcase to which casting directors were invited.
"Those things are so dumb because the casting people come around and just pick people they think are good-looking and they'll sort out the acting stuff later," he told Back Stage in an earlier interview. "I was very average-looking. I did what I thought was a good piece, and it didn't get me any work."
Coogan created a standup act — he always had a flair for impersonation — which opened doors for him. Variety show producers saw his set and were impressed enough to invite him on board. It was terrific exposure, but Coogan had his sights set on a legitimate acting career. "People in TV knew me, but it was kind of [from] cheesy variety shows," he told Back Stage. "I was, like, 22 years old, and after a while they'd seen my act and they were over me. I was like, 'I thought I was going to have a career.'"
Undaunted, he proceeded to write a solo play for himself, featuring six characters, appropriately dubbed, Steve Coogan In Character. Directed by Patrick Marber (Closer), the piece went to the Edinburgh Festival, where it won the Perrier Award. From there, things moved smoothly as he wrote and performed for radio and television. When he came to Hollywood, however, he had to begin the humiliating audition process all over again. The first time he read for writer-director Nancy Meyers, he did not land the part. "It doesn't matter how successful you can be, you still get disappointments when you want something and don't get it," he recalled. "I did a screen test for [The Life and Death of Peter Sellers] film that Geoffrey Rush did. I wanted to do it. Geoffrey Rush wanted to do it. And he's an Academy Award winner, so they said, 'Goodbye, Steve,' and that's the nature of the business."
Coogan knows an actor may get turned down whether he or she is known or unknown — though there's a certain freedom, he says, that comes with the latter. "Being well-known is restraining because people have conceptions about you. Here [in the U.S.], because I'm not known and don't have the same baggage, the roles I may get are more varied."
Despite his laid-back persona, Coogan points out it's not a good idea to appear cool and savvy at an audition. "Interesting character portrayals and interesting performances are often about showing the frailty and weakness of the human condition," he noted. "So if there are things about yourself that you don't like, they're ironically your strengths. And don't be bothered being perceived as cool. Once you get over that, it's kind of liberating."
The Pain (or not) of Playing Yourself
Coogan is indisputably free of inhibition in his performances, even when he's playing himself, which he did in the film, Tristram Shandy: A Cock and Bull Story. In Hamlet 2, he is not playing himself but an acting teacher — the classic embodiment of the old adage, "Those who can, do; those who can't, teach." Coogan has never taught, but he emphasizes he has great respect for teachers, and there is much in the failed actor-turned-teacher Coogan relates to. "I identify with his taking himself too seriously, his neurosis," says Coogan. Still, playing Dana posed an unexpected challenge for an actor who is willing to reveal so much on screen. "I usually play unlikable characters," he says. "Dana is dysfunctional but likeable. He is vulnerable and naive and innocent. He's a character audiences sympathize with. That's not what I do. I become self-conscious playing a likeable character."
Dana presents another interesting conundrum. He's talent-free and knows it. Obviously, Coogan is not talent-free, but he insists all actors secretly fear it. "That's why they need so much validation," he says.
Shue agrees, acknowledging the challenge she faced in playing herself as a failed actor-cum-nurse. She is good humored about the whole endeavor, insisting, "I'm playing a version of myself." Coogan adds, "Actresses were approached, and they were far less prestigious and they said no, they were too busy acting. They were mortified to be asked." Shue's real foray into on-screen autobiography was in 2007's Gracie, a film created by Shue and her brother Andrew Shue. Gracie's story centers on a teenage girl, inspired by Shue, who is determined to play soccer on her high school's all-male varsity team. The film also deals with Shue's late brother Will, who was killed in accident in 1988. Shue, who did not play herself but rather Gracie's mother in the movie, remarked in an interview with Back Stage last year, "I was nervous about telling a story that was so close to home and that involved my bother [Will] and what it meant to lose him, because it's always something that's been so sacred to us and so private." She was ultimately persuaded to do the film because her brother and director-husband Davis Guggenheim were involved in the project, and she trusted that they would "tell a story with the same kind of class and authenticity and beauty that they embody."
Further, Shue wasn't playing herself or even a facsimile of herself, as she is in Hamlet 2. Tackling the role of a fictionalized Elisabeth Shue requires a level of self-assurance and arguably a track record of success. But that didn't happen overnight, Shue insisted. "It's important to remember that it took four or five years before I got my first part, and it was a lot of hard work and a lot of rejection and a lot of people saying no, no, no, no. Growing up in a family where you had to keep fighting to be seen, I think, gave me a thicker skin than most when it came to the rejection part of what it means to be an actor."
Interestingly, when she left soccer at the age of 16 and decided to try her hand at acting, she recalled, she was looking for a place "where I could individualize myself in my family." She adds that the hardest part of the business is not allowing "anyone saying no to you to affect your sense of self-worth."
Beating the Odds
She and Coogan appreciate they've beaten the odds, a central theme in Hamlet 2. It's a film in which heart and enthusiasm prevail — indeed, triumph — over lack of talent. The movie spoofs the idea "that lack of talent is no bar to success," says Coogan, who does not fully buy that notion. Nonetheless, he believes creativity in itself is valuable whether or not the work that's being produced is any good. "It's not the artist's job to judge the art," adds Shue. "Just create. The act of expression is important."
Indeed, Coogan asserts that Dana's wretched production might even find its way to Broadway. "In a post-modern world, it's totally feasible." In a post-modern world, will the actor's life change? Probably not. But then again, if one is to judge by Hamlet 2, anything is possible.
Dany Margolies and Sarah Kuhn contributed to this article.
To reach the author, email shorwitz@backstage.com.