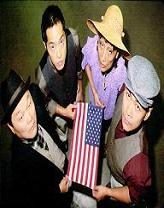 Stritch Fills Public Niche; David & Schreiber Scratch Shakespeare Itch
Elaine Stritch has run the gamut from Noel Coward to British sitcoms to Stephen Sondheim to tending bar--and she's probably got a salty anecdote for each day of the year. She kicks off the Public Theater's season with her new one-woman show, 'Elaine Stritch: At Liberty.' The credits read it was "constructed" by the actress, "reconstructed" by New Yorker scribe John Lahr, and directed by the Public's producer George C. Wolfe.
There follows a revival of 'Othello' with Keith David (Seven Guitars, The Winter's Tale) and Liev Schreiber (Betrayal). Performances are set to begin in November. New American plays are next on the agenda with Naomi Iizuka's '36 Views'; Ellen McLaughlin's 'Helen', and Suzan-Lori Parks' 'Fucking A' (opening dates TBA).
Ma-Yi Ensemble will be using the Public's space to present 'The Square', a collage of 16 short works on what it means to be an Asian in America. (Previews start Oct. 16; opens Oct. 27.)
Atlantic Theatre Company begins its season with another series of one-acts, 'An Adult Evening of Shel Silverstein'. (Now in previews; opens Oct. 17.) If you look up the word "eclectic" in the dictionary, you'll probably find Silverstein's name in the definition. He's written children's books and popular songs as well as drawn cartoons and contributed articles to Playboy Magazine. This collection of pieces is culled from a series of skits including "The Bag Plays," "The Sign Plays," and "The Bathroom Plays." The perennial favorite Hobson's Choice fills the December-January slot. The perennially employed Brian Murray ('The Play about the Baby') plays the lead role of an Edwardian merchant struggling with his strong-willed daughter. The season concludes in May with a new work by Craig Lucas and David Schulner, 'This Thing of Darkness'. The press materials, which were written before the events of Sept. 11, make the play sound ironically relevant. The story concerns two young men who are about to begin their lives when "the future crashes in on their comfortable surroundings."
Women's Project and Productions also has an upcoming work made more immediate by the terrorist attacks on America. In March, the company plans to present 'The Women of Lockerbie' by Deborah Baley Brevoort, in which an American mother looks for her son's remains after the famous plane crash above the title town in Scotland. Liz Diamond ('The America Play') directs. Also on WPP's agenda are a work-in-progress staging of a new musical, 'The Strange Case of Mary Lincoln' (Oct. 19-21), which was previously in development for years at the York Theatre, and the world premiere of Carson McCullers ('Historically Inaccurate'), an exploration of the life of the author of 'Member of the Wedding' and 'The Heart Is a Lonely Hunter'. Performances begin Jan. 10 for a Jan. 20 opening. Marion McClinton, best known for his recent stagings of several August Wilson works both here and in regional theatres, directs.
Playwrights Horizons will co-produce Carson McCullers as a part of its Studio Theater Series. In addition to the WPP production, PH will stage a series of shows around the city in its peripatetic season, as it awaits its new theatre to be built. The season opens with the currently running musical, 'The Spitfire Grill', based on the movie of the same name as adapted by James Valcq ('Zombies from the Beyond') and the late Fred Alley, at the Duke on 42nd Street. The company then wanders to Signature Theatre's Peter Norton Space with 'Psych' by Evan Smith (The Uneasy Chair). (Previews start Nov. 24, opens Dec. 18.) The play concerns a young woman dealing with self-doubt and paranoia. We're off to the Atlantic Theatre next for PH's following offering, Richard Nelson's 'Franny's Way'. (Previews begin March 8, opens April 2.) Set in 1950s Greenwich Village, the plot is put in motion when two country sisters visit their married cousin.
It's back to the Duke for 'Boys and Girls', Tom Donaghy's study of the relations between a lesbian couple and a gay man who provided the sperm to produce their child. (Previews start May 3, opens May 28.) PH will also present Billy Aronson's 'Light Years' as a part of its Studio Theatre Series at Theatre Three. (Previews start Oct. 11, opens Oct. 21.)
Water, Water Everywhere at Second Stage
In 1952, director-producer Josh Logan stunned Broadway by placing a swimming pool on stage for the musical 'Wish You Were Here'. Mary Zimmerman is set for a similar feat of aquatic engineering when a 26-foot-wide pool is installed on the Second Stage for her adaptation of Ovid's 'Metamorphoses' (opens Oct. 9). Second Stage continues its season emphasizing the return of major playwrights. Athol Fugard's newest work, 'Sorrow and Rejoicings', begins performances in January. Two women--one white and one black--who share a love for the same man, meet for the first time at his funeral. A revival of Wallace Shawn's sharp-edged relationship comedy-drama, 'Marie and Bruce', follows in April. We can head for the beach in June, at least theatrically, when Edward Albee's Pulitzer Prize-winning 'Seascape' opens.
Albee will also be a part of the Signature Theatre's season, which usually highlights the work of a single playwright. Right now, however, the company continues its two-season long celebration of the authors it has previously showcased with Sam Shepard's newest play, 'The Late Henry Moss' (playing through Nov. 4), which evokes many of the dramatist's most familiar themes. Ethan Hawke and Arliss Howard are brothers journeying through the mythic Southwest to burrow into the past of their recently deceased father. Sheila Tousey, Guy Boyd, and Jose Perez also star.
Mr. Albee's 'I Think Back Now on Andre Gide', an exploration of the life and career of the French author, begins performances in February. John Guare is up next in April with 'A Few Stout Individuals', a comedy on fame and money, two of his favorite subjects.
Manhattan Theatre Club mixes works by new and more established authors in its schedule. David Lindsay-Abaire gained recognition for the MTC production of 'Fuddy Meers', which went on to a brief commercial run. He's back with 'Wonder of the World' (MTC Stage I, previews begin Oct. 9, opens Nov. 1). Sarah Jessica Parker uses her time off from Sex & the City to play a heroine encountering a giant jar of peanut butter in Niagara Falls. The cast also includes Marylouise Burke (Drama Desk winner for 'Fuddy Meers'), Kristine Nielsen (Obie winner for 'Betty's Summer Vacation'), Amy Sedaris (half of The Talent Family, Comedy Central's 'Strangers with Candy'), Kevin Chamberlin ('Seussical', 'Dirty Blonde'), and Alan Tudyk ('The Most Fabulous Story Ever Told').
Oscar-winner John Patrick Stanley ('Moonstruck') has had critically acclaimed runs of his 'Italian-American Reconciliation' and Beggars in the 'House of Plenty' at MTC several seasons back. He returns with 'Where's My Money?', a dark comedy about two Brooklyn divorce lawyers and the women in their lives. (MTC Stage II, previews begin Oct. 16, opens Nov. 7.) A previous version of the play was presented by the LAByrinth Theatre Company earlier this year.
The works of two new writers have also been announced, but definite dates have yet to be determined. They are Zinnie Harris' 'Further Than the Furthest Thing' and Jon Corwin's 'Gone Home'.
The MTC season will close with a double whammy--Alan Ayckbourn's 'House and Garden', performed simultaneously on both MTC stages (previews begin April 26, opens May 21). In 'House', a wealthy industrialist's plans to run for Parliament are wrecked when a French film star arrives to open a town garden festival. Meanwhile, in 'Garden', the neighboring couple encounters equal amounts of chaos as the bumbling caterers cause multiple accidents and the film star gets drunk. Actors will cross between the two stages, as the action is simultaneous. John Tillinger directs both productions.
Highlighting the Director
While some theatres highlight the playwright, Theatre for the New Audience will focus on the director this season. Bartlett Sher, who scored a hit with TFANA's production of the rarely seen 'Waste', will attempt Shakespeare's problematic 'Cymbeline'. His staging of the Bard's complicated romance will begin previews in January after premiering at the RSC in London in November. International director Liviu Ciulei stages Max Frisch's 'Andorra' in its first major New York production since 1963. The renowned documentary filmmaker Frederick Wiseman makes a transition to the stage with a one-character play called 'The Last Letter' about a doctor in a Jewish ghetto as she writes a final epistle to her son. (Dates for Andorra and The Last Letter TBA.)
The Vineyard Theatre celebrates its 20th anniversary with new works and the anticipated return of its production of the Obie-winning musical derived from Laura Nyro's song catalogue, 'Eli's Comin''. The season begins with 'Unwrap Your Candy' by Doug Wright ('Quills'), a collection of one-acts described as "mordant bedtime tales for adults" (opens Oct. 8). Diedre Murray and Cornelius Eady's 'Brutal Imagination' should be even more mordant. This music-theatre piece, directed by Diane Paulus ('The Donkey Show'), combines racial tension with murder as it offers a bizarre take on the Susan Smith case. Smith was the young mother who invented an African-American assailant to cover up for her killing her own children. Murray and Eady tell the story through the eyes of the fictional assailant. (Previews Dec. 19, opens Jan. 27.) Other Vineyard productions are to be announced.
The York Theatre Company will start off with a musical of a more conventional kind. 'Roadside' is by Tom Jones and Harvey Schmidt of 'The Fantasticks' fame and is described as "a bittersweet romp through the Old West, set in the carnival atmosphere of traveling tent shows." (Previews begin Nov. 12, opens Nov. 29.) And if that's not folksy enough for you, the musical is based on a play by Lynn Riggs, author of 'Green Grow the Lilacs', the basis for 'Oklahoma!'. (Jones and Schmidt first started work on the piece while still in college, but set it aside when the rights to the play proved unavailable to such unknown upstarts. They returned to the project after a slight delay of around 40 years.)
The York's other two announced musicals are 'Prodigal', focusing on an 18-year-old gay boy growing up in a little fishing town "on the edge of Australia," and 'The Lady in Penthouse B', about a struggling actress who is also an assistant to an insufferable gossip columnist. Prodigal's composer Mathew Frank and book writer-lyricist Dean Bryant promise a score of contemporary pop for their coming-of-age tale, while Penthouse B combines the talents of two York Theatre vets: composer Matthew Ward (After the Fair) and director Jay Berkow (Jolson & Co.), joined by book writer-lyricist Peter Napolitano.
Alongside their full productions, York Theatre offers its 'Musicals-in-Mufti' series of piano-only concert presentations of obscure musicals. Their October Series offers 'The Good Companions' (a 1968 London show with book by Ronald Harwood, music by Andre Previn, lyrics by Johnny Mercer, based on the J. B. Priestly novel about a traveling troupe of British Music Hall performers?Oct. 5-7), 'Cyrano'(a short-lived 1973 Broadway adaptation of the Rostand classic with book and lyrics by Anthony Burgess and music by Michael J. Lewis that nevertheless won a Tony for Christopher Plummer--Oct. 12-14), and, in a rather inconsistent choice, Marc Blitzstein's classic, often-performed 1949 Broadway opera, 'Regina' (based on Lillian Hellman's 'The Little Foxes'--Oct. 19-21). The January Series will be devoted to composer Richard Rodgers in celebration of his centenary. The shows are 'Me and Juliet' (Oscar Hammerstein II's 1953 valentine to the theatre--Jan. 11-13), 'Androcles and the Lion' (a 1967 TV musical based on the Shaw classic, book by Peter Stone, lyrics by Rodgers--Jan. 18-20), and 'By Jupiter' (done on Broadway in 1942, the final all-new Rodgers and Hart musical--Jan. 25-27).
You can call it absurd, but over a dozen theatres across Manhattan will be involved in the Ionesco Festival, offering 39 plays by the French master of the incongruous now through Dec. 2. Highlights of the festival include an encore presentation of Sanctuary Theatre's 'The Picture with Tony Torn'; Israel Horovitz's adaptation of 'Man with Bags' produced by the Looking Glass Theater; and Untitled Theater Company #61's 'Rhinoceros'.
The Pearl Theatre Company joins in the Ionesco Festival with 'Exit the King' (now through Oct. 21). Its upcoming season includes 'Iphigenia at Aulis' (Nov. 9-Dec. 16), 'The Phantom Lady' (Jan. 10-Feb. 17), and, in rotating repertory, 'Much Ado About Nothing' (opens April 21) and 'Romeo and Juliet'(opens April 23).
The Jean Cocteau Repertory has always employed a rotating rep policy and continues into its 31st season, which includes 'Small Craft Warnings' (now through Nov. 15); 'Oedipus the King' (Oct. 12-Jan. 24); 'Arms and the Man' (Dec. 7-March 28); 'The Dance of Death' (Feb. 8-May 12), not to be confused with the Broadway production starring Ian McKellen and Helen Mirren; and 'The Marriage of Figaro' (April 12-June 2).
Among the more interesting productions by young theatre companies is a revival of 'The Madwoman of Chaillot 'presented by the Colleagues Theatre Company, founded in 1995. Tony-nominee Anne Jackson, Oscar-winner Kim Hunter, company founder Catherine Wolfe, and Sloane Shelton play the quartet of eccentric ladies out to save Paris from corporate insanity. (Now through Oct. 28 at the Neighborhood Playhouse.) And a brand new company, the New York Art Theatre, is providing audiences with a rare opportunity to see one of Tennessee Williams' last plays, 'Something Cloudy, Something Clear', currently showing at the Theatre at St. Clements for what is billed as an open run.
And that's just a sampling. Though it may have been dealt a heavy blow, New York's theatre is far from down and out. See also Who's Putting on the Shows: Off- and Off-Off-Broadway Companies, our comprehensive list of Off- and Off-Off-Broadway theatre companies.
Compiled by Listings Editor B.L. Rice