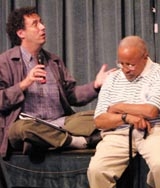 Anchorage (Back Stage) -- More than 600 actors, directors, playwrights, producers, and ardent theatregoers participated in this year's Last Frontier Theatre Conference in Valdez, Alaska, the largest number of attendees in the conference's 12-year history.
By all accounts, the nine-day conference, which stretched from June 18 through June 26 and has benefited from Edward Albee's blessing and support since its founding in 1993, has become one of the premier venues for new-play development in the United States.
"Every aspect of the Last Frontier Theatre Conference is useful," Albee said during a wrap-up session, "although I think we still try to do far too many things here."
That is an understatement given that there were about 80 short plays (most less than 20 minutes) and eight longer plays read and publicly critiqued by panels of well-known playwrights, directors, and academics, as well as audience members.
Among some of this year's "elite eight" longer plays -- which were critiqued by a group that included Albee, Tony Kushner, John Guare, Romulus Linney, Lloyd Richards, and Lawrence Sacharow -- passions and opinions ran high. Audience favorites included New York playwright Jane Levison's "Don't Kiss Me, I'm in Training," about French-born artists, lovers, stepsisters, and antifascists Claude Cahun and Marcel Moore, who were imprisoned by the Germans on the island of Jersey near the end of World War II. There was also New York playwright Michael Manley's poetic "States of Emergency," inspired by the events of Sept. 11, and "Out of Place" by Wilmington, Del., playwright David Robson, about a Palestinian-American scholar who returns home after 20 years to confront his past.
Robson's play, in fact, provoked the strongest reaction from panelists and the audience. During the critique, Guare confronted the playwright about the script's protagonist, a character inspired by the late Palestinian-American scholar Edward Said. "You should drop this play as soon as possible," Guare declared, calling it "barren," "sentimental," and "misbegotten." Kushner and Sacharow, too, were impassioned and critical. Yet when Richards calmly praised Robson for tackling such a complex issue, there ensued prolonged, intense applause and cheering from the audience of about 200. "I'm glad [the topic's] out there; it should be out there and out there and out there," Richards said.
After the lab, Robson said that he expected to be criticized because the script was only a second draft, but he added that he was "a little disturbed by the idea that there are things you cannot write about -- yet there are people who have made their careers doing that."
In an email after returning to Delaware, Robson added that he respects the panelists but feels compelled to continue writing about what fascinates him. "Guare told me the next day that he wasn't implying I shouldn't write about what I wanted, but that the Middle East conflict is too big, too complicated, too fraught with unknowables such that no one should try and write about it," he said.
The presence of Kushner -- in Valdez to receive the Last Frontier Playwright Award -- also brought an unmistakable political current to many of the panel discussions and scripts, particularly in the short-play lab.
The playwrights of the 80-odd scripts that were accepted to the lab ranged in age from 17 to 78, and their works' genres spanned everything from political satire to absurdism, from skitlike comedies to dark domestic dramas. Audience members often had to choose from among three concurrent readings, making it impossible to see everything. More than 400 scripts of all lengths were submitted to this year's conference.
Among the politically charged short plays, conference favorites included Anchorage playwright Sarah Hurst's "In God We Trust," a satire about the war on terror focusing on a Guantanamo Bay prisoner and his interrogator; the surreal "Dangerous Items," by San Diego playwright Ed Stevens, in which an American of Pakistani ancestry is barred from boarding an airplane; and Minneapolis playwright Matt DiCintio's "Lady Liberty Gets Put Back Together," the story of a drag queen dressed as the Statue of Liberty, who tries to recover from being beaten and raped by a gang of sailors.
DiCintio said he was amazed at the overwhelmingly positive reaction to his play. "It was thrilling to find out that what I wrote is not what I wrote," he explained after his play was read. "When I wrote [it] last winter, it was not written as a political play. I chose Lady Liberty as a personal metaphor for [the character's] freedom." When performed, however, the brutalized Lady Liberty became an emotional metaphor for the United States, leaving some in the audience weeping.
Other short-play lab favorites included a satire on the state of the American family titled "Happy Meal," by playwright Richard Cottrell of Hastings, N.Y.; Valdez playwright Mollie Ramos' "The Perfect Bride," about a woman who plans to marry herself; and Fairbanks playwright Rose Jensen's "The Hospital," a razor-edged feminist homage to Albee, Ibsen, and Pinter.