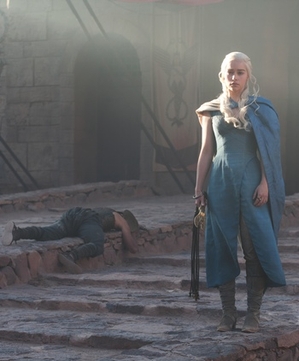 Every year the Emmy nominations bring their share of surprises—both good and bad. Probably the biggest surprise in the acting categories was that the entire cast of "New Girl" was snubbed, including 2012 nominees Zooey Deschanel and Max Greenfield. Both were expected to be nominated and possibly joined by Jake Johnson, but the entire cast was shut out. Also shocking was the number of previous winners who failed to even land a nomination—most notably, Eric Stonestreet of "Modern Family," a two-time winner in the category of supporting comedy actor, and Jon Cryer, who won last year in the lead actor category for his work on "Two and a Half Men." Also pushed out of a crowded field were Julianna Margulies, who had been nominated three years in a row for "The Good Wife" and won in 2011, and Michael C. Hall, who was overlooked after five consecutive years of noms for "Dexter."
Somewhat less surprising was the non-nomination of actors who have reaped critical attention but have never been nominated. Tatiana Maslany has legions of fans through her work in multiple roles on "Orphan Black," but the show airs on BBC America and the sci-fi genre is often underappreciated—just ask John Noble. Monica Potter earned raves and a Critics' Choice Television Award for her cancer storyline on "Parenthood" but failed to make the final cut for an Emmy. And while it's hard to argue with the fine actors nominated for supporting actor in a drama series, it's also hard to swallow the overlooked great performances. Thrwzee actors excelled at playing tortured souls this season: Noah Emmerich on "The Americans," Corey Stoll on "House of Cards," and Guillermo Diaz on "Scandal." None received a nomination. Also missing is John Slattery of "Mad Men," whose consistently solid work was also passed over last year.
There were, however, some pleasant surprises among the new crop of nominees. Several shows that garnered attention for their lead actors saw the supporting players recognized as well. Julia Louis-Dreyfus rules "Veep," but it was wonderful to see Anna Chlumsky and Tony Hale recognized for their work on the show. And after being overlooked in the first season of "Homeland" while leads Claire Danes and Damian Lewis went on to win Emmys, supporting players Morena Baccarin and Mandy Patinkin finally were recognized in their categories.
Also great to see on the list: Matt LeBlanc for playing a screwed-up version of himself on the Showtime comedy "Episodes." And in the crowded lead actress in a drama field, Vera Farmiga made the cut for her work as one bad mama on "Bates Motel." Perhaps no nomination was more exciting than that of Emilia Clarke, who plays Mother of Dragons Daenerys Targaryen on the HBO hit "Game of Thrones." While the show and the wonderful Peter Dinklage were tipped to be nominated, Clarke's recognition was a bit unforeseen—and more than a bit deserved.