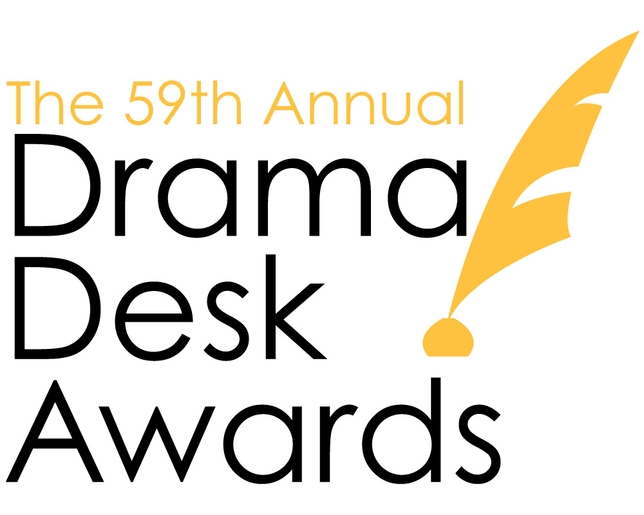 Academy Award winners Robert Lopez and Kristen Anderson-Lopez ("Frozen") and two-time Emmy and Golden Globe nominee Fran Drescher announced the 2014 Drama Desk Award nominees this morning at 54 Below in New York City.
This year, the theater community brought so many impressive productions to the stage, the Drama Desk Board authorized an increase in the number of allowed nominees in select categories. In true Drama Desk tradition, shows that opened in the 2013–2014 season on Broadway, Off-Broadway, and Off-Off-Broadway are placed in the same competitive categories.
"A Gentleman's Guide to Love and Murder" is sitting pretty with 12 taps, including for best musical and two for best actor in a musical (Jefferson Mays and Bryce Pinkham). "The Bridges of Madison County" is close on its heels with nine nominations. Screen-to-stage adaptations "Aladdin" and "Rocky" walked away with seven nominations (both Adam Jacobs and Andy Karl received their own nods, as did Neil Patrick Harris for "Hedwig and the Angry Inch"); Woody Allen's "Bullets Over Broadway" nabbed six, including one for onstage gangster Nick Cordero. "Of Mice and Men," "If/Then," and "Machinal" all walked away with two noms each.
The 59th annual awards will be held June 1 at the Town Hall, hosted by Tony and Drama Desk award-winning actor Laura Benanti ("Gypsy," "Women on the Verge of a Nervous Breakdown").
The full list of nominees are below:
Outstanding Play
Nell Benjamin, "The Explorers Club"
Steven Levenson, "Core Values"
Conor McPherson, "The Night Alive"
Richard Nelson, "Regular Singing"
Bruce Norris, "Domesticated"
Robert Schenkkan, "All the Way"
John Patrick Shanley, "Outside Mullingar"
Outstanding Musical
"A Gentleman's Guide to Love and Murder"
"Aladdin"
"Beautiful — The Carole King Musical"
"Fun Home"
"Love's Labour's Lost"
"Rocky"
"The Bridges of Madison County"

Outstanding Revival of a Play
"I Remember Mama"
"London Wall"
"No Man's Land"
"Of Mice and Men"
"The Cripple of Inishmaan"
"The Model Apartment"
"Twelfth Night" (Shakespeare's Globe Production)
Outstanding Revival of a Musical
"Hedwig and the Angry Inch"
"Les Misérables"
"Violet"
Outstanding Actor in a Play
Bryan Cranston, "All the Way"
Hamish Linklater, "The Comedy of Errors"
Ian McKellen, "No Man's Land"
David Morse, "The Unavoidable Disappearance of Tom Durnin"
Chris O'Dowd, "Of Mice and Men"
Daniel Radcliffe, "The Cripple of Inishmaan"
Denzel Washington, "A Raisin inthe Sun"
Outstanding Actress in a Play
Barbara Andres, "I Remember Mama"
Tyne Daly, "Mothers and Sons"
Audra McDonald, "Lady Day at Emerson's Bar & Grill"
Laurie Metcalf, "Domesticated"
J. Smith-Cameron, "Juno and the Paycock"
Harriet Walter, "Julius Caesar"
Outstanding Actor in a Musical
Neil Patrick Harris, "Hedwig and the Angry Inch"
Adam Jacobs, "Aladdin"
Andy Karl, "Rocky"
Jefferson Mays, "A Gentleman's Guide to Love and Murder"
Steven Pasquale, "The Bridges of Madison County"
Bryce Pinkham, "A Gentleman's Guide to Love and Murder"
Outstanding Actress in a Musical
Sutton Foster, "Violet"
Idina Menzel, "If/Then"
Jessie Mueller, "Beautiful — The Carole King Musical"
Kelli O'Hara, "The Bridges of Madison County"
Margo Seibert, "Tamar of the River"
Barrett Wilbert Weed, "Heathers The Musical"
Outstanding Featured Actor in a Play
Reed Birney, "Casa Valentina"
Chuck Cooper, "Choir Boy"
Peter Maloney, "Outside Mullingar"
Bobby Moreno, "Year of the Rooster"
Bill Pullman, "The Jacksonian"
Brian J. Smith, "The Glass Menagerie"
Outstanding Featured Actress in a Play
Betty Buckley, "The Old Friends"
Julia Coffey, "London Wall"
Diane Davis, "The Model Apartment"
Celia Keenan-Bolger, "The Glass Menagerie"
Jan Maxwell, "The Castle"
Sophie Okonedo, "A Raisin in the Sun"
Outstanding Featured Actor in a Musical
Danny Burstein, "Cabaret"
Nick Cordero, "Bullets Over Broadway"
Joshua Henry, "Violet"
James Monroe Iglehart, "Aladdin"
Rory O'Malley, "Nobody Loves You"
Bobby Steggert, "Big Fish"
Outstanding Featured Actress in a Musical
Stephanie J. Block, "Little Miss Sunshine"
Anika Larsen, "Beautiful — The Carole King Musical"
Adriane Lenox, "After Midnight"
Sydney Lucas, "Fun Home"
Laura Osnes, "The Threepenny Opera"
Jennifer Simard, "Disaster!"
Lauren Worsham, "A Gentleman's Guide to Love and Murder"
Outstanding Director of a Play
Joe Calarco, "A Christmas Carol"
Tim Carroll, "Twelfth Night"
Thomas Kail, "Family Furniture"
Bill Rauch, "All the Way"
Anna D. Shapiro, "Domesticated"
Julie Taymor, "A Midsummer Night's Dream"
Outstanding Director of a Musical
Sam Gold, "Fun Home"
Michael Mayer, "Hedwig and the Angry Inch"
Bartlett Sher, "The Bridges of Madison County"
Susan Stroman, "Bullets Over Broadway"
Alex Timbers, "Rocky"
Darko Tresnjak, "A Gentleman's Guide to Love and Murder"
Outstanding Choreography
Warren Carlyle, "After Midnight
Steven Hoggett, Kelly Devine, "Rocky"
Danny Mefford, "Love's Labour's Lost"
Casey Nicholaw, "Aladdin"
Susan Stroman, "Bullets Over Broadway"
Sonya Tayeh, "Kung Fu"
Outstanding Music
Jason Robert Brown, "The Bridges of Madison County"
Andrew Lippa, "Big Fish"
Steven Lutvak, "A Gentleman's Guide to Love and Murder"
Alan Menken, "Aladdin"
Kevin Murphy and Laurence O'Keefe, "Heathers The Musical"
Jeanine Tesori, "Fun Home"
Outstanding Lyrics
Howard Ashman, Tim Rice, and Chad Beguelin, "Aladdin"
Jason Robert Brown, "The Bridges of Madison County"
Robert L. Freedman and Steven Lutvak, "A Gentleman's Guide to Love and Murder"
Michael Friedman, "Love's Labour's Lost"
Michael Korie, "Far From Heaven"
Lisa Kron, "Fun Home"
Outstanding Book of a Musical
Chad Beguelin, Aladdin
Robert L. Freedman, A Gentleman's Guide to Love and Murder
Joe Kinosian, "Murder for Two"
Lisa Kron, "Fun Home"
Douglas McGrath, "Beautiful — The Carole King Musical"
Marsha Norman, "The Bridges of Madison County"
Outstanding Orchestrations
Jason Robert Brown, "The Bridges of Madison County"
John Clancy, "Fun Home"
Larry Hochman, "Big Fish"
Steve Sidwell, "Beautiful — The Carole King Musical"
Michael Starobin, "If/Then"
Jonathan Tunick, "A Gentleman's Guide to Love and Murder"
Outstanding Music in a Play
Lewis Flinn, "The Tribute Artist"
Elliot Goldenthal, "A Midsummer Night's Dream"
Rob Kearns, "The Life and Sort of Death of Eric Argyle"
Tom Kochan, "Almost, Maine"
Nico Muhly, "The Glass Menagerie"
Duncan Sheik, "A Man's a Man"
Outstanding Revue
"After Midnight"
"I'm a Stranger Here Myself: Musik From the Weimar and Beyond"
"Le Jazz Hot: How the French Saved Jazz"
"Til Divorce Do Us Part"
"What's It All About? Bacharach Reimagined'
Outstanding Set Design
Christopher Barreca, "Rocky"
Alexander Dodge, "A Gentleman's Guide to Love and Murder"
Richard Hoover, "Small Engine Repair"
Santo Loquasto, "Bullets Over Broadway"
Ian MacNeil, "A Doll's House"
Donyale Werle, "The Explorers Club"
Outstanding Costume Design
Constance Hoffman, "A Midsummer Night's Dream"
William Ivey Long, "Bullets Over Broadway"
Zane Pihlstrom, "Nutcracker Rouge"
Loren Shaw, "The Mysteries"
Jenny Tiramani, "Twelfth Night"
David C. Woolard, "The Heir Apparent"
Outstanding Lighting Design
Christopher Akerlind, "Rocky"
Jane Cox, "Machinal"
David Lander, "The Civil War"
Peter Mumford, "King Lear"
Brian Tovar, "Tamar of the River"
Japhy Weideman, "Macbeth"
Outstanding Projection Design
Robert Massicotte and Alexis Laurence, "Cirkopolis"
Sven Ortel, "A Midsummer Night's Dream"
Aaron Rhyne, "A Gentleman's Guide to Love and Murder"
Shawn Sagady, "All the Way"
Austin Switser, "Sontag: Reborn"
Ben Rubin, "Arguendo"
Outstanding Sound Design in a Musical
Kai Harada, "Fun Home"
Peter Hylenski, "Bullets Over Broadway"
Peter Hylenski, "Rocky"
Brian Ronan, "Beautiful — The Carole King Musical"
Dan Moses Schreier, "A Gentleman's Guide to Love and Murder"
Jon Weston, "The Bridges of Madison County"
Outstanding Sound Design in a Play
M.L. Dogg, "The Open House"
Katie Down, "The Golden Dragon"
Paul James Prendergast, "All the Way"
Dan Moses Schreier, "Act One"
Christopher Shutt, "Love and Information"
Matt Tierney, "Machinal"
Outstanding Solo Performance
David Barlow, "This Is My Office"
Jim Brochu, "Character Man"
Hannah Cabell, "Grounded"
Debra Jo Rupp, "Becoming Dr. Ruth"
Ruben Santiago-Hudson, "August Wilson's How I Learned What I Learned"
John Douglas Thompson, "Satchmo at the Waldorf"
Unique Theatrical Experience
"Charlatan"
"Cirkopolis"
"Mother Africa"
"Nothing to Hide"
"Nutcracker Rouge"
"The Complete & Condensed Stage Directions of Eugene O'Neill Vol. 2"